When last I signed off on my stroll along Av. Rivadavia we were at Plaza Miserere, the Once train and bus terminal. Picking up just past the plaza, we find a section of the avenue that was, at one time, a long stretch of beautiful homes, most of which have now become faded shells of their past existence, plastered over with commercial signage, grimy, unkempt. But one can still see the once stunning facades and imagine what the street must have been like sans the intervening apartment buildings that now connect the homes one to another in solid fronts of dense population. "Family" hotels dot the landscape as well, even those have the appearance of once grand spots to have stayed.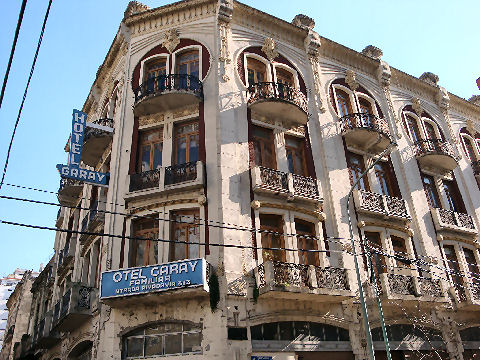 At the corner of Jean Jaures, the Hotel Garay stands at Rivadavia 3101, the work of architect Icilio Chiocci, who is probably most famous for his work on the Neocochea Hotel and the Regional Historical Museum Town Hall, both in Neocochea, both lamentably torn down. Still, here in BA he was noted for his art nouveau style and numerous buildings still stand.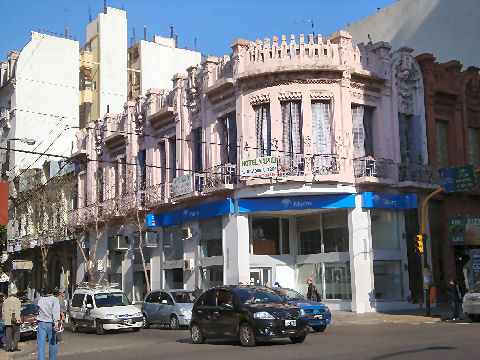 A block further on, the Hotel Napoli, at 3201, the work of Spanish architect Guillermo Álvarez, in what is apparently termed "Catalan Modernism" style. Numerous of his works are dotted throughout the city, the most notable is La Boca's Torre del Fantasma, the Ghost's Tower.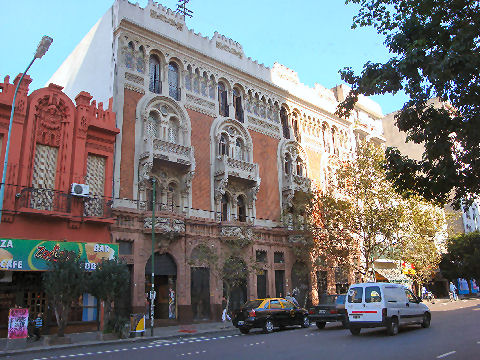 Likely the most famous work of Italian architect Virginio Colombo, the La Casa de los Pavos Reales, or House of the Peacocks, stands at 3216-32. The balconies are adorned with peacocks, lions, and the building features stunning stained glass windows and beautiful tile work.Built in art nouveau style in 1912, in 2007 it was bought by American actor Kevin Dwyer who restored it and turned it into a bed & breakfast – it is a popular place for visiting architects and architectural students to stay. Tours of the building are available in English, Monday through Friday in the afternoons, by reservation – I think I'll sign up for one of those and get back to you!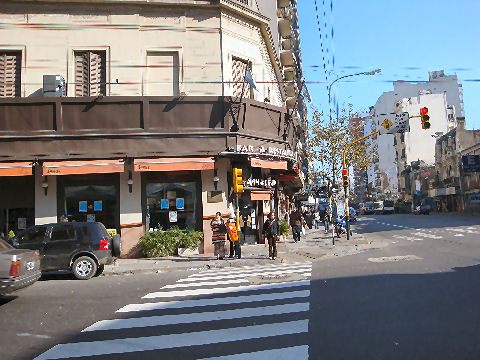 A block and a half further on at the corner of Sanchéz de Loria, or Bustamante, depending on which side of the street you're on, are the katty-corner restaurants of Sanchéz y Sanchéz Pizza Urbana and Damblee, respectively a favorite pizzeria and seafood spot, both owned by friend Gustavo Cano. Not architecturally interesting, but just in case you're hungry at this point….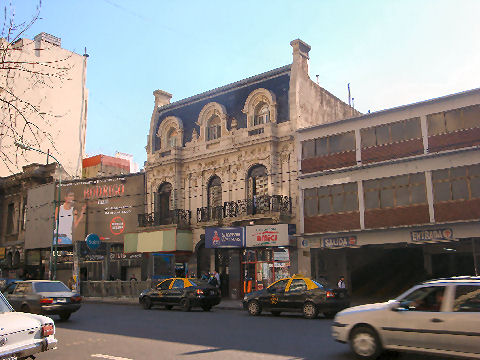 Here's an example of what I was referring to in the commercialization of many of these once gorgeous homes. Here at #3451, the building is now taken over by a paint store… I'm not objecting to the usage, but more to how ugly the lower part is now kept. I didn't find any further information on the building itself….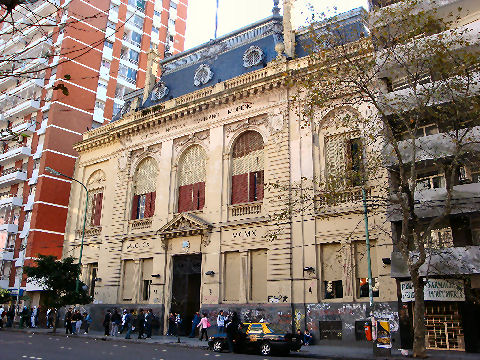 At 3577, the Colegio Nacional Mariano Moreno was founded in 1898, though the current building was constructed in 1910. The college, one of the more famous prep schools in the city, is noted for producing many of Argentina's leaders over the last century. It is currently in such a state of disrepair that the student body has occupied the building in protest and shutdown operations (as is currently happening at quite a few other major schools in the city right now).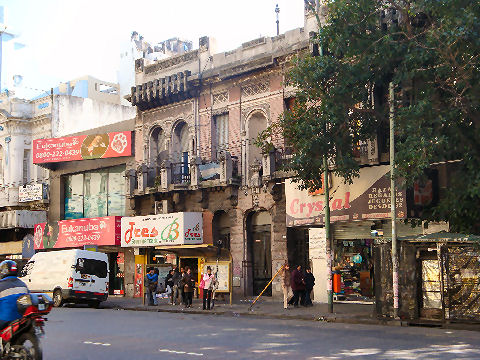 Here on the 3600 block another example of how poorly maintained these once beautiful homes are.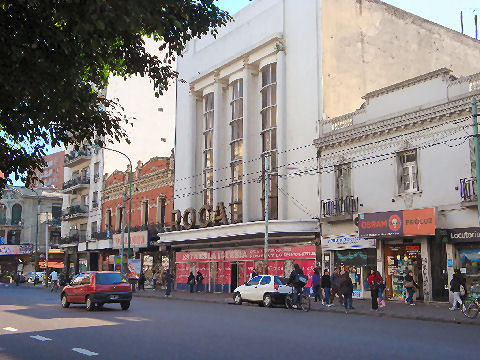 At 3753 is the former Cine Roca, a one time grand theater of the cinema. Closed in 1990 it has been taken over by the Iglesia de las Buenas Ondas, an evangelical church ("The Church of Good Vibes" might be the best translation…).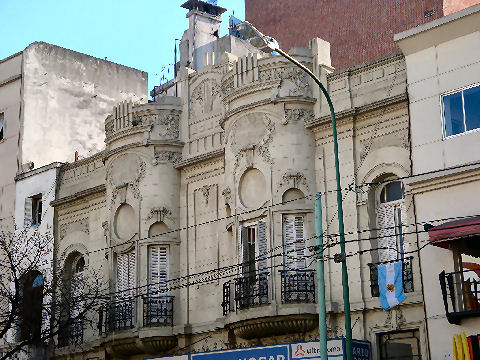 This is one of my favorite buildings along the stretch. I know nothing about it other than I love the detail….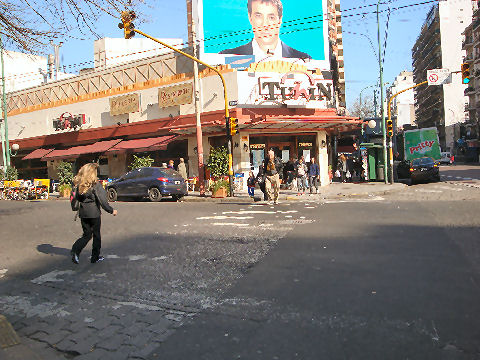 Another of my favorite pizzerias, Tuñin, is to be found at the corner of Castro Barros. This corner seems a good stopping point for this part of my wander, and a couple of slices of pizza while sitting in the sun seem just as fitting. Afterwards…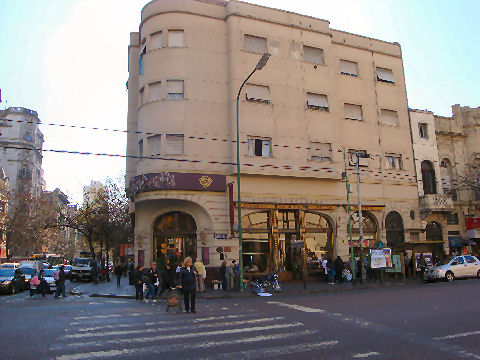 Famed Cafe "Las Violetas" is to be found on the opposite corner….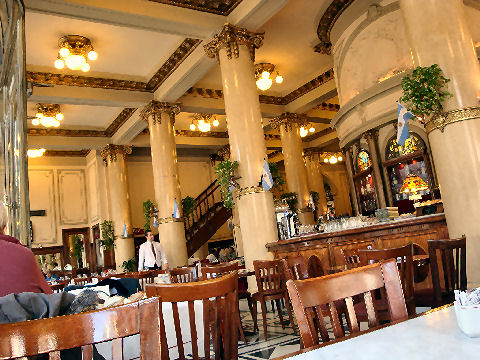 Inside, opulence, airiness, attentive service, pastries galore, and steep prices… but hey, we're treating ourselves, after all, we've just walked something liked eleven blocks.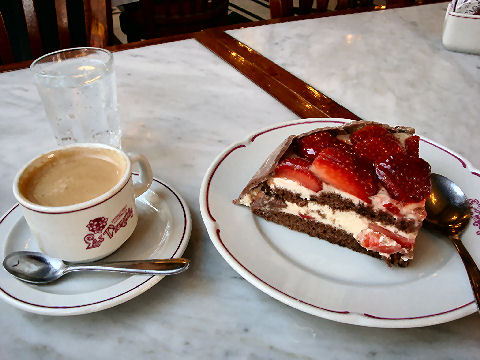 So, a coffee and a piece of cake or a pastry – figure it will set you back around thirty pesos just for that, perhaps a bit more. The chocolate cake with strawberries is outrageously good.
More to come…we're only at about the 4000 block and have until somewhere in the 11000s….