"I get on the floor, and I can do things a woman a fifth my age can't do."

– Kitty Carlisle
It was Kitty's 100th birthday, and she nearly made it, having passed away just over two years ago. Most people probably only know her as a "has been" actress who was a regular on game shows like To Tell the Truth, What's My Line, and Password. But her career began with opera and theater back in the early 1930s, and by the middle of that decade she landed the starlet role in the Marx Brothers' comedy, A Night at the Opera. Not long after, she married playwright and director Moss Hart and starred in many of his productions through to the end of the '40s. In the following two decades she was mostly seen on the game shows, and then beginning in the 70s and through to the end of her life, she was a dynamic activist for The Arts, in New York State.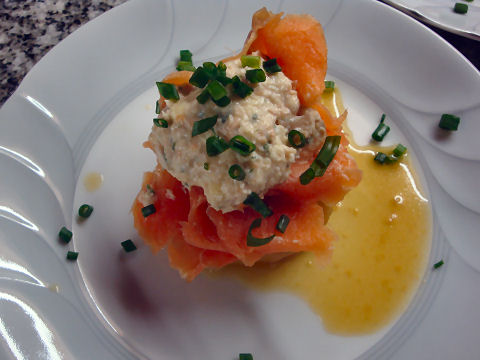 Her first role on stage was in a production called Champagne Sec, which as best I can tell was a slightly odd reinterpretation of Die Fledermaus. But it provided a starting point, and a bottle of Chandon's Rose Sec graced the table, with an appropriate pairing of a trout rillettes (fresh trout poached in court bouillon, then mashed with butter, fresh cream cheese, dill, chives, horseradish, a splash of white balsamic vinegar, salt and pepper), a scoop of which I wrapped in smoked salmon, and then served atop a slice of caramelized sweet potato (butter, orange juice, sweet white wine, mustard, salt, pepper and caramelized brown sugar).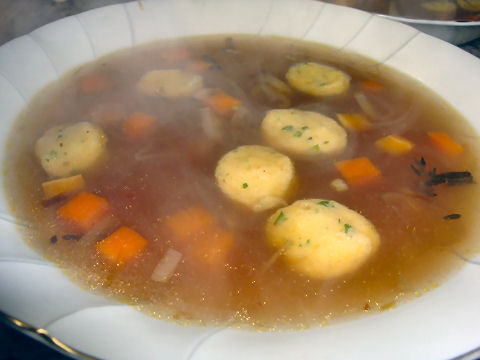 Somewhere or other in my research about Ms. Carlisle, it seemed that she was noted for having people over for lunch more than for dinner. And among her favorite things to serve, vegetable soup and roast chicken. Here, a roasted vegetable soup – first a broth made from roasted vegetables, strained, clarified, and then the addition of roasted carrots, squash and shallots, and then finished off with herb dumplings.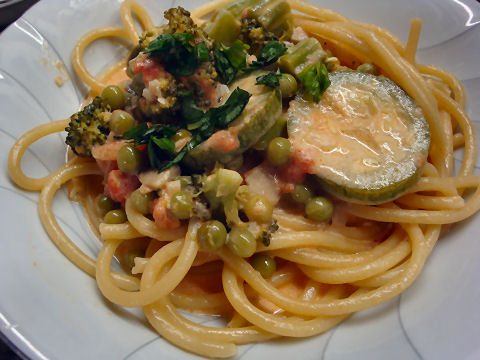 By now, most people have realized, figured out, or been informed that pasta primavera is not and never has been a traditional Italian dish. It was "invented" at Le Cirque in New York City, back in the 70s, for a banquet luncheon of one sort or another – a couple of sources asserted that it was a luncheon honoring several actors and actresses who were active in the politics of the theater world – among them, Kitty Carlisle. Whether or not that's true I don't know, but given that spring has sprung here, it seemed a good omen. I followed the original Le Cirque recipe (at least as it is posted hither and thither on the internet) to the letter, other than using foratini for the pasta instead of spaghetti – I wanted something with more bite to it.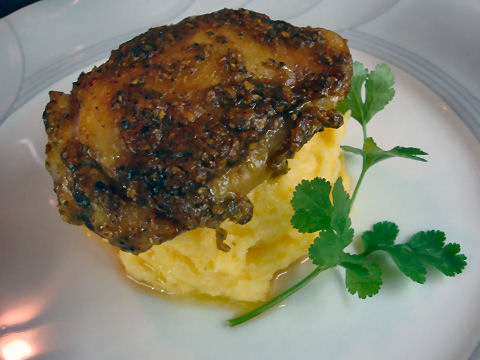 Much as I like a simple roast chicken, I knew I wanted to do something spiced up a bit for this meal. I started off with this recipe, which Henry and I have enjoyed at home several times – over time I've modified it a bit, removing the ground rice, adding in some chilies, and adjusting the quantities here and there. I leave the chicken pieces marinating in it for at least 5-6 hours, and then roast them off in a very hot oven. Here, we served them over polenta grasa, polenta cooked in milk rather than water, and finished off with melted goats' milk cheese.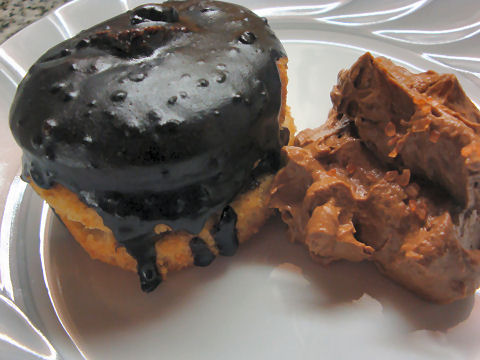 Given her first film, and having recently learned in pastry class how to make an Opera Cake, I decided to make something inspired by it, we'll call it A Night at the Opera Cake – instead of thin layers of an almond biscuit, I made cupcake sized financiers (a brown butter and almond pastry), filled them with a layer of dark chocolate and coffee ganache, then drizzled them with the traditional chocolate glaze, and served them up with a scoop of chocolate olive oil mousse topped with a little pink sea salt.
Happy 100th Kitty Carlisle! Wish you could have been here!