"Here the citizen does the talking about the country himself; the stranger is not asked to help. You get all sorts of information. From one citizen you gather the idea that Mauritius was made first, and then heaven; and that heaven was copied after Mauritius. Another one tells you that this is an exaggeration."

– Mark Twain
I have no idea why Mauritius has always held a fascination for me. I suppose part of it is that it really is an obscure island, way out in the Indian Ocean on the far side of Madagascar, which already is pretty out there. It most likely was driven in large part by my stamp collecting days as a kid, they had all these gorgeous stamps with various denizens of the local sea on them. And there was a strange French, British, African, Indian mix to the culture. And then one day about ten years ago, I stumbled across a cookbook of the cuisine – in French – which I kind of sort of can muddle my way through reading – and I looked through it and then stuck it on a shelf and more or less forgot about it. And suddenly there it was when planning our Casa Saltshaker dinner this last weekend, the bicentennial of one of the more decisive battles of the Napoleonic Wars, and it just so happened to be in the main bay outside of the main city of the time, of Mauritius. Whew! I remembered the cookbook and dug it out, decided that I'd spend too much time deciphering the recipes, and promptly went and found myself a website just chock full of ideas and recipes.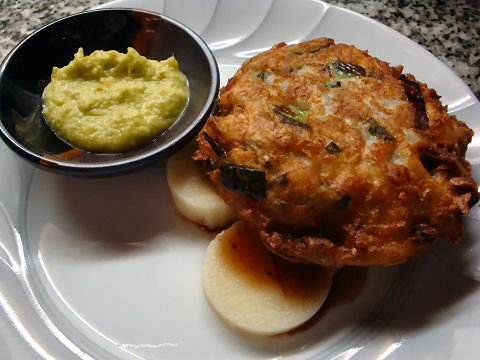 We started off with a taro fritter, seasoned up with ginger, crispy bacon bits and lots of green onion. Served it over some slices of heart of palm dressed with a fruit vinegar, and accompanied by a spicy green chili sauce that is more or less a simple puree of chilies, onion, ginger, oil and vinegar. I have to do a post on taro roots and using them, but a caution upfront, it's best to handle them with kitchen gloves on when you're peeling and grating them as the raw juice tends to irritate the skin, leaving your hands all nice and itchy. Really. Trust me on that one.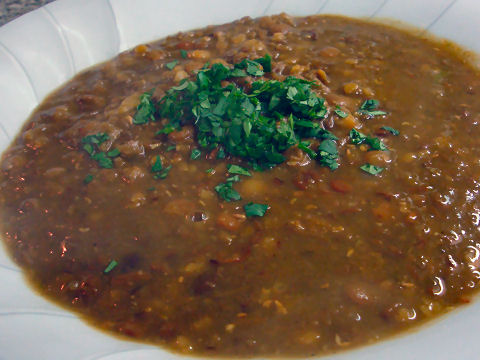 While Rasson is touted here and there as a spicy vegetable soup, it's really more of a mildly spicy lentil porridge of sorts, the spices tending towards herbs like parsley, cilantro, thyme, and toasted seeds like clove, coriander and black pepper. Nothing overly picante. A bit of turmeric to intensify the color, a touch of tamarind to give it some acidity, and some pureed leafy greens to give it a haunting vegetal note (I used beet greens and swiss chard). One of the interesting things, an option for the soup that is recommended is the addition of dried shrimp or shrimp paste – instead, for the soup stock that the lentils were cooked in I used a miso, shrimp and fish broth like I'd made for our Tanabata festival a couple of weeks ago. It is quite tasty.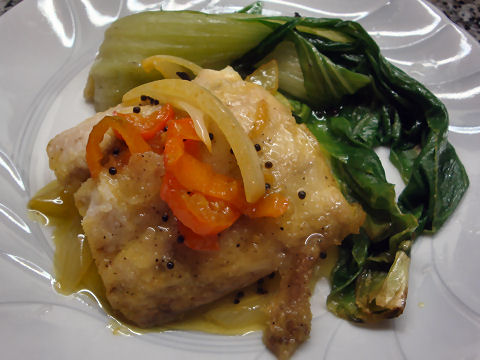 Fresh corvina negra, or black sea bass, showed up in the markets this week, and it's one of my favorite fish. Cooking it vindaille style, the local (and presumably French) word for the Indian vindaloo, shows off the strong Indian influence on the local cuisine, though it's different from that dish, albeit inspired by. The fish is dusted in cornstarch, salt and pepper and then lightly sauteed. The sauce is made by stir-frying lots of sliced garlic, chilies and onions, then adding mustard seeds, turmeric and vinegar and cooking that down. The fried fish goes into the mix and simmers for a few minutes to permeate the flavors, and then it's typically served over rice and stewed greens – though here I went with a simple bok choy that was steamed with garlic and ginger.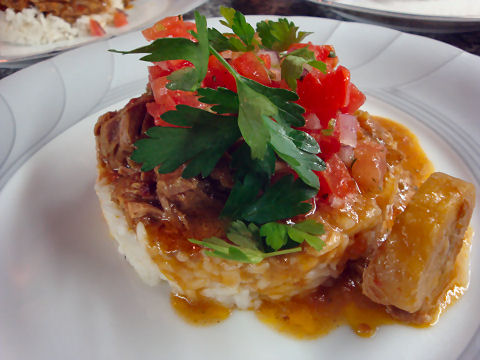 I had wanted to make a traditional pork and jackfruit curry, but no jackfruit was to be found, either fresh or canned, in Chinatown this last week. So I went with plantains. The pork (bondiola, or pork shoulder) is browned in oil, then ginger, garlic, thyme, onions are added and cooked for a few minutes. Then crushed tomatoes, sliced plantains, curry powder, kaffir lime leaves, coriander seed, and just enough water to make sure it won't all dry out. Put the lid on, turned the heat down low, and simmered away for about four hours until the meat was completely tender. Served it over plain white rice, and topped it with an uncooked salsa of chopped tomatoes, chilies, onions, cilantro, salt and a splash of olive oil. Delicious!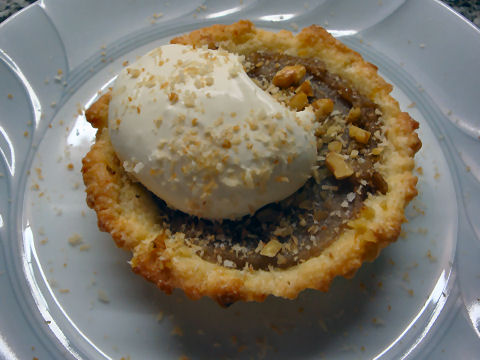 Finished off with a banana tartlet. For the crust I went with an orange peel infused one that we learned in pastry class rather than the version on the website for Mauritian food. The dulce de banana is simply mashed bananas, sugar and a bit of five-spice powder cooked down until it's a dark, thick paste. Filled the tart shells with that, sprinkled them with chopped walnuts, and baked. Served them up at room temp topped with whipped cream and toasted coconut.
All in all, it was pretty happy eating!