"I know what Germans are. They are a funny people. They are always choosing someone to lead them in a direction which they do not want to go."

– Gertrude Stein
I have written in the past about the Cementerio Chacarita, the massive cemetery in the heart of Buenos Aires that dwarfs the more famed Recoleta Cemetery. I mentioned, though haven't talked about the adjacent British and German cemeteries – entered separately off of Av. Elcano, towards the back of the main grounds – and thought it might be interesting to take a look. Starting with the Cementerio Alemán, or German Cemetery, simply because it's the first one you get to walking around the side from the main entrance… while predominately a Protestant burialground, it is not strictly that, nor is German ancestry an absolute requirement, though perhaps it's a case of one or the other. There's a large contingent of Hungarians buried here, and also a fair number of Jews, the latter, however, scattered about like the diaspora, which is part of what leads me to believe that German background is the more important criterion.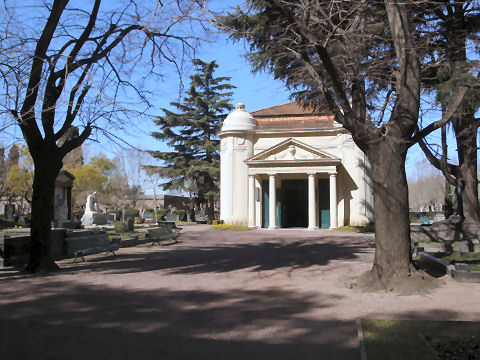 On entering, the first thing you'll see is the small chapel. Built in 1925 it is intended to evoke a European style. On the inside it's well illuminated through some quite beautiful stained glass windows, and there's a small organ in one corner where, apparently at some times of the day, spiritual music is played.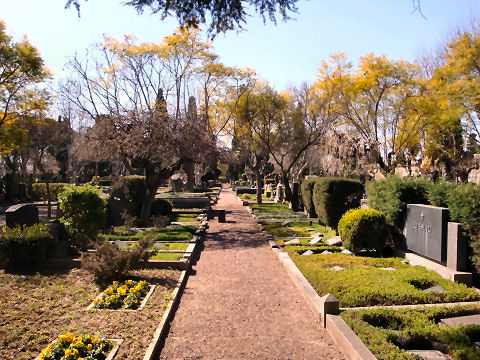 The grounds are impressively manicured – orderly, neat, immaculate… several groundskeepers were at work while we were there. Somehow, this doesn't surprise me given the cultural stereotypes, you know?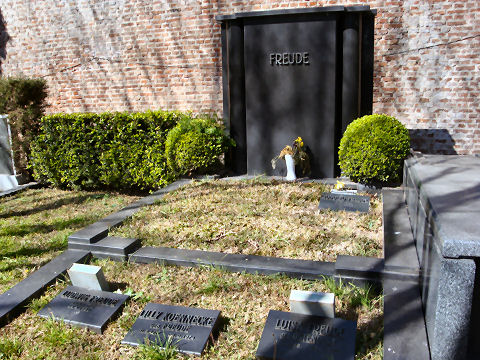 I thought I'd just pick out a couple of plots – there's not, to the best of my knowledge, anyone super famous here like, say, Eva Perón in Recoleta or Carlos Gardel in the main part of Chacarita, but perhaps, just a note or two about one person or another who has found their way here. On the infamous side, here is the Freude family plot. The main tenant, Rodolfo (1922-2003) was Juan Perón's Director of Information Services, but is most noted for being one of the principals behind ODESSA, the organization for former SS officers, and for being one of the people behind the smuggling of Nazi officers into Argentina after WWII. Also buried here are Ludwig (1890-1956), his father, who is believed to have been the head of the local "chapter" of the SS, providing his home as a place for Nazi and SS officers in Argentina (during the war years) to meet clandestinely. To his side, Rodolfo's sister, Lilly (1917-1974), who was married to Walter Koennecke, a spy for hire (British, German, Argentine), who helped smuggle the infamous "Nazi gold" into Argentina via u-boats. And last, Luisa Freude Ostendorf (1896-1973), about whom I didn't find any information, though given her date of birth as just a few years after Ludwig, I'd guess perhaps his younger sister, and Rodolfo's aunt.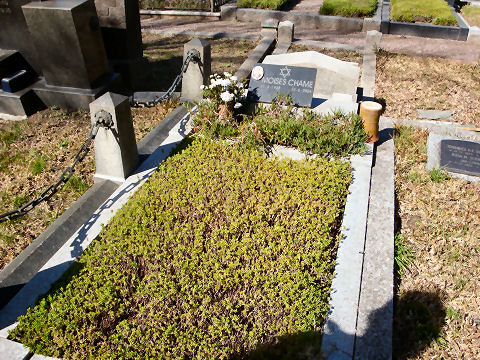 Purely on a whim, I thought I might try to find out something about one of the more prominently visible Jewish graves, housing one Moises Chame (1938-2004) – figuring with the date of death perhaps there would be a local obituary that would show up in an online search. But, no such luck. Though it did lead me to an interesting book on a group of Jewish families who left Monastir, Tunisia [see first comment below], in the early 1900s, traveling through Europe, and eventually ending up in Chile after first passing through Argentina, including one person of the same name – perhaps there's an ancestral relationship, perhaps not.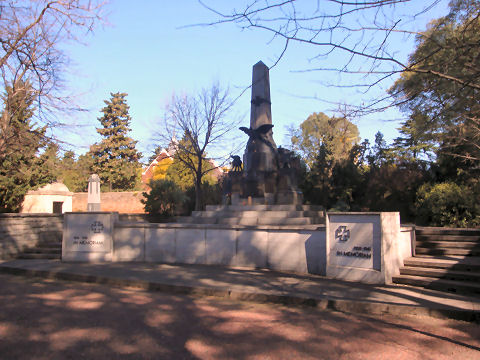 Off to one side is a memorial to German Argentines who fought and died in both WW I and II.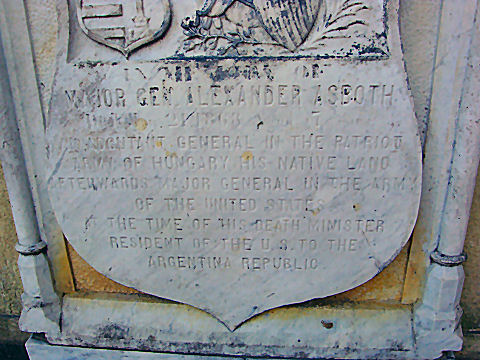 In the Hungarian section, this interesting plaque mounted on the wall, reads in English: In Memory of Major Gen. Alexander Asboth. An Adgutant General in the patriot army of Hungary his native land. Afterwards Major General in the Army of the United States. At the time of his death Minister Resident of the U.S. to the Argentina Republic.
An engineer by training, and military officer by desire, he rose through the ranks of the Hungarian army, and then joined a freedom-fighting movement that eventually led him to the U.S. There he served under General John Fremont in the Civil War years. Later, as noted, he was appointed as the U.S. Minister to Argentina in 1864, and died in 1868, believed to have been from wounds received back in his fighting years. He was originally buried in the Cementerio Alemán, but in 1990 his remains were returned to the U.S. and re-buried in Arlington National Cemetery.
There are hundreds, if not thousands, more tombstones in the cemetery, including five "famous" folk who show up on the international Find-a-Grave site. If it's one of your interests, you could spend a lot of time out there checking out who's checked out.