The Battle of Aljubarrota was a battle fought between the Kingdom of Portugal and the Crown of Castile on 14 August 1385. Forces commanded by King John I of Portugal and his general Nuno Álvares Pereira, with the support of English allies, opposed the army of King John I of Castile with its Aragonese, Italian and French allies at São Jorge place, between the towns of Leiria and Alcobaça, in central Portugal. The result was a decisive victory for the Portuguese, ruling out Castilian ambitions to the Portuguese throne, ending the 1383-1385 Crisis and assuring John as King of Portugal. Portuguese independence was confirmed and a new dynasty, the House of Aviz, was established.
I'm glad that was all settled 625 years before we set out dinner on the table. Nothing like a civil war to put one off their feed. And, the Portuguese victory gave me another opportunity to play around with those flavors in the kitchen….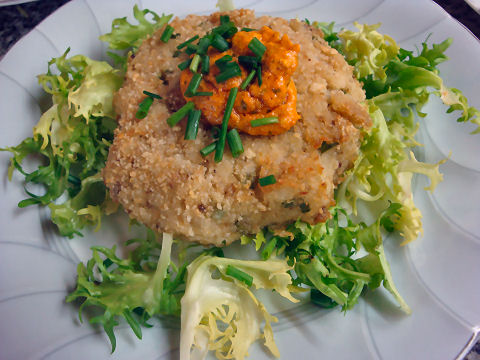 Started off the evening with a plump and juicy cod cake with fresh poached cod (in court bouillon) flavored with a mix of spices focused on several types of paprika, and green onions. Baked instead of fried, and topped with a piri-piri sauce – a roasted pepper, tomato, and tiny green chili peppers mix.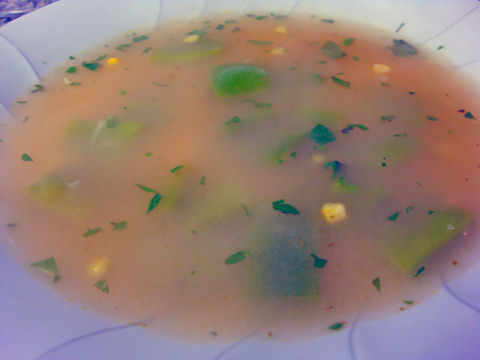 Brought back one of our faves, a minted-green bean soup with a chicken and vegetable broth thickened with a little potato. Not sure why the colors on the photo came out so odd, but so be it.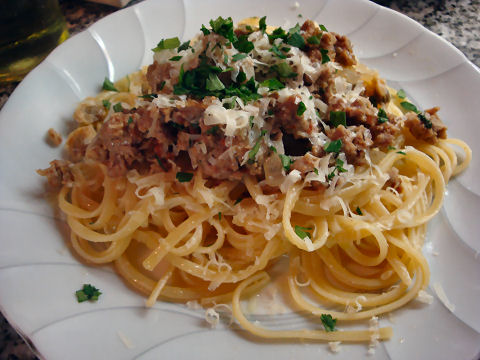 A little linguini with a ragu made from homemade chorizo sausage meat, fresh cockles, tomatoes, onions, garlic, lots of olive oil and a good grating of cheese. What's not to like?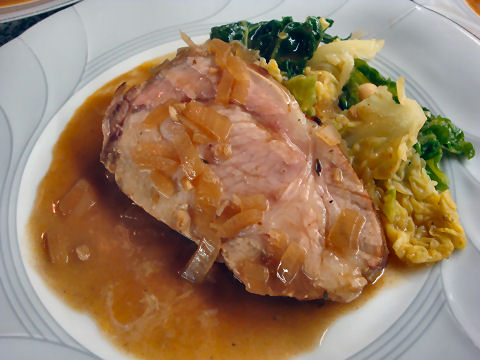 Roast pork loin, rubbed in smoked paprika, salt, and port. Roasted to medium. Served up with a saute of savoy cabbage, chickpeas and garlic, and a sauce that of caramelized onions in reduced port, pork stock and more smoked paprika. Winning dish for the day.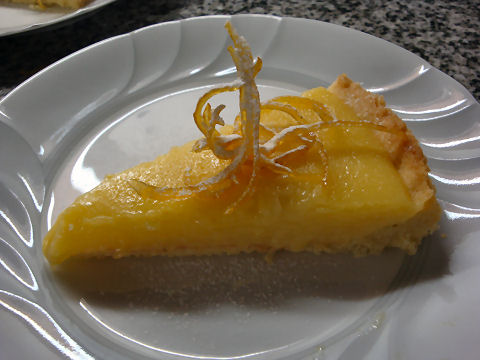 Finishing off with a lemon curd olive oil tart (part of the butter in both crust and curd substituted with fruity olive oil). A little candied lemon peel atop for garnish and a nice finish to our non-crisis!