"You who after a few days here have called Siena "beautiful but rather dull", have you not noticed a sudden change in the city? It seems to have come in a single night, and shows itself in a general air of agitation and excitement."

– from "The Palio"
I don't know what it is about the Palio di Siena each year that near requires me to put on a Casa S dinner in celebration. I've never been, in fact my only experience of Siena was about an hour's time one day while bumming around the Chianti region. Perhaps it's just an excuse to play around with some Tuscan food…? This past weekend was, once again, the proper date for one of the two annual races, and into the kitchen I went with some ideas, both old and new, for this year's menu.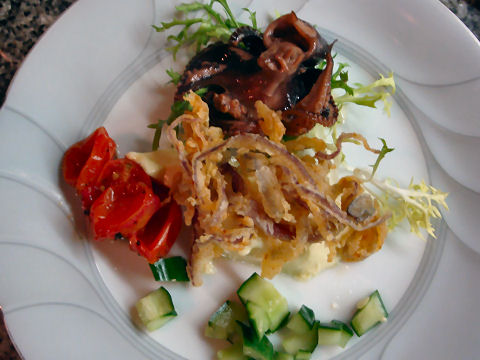 I wanted to make an interesting little cold appetizer with smoked anchovies. But the time of year is off and I couldn't find any fresh anchovies, sardines, or even mackerel. All that was around were the little pickled
boquerones
, which I've used before, but, given that they're already pickled, don't lend themselves well to being smoked. Another fish was a possibility, but somehow, while I was in the fish market, the little baby octopuses started calling to me, and while they're not what I'd started with, there are octopus dishes in Tuscany. I confited them in olive oil with various spices and then served them just slightly warm with a little salad of frisée, herb-roasted cherry tomatoes, salt-cured cucumber dice, fried red onions, and, my favorite part of the dish, a creamy, delicate garlic custard. The presentation needs serious work, but the flavors came out just the way I'd hoped – so look for some new rendition of this dish down the line.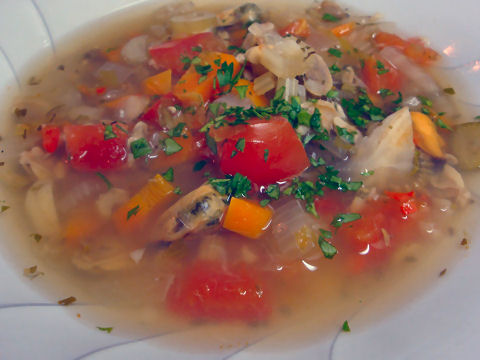 Starting from a traditional local seafood stew called
cacciuccio
(which turns out to be an unfortunate name here, as locally, when said out loud, sounds like a slang and not particularly dinner-party polite name for a bit of female anatomy – eliciting a bit of blushing and chuckling amongst some of the guests… live and learn), I went for a soup-ified version. Fresh fish stock made from the bones of lenguado, or sole, and then lots of onion, carrot, celery, fennel, tomatoes, a little bit of chili (rocoto), the lenguado itself all diced up, some cockles and mussels.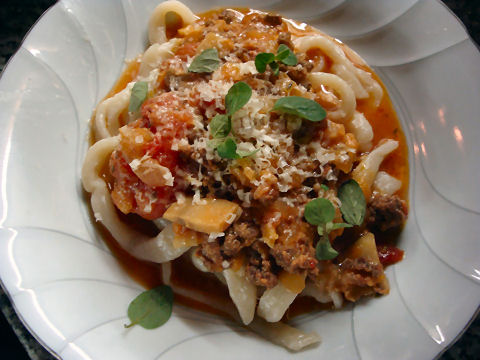 The star of the evening, hand-rolled
pici
served with a duck ragu made with, well, pretty much the whole duck – breast, thigh and leg meat and an equal quantity of hearts and gizzards, all ground together and stewed away with all the good stuff – onion, garlic, carrots, celery, mushrooms, tomatoes, white wine, milk, herbs and spices. Finished off with a bit of grated romano cheese and fresh oregano leaves.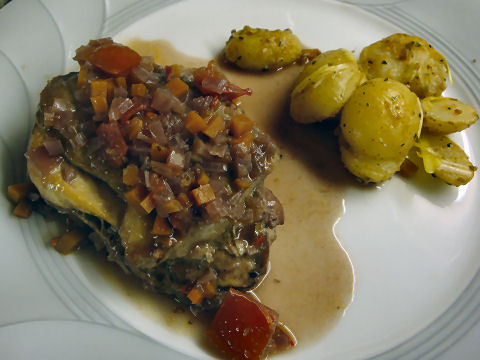 Scottiglia
is, more or less, the
chili con carne
of Italy, and a classic, spicy dish of the Siena region. This isn't it. But it was the inspiration for this. Classically, a slow cooked tomato, chili and wine stew with a "minimum of three kinds of meats", it merely provided some food for thought. The three meats are there, though not likely those that would be classically used – what I did was stacked up slices of beef round, chicken breast and pork shoulder, then pressed them together so that they formed a firm little stack – and no meat glue used! I browned them on top and bottom and then put them into the oven with an already simmering broth of red wine and aromatic vegetables, and let them cook slowly for about an hour, absorbing those flavors and getting all nice and tender – I think if I did it again I'd go with an even lower heat oven and cook longer to really get a fork-tender texture. Served with a bit of the reduced broth alongside sauteed little potatoes with white Japanese chives. Flavors great, but once again, the presentation isn't quite there.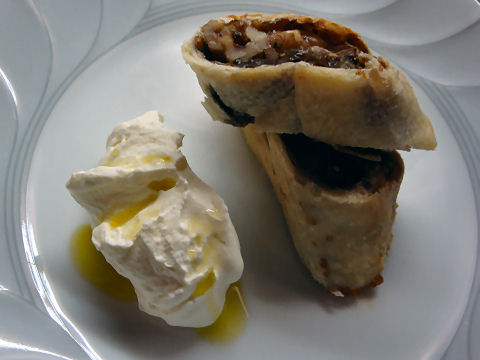 The only changes in this dish that I made from previous years, as I happen to like it a lot, is that I made my own strudel dough this year – after all, it's part of why I'm taking the pastry chef program. The filling – chestnut puree, walnuts, raisins, rosemary, brown sugar. Rosemary whipped cream on the side, and, instead of an olive oil drizzle, a bit of green lemon oil – a much better match!