"I grew up in a very humble way. My intent was never to come out and say I'm the best."

"I got really low score – what the fuck was that. That piss me off."

"Maybe they do not understand other culture; those things really bug my ass." (speaking of the critics judging his food on Top Chef Masters)

"The word master means you have to be good at everything." (speaking of himself)

"It's a question of culture. On Asian cuisine they are not that advanced." (speaking of New Yorkers)

– quotes from Susur Lee, chef
I'd heard of Susur Lee, rock star chef of the Toronto foodie scene – asian fusion and all that. But I had no experience of either him or his food until watching him recently compete on Top Chef Masters second season. On the show he came across as egotistical, insensitive, and completely driven. But that's the show – I figure the editors play up each chef as a caricature of themselves – all of them came across as "a type" of one sort or another. I had no idea until at one point they mentioned it towards the end of the show that he now has a restaurant here in NYC. It immediately went on my list – while his dishes sometimes seemed a bit over the top on the show, they showed a lot of creativity, and working in the constraints of the show's format and the whole competitive thing had to have come into play. Even the whole "I don't speak English well" persona falls short when you realize he grew up in Hong Kong and has lived in Toronto for the last 32 years….
So, off I toddled (no meetup responses again from FB or Twitter) to Shang, 187 Orchard Street, for a late evening dinner. It's an odd location for an ambitious, creative sort of restaurant – not exactly the neighborhood you'd expect to find something like that – across the street is a BBQ joint, there are a few dingy bars around, it's around the corner from the strip of all those east Houston ethnic fast food joints, a block or so from Katz's, you get the drill. But, the restaurant is in a hotel, one of these new, trendy sorts that are springing up in areas that have traditionally been less desirable in the city – presumably lower rents or purchase costs are a driving factor. [Restaurant closed in early October 2011, to be replaced by a branch of Blue Ribbon.]
The entryway gives me pause… it's a stark, industrial feeling staircase that shoots up two stories to a just barely seen hostess stand at the top. It's a climb. I assume there's a way to enter from the hotel, probably by elevator, but there's no indication of that. It's lit by fluorescent bulbs that have been set into the underside of the handrails, which are piping hot to the touch, making them useless, and at some point someone is likely to get zapped or cut when something frays or breaks. I enter into the long, dark bar, teeming with the yuppie set, or so it seems, though it quickly becomes apparent that much of it is pseudo-yup with a "bridge and tunnel" crowd making up the bulk of the milling crowd. I sit myself at the far end of the bar, out of the way and where I can still see the entrance in case someone shows to join me. The decor is a throwback to the late 80s/early 90s lounge scene – all chrome and black-brown and dimly lit.
Thankfully, he leaves, though to some extent, he seems representative of the crowd, virtually none of whom are eating, most are just drinking on the terrace or at the bar – over the hour or so I'm there I see no more than half a dozen plates of food leave the sushi station despite the place having close to a hundred people in it. As I'm alone, and to be honest, still a bit overstuffed from my salumeria extravaganza, despite it being seven hours later and a two hour workout, I'm not going to get to try a whole lot of the menu. And it looks interesting, so I decide to pick an appetizer, a sushi roll, and a couple of pieces of sushi just to get a sense of the style. The trio of sushi counter guys are friendly but a bit vapid, spending most of their time rushing from one end of the bar to the other, together, to check out one or another girl walking by in limited clothing. They blatantly do the same with the waitresses, when one approaches with an order, all three crowd around staring at her chest with no attempt to be subtle about it. They're also drinking, more than once I see them mix up a cocktail for themselves….
When I order, the guy who takes my order tells me it's too much food for one person and maybe I should just have one plate and then go… umm, why? Because I'm taking up a space at the bar that his fantasy woman might sit at? Get over it, there are plenty of seats available, and she's not coming anyway. But then, it's no different than they're treating others – two women from the hotel, probably in their late 50s, come in and take a seat in the lounge, off to the side, and despite repeated requests on their part, it takes a solid 15-20 minutes before anyone pays them any attention – three of the waitstaff arguing loudly next to me at the counter over "who has to deal with the old ladies".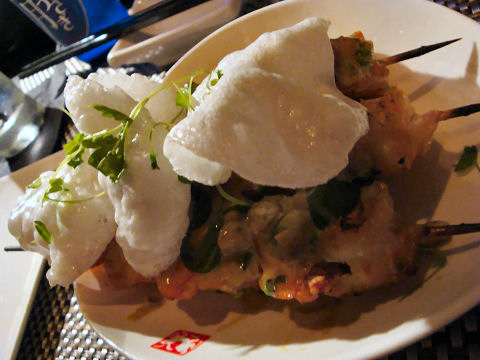 I start with the shrimp satay (also available in beef, chicken, or a combo), which is listed as having "Penang peanut sauce and chili-mint chutney". It arrives, an ample portion for $12, with three skewers, each with three good sized shrimp, under a trio of shrimp crackers. It's reasonably tasty, but disappointing – there's virtually no chili heat, the shrimp have been grilled to rubbery toughness and are a workout to chew, they're doused in oil that seems to contain little more than chopped peanuts and mint, with a faint hint of heat. The shrimp crackers are stale.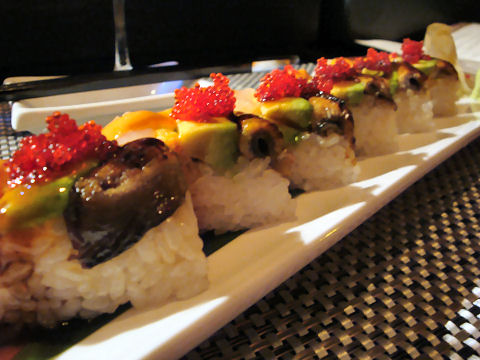 The "Brick Roll", listed as spicy lobster, barbecued shrimp and scallop, is far better, one of his signature sushi rolls. The interplay of the lobster, which in this case is actually spicy and the sweetness of the eel, work well together. The scallop is lost in the mix and probably wouldn't be missed – its flavor just too subtle to compete against the other flavors. For $16 it's not bad, especially given the ingredients. The individual pieces of sushi are fine – but nothing special – and the fact that on questioning, the sushi guys don't have a clue between them where any of the fish are from tells me that they've just been hired to execute the dishes and don't have a real understanding of their craft.
And that, even with just a limited tasting of the dishes, is likely the problem at Shang and why it's not "caught on" – along with having developed a clientele that probably don't, for the most have any real interest in creative cuisine, is that the staff are just going through the motions. If Lee wants to be successful in NYC, instead of complaining about New Yorkers not understanding his food and there being no culture for Asian cuisine here (really? has he spent any time in the city?), he needs a better location, and needs to either hire people who are not just window-dressing, or at least spend some time training them to do their jobs well – with courtesy and professionalism. Otherwise, wait for it, he should just shang it up and go back to Toronto.