On June 6th, 2002, the Eastern Mediterranean Event occurred, a high-energy aerial explosion over the Mediterranean Sea, at around 34°N, 21°E (between Libya and Crete, Greece). This explosion has been related to an asteroid undetected while approaching the Earth. The object disintegrated and no part was recovered. It was detected by satellites and seismographic stations, with a calculated yield of about 26 kilotons of TNT (approximately double the yield of the Hiroshima bomb). At the time, India and Pakistan — nations with nuclear weapons — were in the middle of a military standoff and on high alert. It has been said that had the explosion happened in this area (the location of the event and Kashmir are on the same latitude), it could have been possibly taken for an attack, potentially triggering a nuclear war between these countries.
Bringing in flavors of Greece and northern Africa to our table is something that fits right in with the way I like to cook. Most of the meal based on dishes I've prepared before a few minor tweaks here and there. Vegetable and rice filled grape leaves with salsa taratur; a chicken stock, white bean and vegetable soup flavored with marjoram, basil, cloves, bay and sage; a duck moussaka; and a date and walnut tart topped with a good sprinkling of fennel and sesame seeds. The hit for me, the pasta course, no surprise – egg yolk and semolina pappardelle with a ragout of garlic, chilies, black olives, tomatoes, and parsley, and then the addition of cubes of ocean perch and finished with finely diced goats' milk feta cheese. Delicious! I made an extra batch the next day for lunch.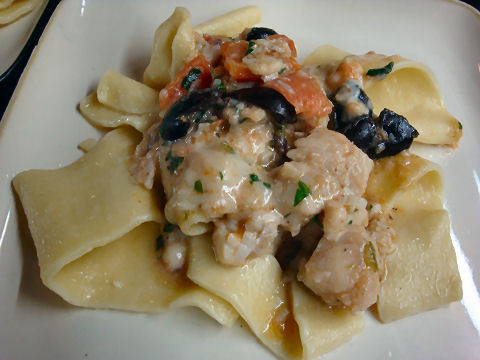 Thankfully, this dinner was not a "near miss"!