"Surprise is the greatest gift which life can grant us."

– Boris Pasternak, Russian poet
A fun little weekend past with both public and private dinners, first the latter. A group in from Chicago who pretty much left things in my hands… "no Scallops(allergy), Mushrooms (dislike immensely), Cheetos, twinkies, egg salads, eel, frog legs, potato chip casseroles, deep fried pickles, kidneys, brains, sweetbreads (scary parts) we try and avoid."… damn, there went my offal, deep fried pickle and twinkie casserole with crumbled potato chips and cheetos atop. And I was all set to unleash it on the world.
Course one, no good photo, but you've seen before – olive oil poached trout with romesco sauce and shaved avocado. I really like this dish when I can get good, fresh trout!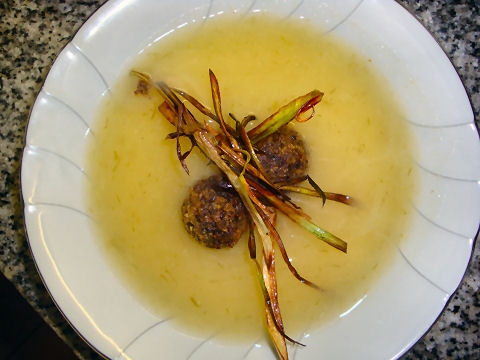 Further tweaking on this dish, fennel soup with falafel – the broth base the whey from making ricotta for the next course, packed with lots of chopped fresh fennel bulbs, white onion and leeks, celery, and a potato for body, simple seasoning – salt, white pepper – pureed, but not strained to keep some texture in it – served with a couple of just fried up falafel and some crispy leeks.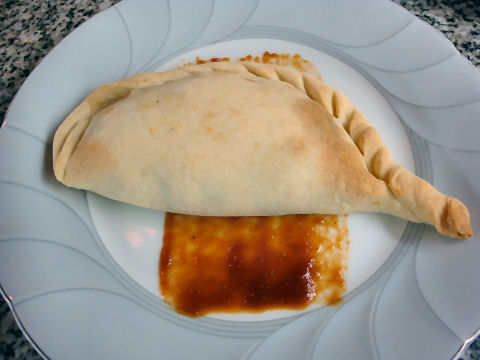 A well-packed empanada with finely chopped sauteed chicken, pequin chilies (here referred to as putapario – literally "whore's offspring", or in more polite company, ají de la malapalabra, the curse-word chili), swiss chard, roasted peppers, and homemade ricotta. Below, a swipe of a bourbon based barbecue sauce that I came up with for one of our recent cooking classes.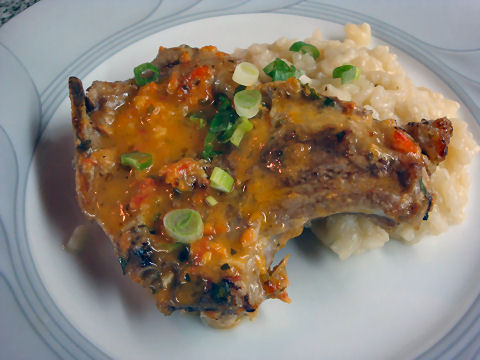 The whole chimichurri thing seems to have taken the foodie world, particularly in the U.S., by storm. Now, there are different opinions, but here's the general take on it from local friends – first off, the sauce is a red sauce, based on red bell pepper, tomato, and red wine vinegar along with lots of garlic and herbs – here's my recipe – the "green" chimichurri that seems to be all the rage and is little more than vinegar, oil, garlic and parsley, is something that here is used primarily on fish, chicken, and vegetables – not on red meat, and some folk don't even call it chimichurri, but "provencal", or garlic-parsley sauce. Second, it's not usually used as a marinade – that's not to say it can't be, it's simply not in general – steaks here are salted, perhaps a little pepper, and then grilled – it's about the meat, not about a sauce. Third, following on that, it's not usually used as a steak sauce, it's used as a condiment to the other stuff – sausages, offal, etc., that come as part of a mixed grill here. All that said, people do what they want and there are a zillion recipes for chimichurri, and I've seen it as a marinade, I've seen different colors, and whatever else you might think of. Here, I marinated pork chops in mine for several hours, broiled them, spooned more sauce over them, and served them over caramelized shallot risotto that was finished with grated romano cheese.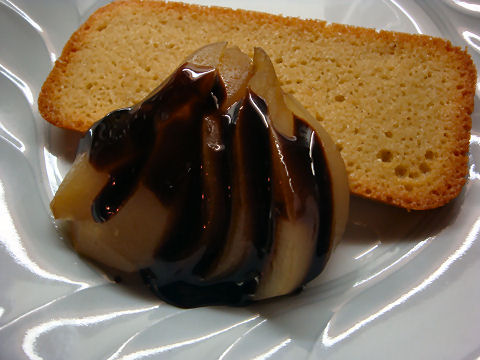 Another take on last week's financiers, this time with pears that were poached in bourbon and vanilla syrup and then drizzled with a red wine and chocolate reduction.