"Palmiers are crisp and delicate palm tree leaf-shaped cookies made of puff pastry and sugar.
The sugar on top caramelizes when baked. Palmier literally means "palm tree" in French.
Often known in the US as elephant ears. Palmier are thought to have first been made by the French at the turn of the 20th century.
So, now that we have our puff pastry made, what to do with it? Let's start with one of the simplest, palmeras as they're called here, palmiers in French, and often, elephant ears in English. For this, you need to have gone the full five folds, as it were, so we've got those 486 very fine layers….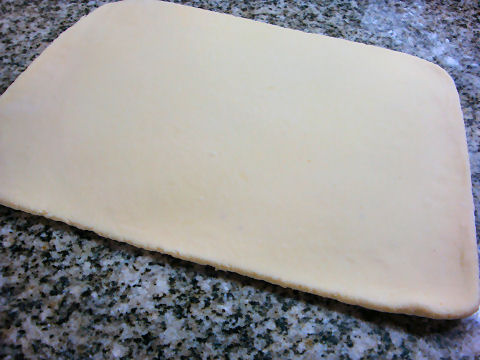 This is using one half of the batch of puff pastry that I prepared in the last post. Given that amount, once again roll this out to just about the size of a sheet of letter paper.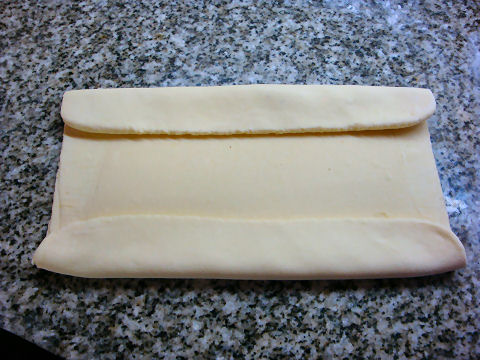 Fold in the long edges, not quite a quarter of the way – you need to leave room for the folds….
Fold in again, leaving just a little space in the center, enough to be able to fold it one more time.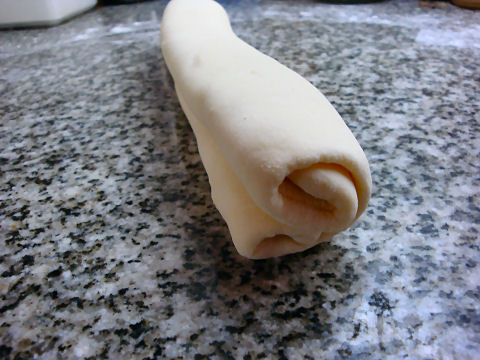 And, make that last fold. Here's where I made one minor mistake – that's the whole reason I'm practicing, you know? – to see what I need to correct. At this point what you should do is flatten it down a bit, so that the rolled up layers stick together. Not too much, but more than just a light pressing – you can see below how many of mine popped open as they baked. Place the rolled dough in the freezer for about 15-20 minutes to firm it up and make it easier to slice smoothly.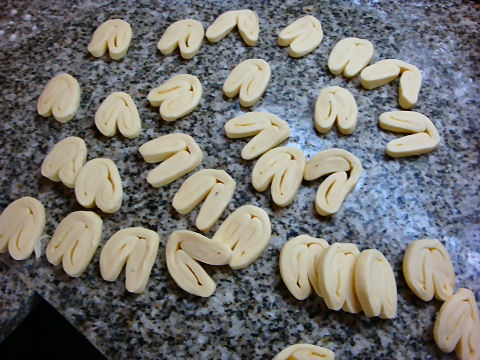 Because, what happens if you don't is after you cut these into slices (my second mistake – too thin) of about ¼" thick, they start to unroll themselves. Trim off the very ends, just enough so you have all sides "cut" – otherwise the two palmiers, one from each end, won't puff right because they've got one side sort of smushed together. Have a plate or bowl of sugar at the ready, and pick up each palmier and press one side into the sugar, it should be nicely coated…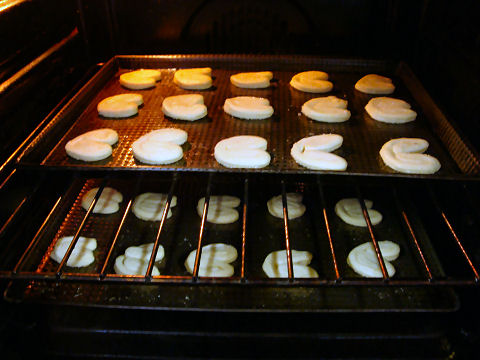 Then place it sugared side down on a buttered baking sheet – this is a time to not use a silpat, though you could, I suppose, use parchment paper to make it easier to cleanup later. The idea is, however, that the butter and sugar are going to caramelize the underside to a dark, golden brown.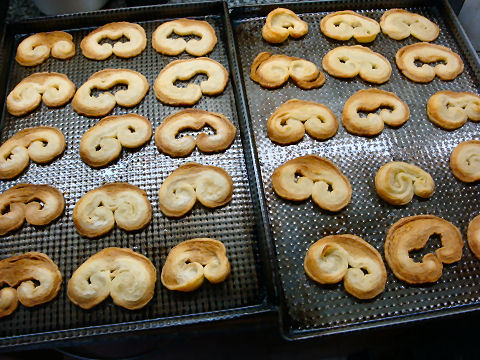 When the upper side is a light golden brown, you can take a look underneath one or two, carefully lifting with a spatula. If you've got a nice caramel color, go ahead and pull them out. Flip them over to cool, sticky side up.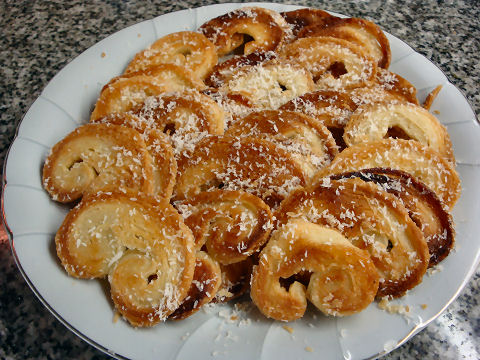 Before they're completely cool, while the caramel is still sticky, sprinkle them with grated coconut. Arrange on a plate and happily eat! Look at how beautiful those delicate layers of pastry make this, even with my mistakes!