"I'd rather be a could-be if I cannot be an are; because a could-be is a maybe who is reaching for a star. I'd rather be a has-been than a might have-been, by far; for a might have-been has never been, but a has was once an are."

– anonymous
In the ever widening search for a decent brunch place – not to say we haven't found some, but it's always good to have options – a couple of us found our way to the far reaches of Palermo and standing in line for the Sunday brunch at Oui Oui, Nicaragua 6068 this last weekend. The line was long when I arrived a short while before 1 p.m., but luck was with us as we were the only party of two awaiting a table, so the next mesa that opened up was ours and by the time my friend arrived ten minutes later, I was already seated and waiting.
It's a kind of kitschy-cute place, with salmon colored patio furniture lined up in rows to seat somewhere between 30-40 people at a time. The menu shows up in three guises – there's a chalkboard awkwardly placed on one wall – I suppose it wouldn't have been awkward had we not been seated directly against that wall, so it was pretty much impossible to see. And two small plastic covered cards are delivered, one with a regular a la carte menu, the other with the brunch menu. The latter has no prices on it, which is to figure into this review, since the only way to determine your brunch price is to be able to see the chalkboard.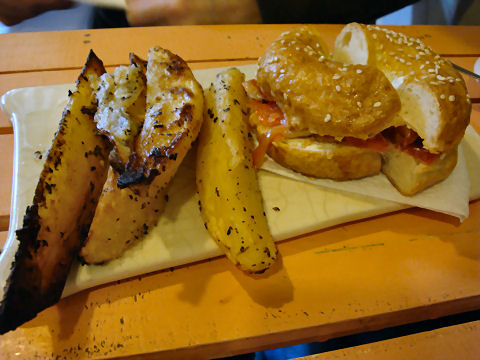 The options are very brunch-y and that's a good thing. They're also quite tasty, another positive. They're also quite small, a negative. This bagel was roughly 2½" across, with a schmear of cream cheese, at best, and one slice of very good smoked salmon. The fries are fantastic – roasted in lemon and herbs. The plate turns out to be $40. It does, however, include your choice of a mug of "filtered coffee" or a lemonade, your choice – but not an espresso, which we both wanted, so we paid extra for that, $7 apiece.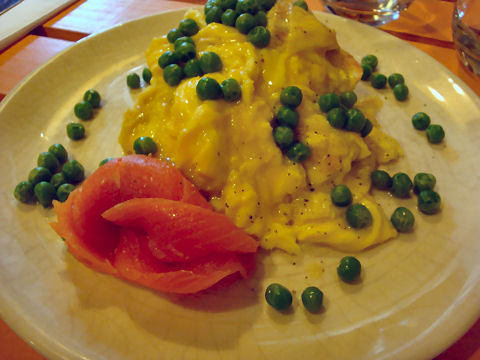 My brioche with scrambled eggs was also quite good – beautifully soft and silky eggs, with "fresh peas" (I doubt it at this season, likely frozen, but, it's their claim), and a single slice of smoked salmon. The brioche, fine, but not brioche – tasted like and had the texture of a slice of plain white country bread. Another $40. Oh, did I mentioned the Blood Marys? Nope. We'd ordered those upfront. Our espressos arrived in about two minutes after ordering them. Our food arrived less than five minutes behind them. Our Bloody Marys, "they're making them."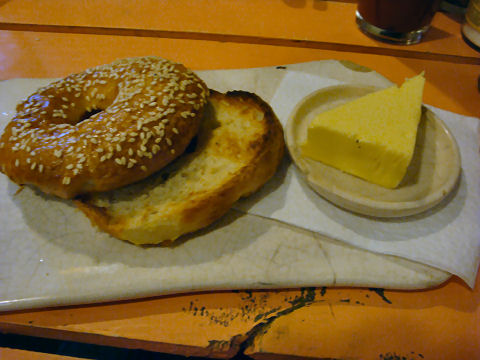 Our plates cleared, we're sitting and waiting, trying to flag down our waitress – charming, but overly busy handling the volume of tables she's got to deal with. Ten minutes go by and our drinks show up. We should have simply refused them at that point. Really we should have, because they might be the worst Bloody Marys either of us has ever had. I don't know what they were made out of – as a guess, boxed tomato puree, the type used for tomato sauce, something bitterly citrusy, maybe grapefruit juice from a carton, wayyyy too much worcestershire sauce, a lot of black pepper, and something that was sort of metallic tasting and left our tongues feeling like aspirin tablets had just taken up residence on them. $25 apiece.
But, we didn't refuse them, and I decided to order another bagel, with butter, which arrived quickly. The butter enough to handle half the room's toast and bagels. We joked that it wasn't enough and our waitress offered to get more – not sure if she didn't quite have a sense of humor or was just too frazzled. The bagel itself, I should mention, made on premise, as are all their breads – not much more than a bread roll with a hole poked through it, but at least a tasty bread roll. $5. Not too bad. Oh, but that block of butter… $3.
So all told, we liked the food and the ambiance, though not the Bloody Marys. And while $80 apiece for brunch is not out of line in a good brunch spot here, especially with drinks, the quantity of food was pitiful and not worth the price – I mean, at places like Novecento and Sirop, you can get a brunch tasting menu for that price. The search continues.