"The greatest blunders, like the thickest ropes, are often compounded of a multitude of strands. Take the rope apart, separate it into the small threads that compose it, and you can break them one by one. You think, "That is all there was!?"

– Victor Hugo
For a couple of years, a friend of mine from here who has now moved back to the States used to recommend this hole-in-the-wall restaurant serving up everything from parrilla to pasta to pretty much anything that falls into the category of "Argentine cooking". He swore by the place. I'd swear off it. [This place has closed.]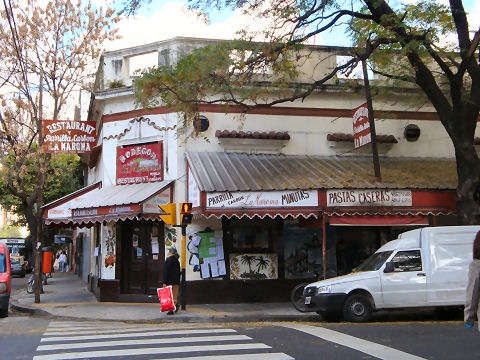 From the outside, there's nothing wrong with Cantina La Maroma ("the rope"), Mario Bravo 584 at the corner of Humahuaca. It looks like any of hundreds of other places in town – windows and walls plastered with the promise of too many dishes (and, the menu itself boasts more than 300 items, taking into account the various options), and bills itself as cocina al estilo del 900 – or turn of the last century cuisine. So given all that, I can't completely fault the place, despite not particularly liking it – it is what it is, an old bodegón that's serving up what the folks in the 'hood have been eating for more than a hundred years.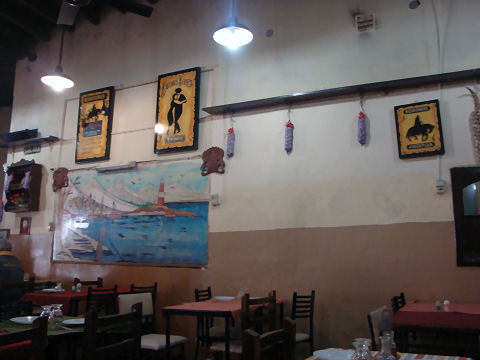 I can, however, fault them in a few areas, the most prominent of which is simple cleanliness. Everything in the place was dirty, grimy, and broken down, torn or non-functional. The thought that they might be using the garlic bulbs that are hanging all about the room, or the molding prosciuttos hanging from the ceiling, is off-putting to say the least. The years if not decades of accumulation of bodily fluids squirted all over the walls and fixtures in the men's room is likely a biohazard, beyond just being disgusting.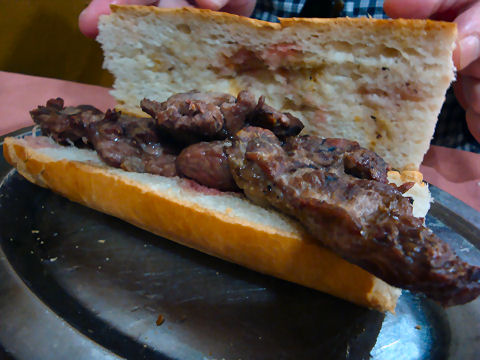 The bondipan, let's face it, a cheap cut of pork grilled and slapped on a white bread roll was fatty, chewy and over-salted.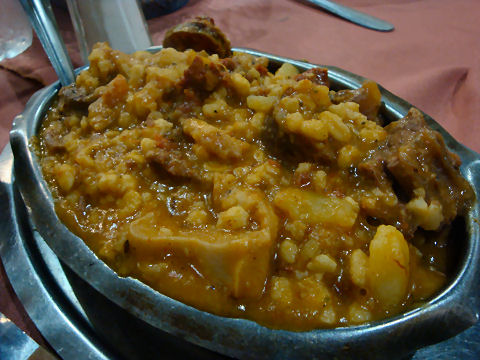 The locro, one of their supposed specialties, was flavorless mush with little more than bits of tripe and some truly awful sausages in it.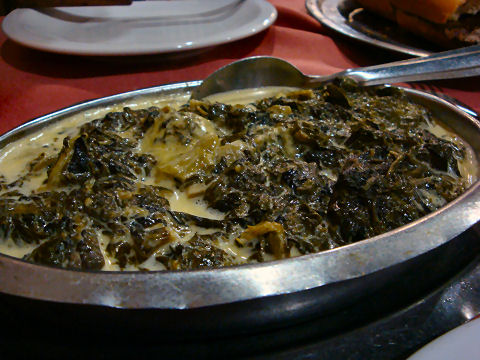 Suprisingly, the best thing we were served was the acelga a la crema, creamed swiss chard, which was flavorful and a good sized portion as well.
The coffee was burned, bitter and undrinkable. At least the price wasn't high – the three dishes plus two soft drinks and two coffees – 85 pesos, just barely over US$20. Still, there are plenty of cheap neighborhood eats kind of places out there, this one won't be getting a return visit.