"All children, except one, grow up."

– from Peter Pan, 1904, by James Matthew Barrie
Apparently the thought of a Peter Pan "I don't wanna grow up" sort of dinner scared away a few folk. There seemed to be much consternation as to just exactly what sort of things we might be serving here at Casa SaltShaker for such an event. By now, you'd think anyone who's seen the website would have figured out that it's not particularly likely that we're going to serve five courses of PB&J. And even the stated theme of memories from childhood was mirrored by a listing of what we were actually planning on serving, and it didn't exactly look like your typical nursery dinner….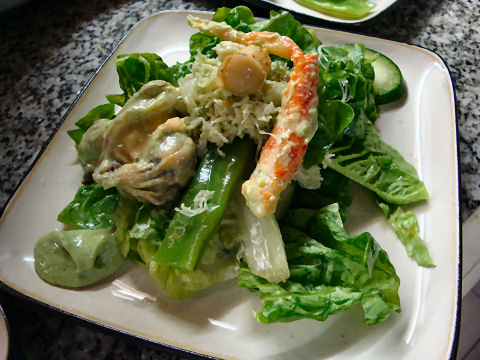 Since we're dealing with my own memories of childhood, which, at this late date may be slightly faulty, we'll deal with what I grew up eating. My mother was a big fan of us having salads, and many evenings there was a "salad bar" of some sort on the kitchen counter from which we could each put together our own salad. It gave us each a sense of some control in an otherwise circumscribed world, we even got to pick our favorite dressings out of the selection of Kraft and Wishbone specials. One of my faves was Green Goddess, and it wasn't until many years later that I took the trouble to find out what it was all about – an investigation that resulted in a published article that, of course, is well worth your reading. Here, the gold star of the dressing selections, with a salad of king crab, mussels and scallops over romaine lettuce, fresh Italian green beans and cucumbers.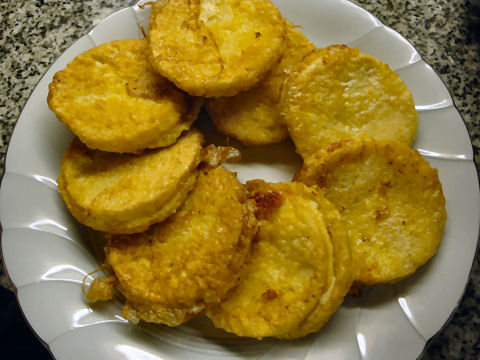 There was a soup course, a cream of tomato and gin soup, which you've seen before on these pages. To accompany them, in place of a classic grilled cheese sandwich, mozzarella in carrozza – little fried cheese delights that we served on the side to be dipped into the soup as desired.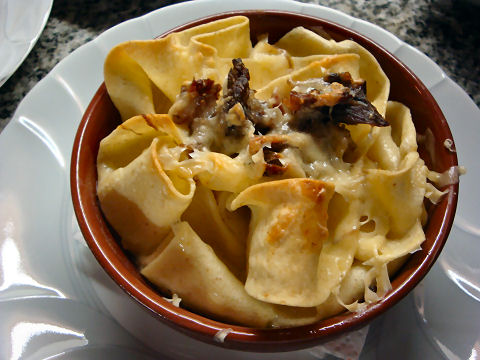 Mac 'n cheese was always a favorite, and the blue box version was perfectly at home in those days of home economics packaged goods. This ain't that. Handmade semolina pappardelle, cooked until just al dente, rinsed, cooled, and placed in cazuela dishes. Meanwhile, I made an oxtail demiglace – browned oxtail, onions, carrots, celery, bay, parsley… all the usual stock ingredients, cooked for about five hours until four liters or so of water I started with had been reduced to about half a liter. Mixed that with fresh goat cheese, a little cream, salt and pepper, and the shredded meat from the oxtails. Ladled over the pappardelle. Then topped with grated romano cheese and baked in the oven until golden brown atop and bubbly underneath. It's no Velveeta and Shells, but it'll do.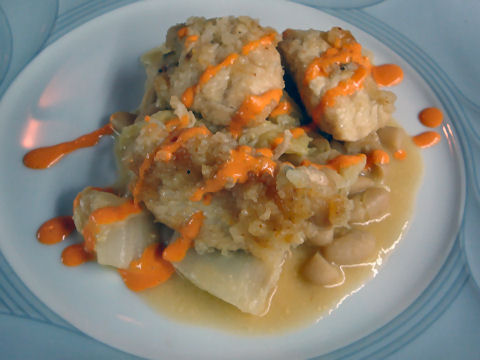 Of course fried chicken was always a favorite, and for me, the spicier the better. I wok-fried pieces of chicken breast that had been coated in cornstarch mixed with salt and shichimi, the Japanese seven spice blend. Underneath, white beans and Napa cabbage sauteed in brown butter and miso. Atop, piquillo pepper mayo. That's my take on a Double Down….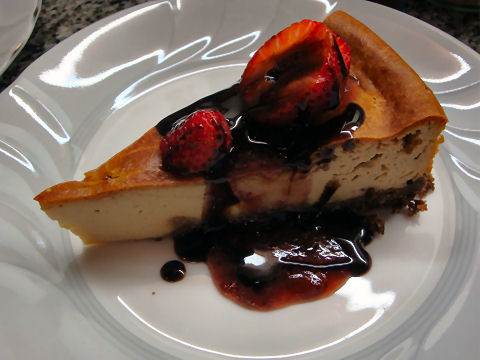 Okay, I didn't completely ignore the whole J.B. Barrie >>> Peter Pan >>> Peanut Butter >>> PB&J connection. Here, a peanut butter cheesecake with oatmeal cookie crust and a good amount of creamy PB mixed in with my homemade cream cheese filling. Atop, fresh strawberry jam and sliced strawberries. And then drizzled over the whole thing a bittersweet chocolate sauce flavored with a little bit of espresso and some Malbec reduced down to a syrup.
…and straight on till morning.