"Five years ago, a man's fantasy became a reality in a forum never seen before: Casa SaltShaker, a giant Kitchen Stadium. The motivation for spending his fortune to create Casa SaltShaker was to encounter new original cuisines which could be called true artistic creations. To realize his dream, he secretly started choosing the top chefs of various styles of cooking, and he named his men the Iron Chefs: the invincible men of culinary skills…
Oh wait, there's just me in the kitchen, and it's not really a secret, and anyone who's been here knows that neither "giant" nor "stadium" are apt descriptors. But, a friend suggested it'd be fun to do a sort of Iron Chef kinda sorta dinner. Now, one of the things that most people don't think about in regard to a show like Iron Chef is that the whole secret ingredient and one hour to come up with a menu and prepare it thing is a bit of a farce. Oh, it's true, they don't know the actual ingredient that they're going to use – but they're given a short list of 2-3 items that it will be one of. Well in advance. And they plan out their menus. Well in advance. And they submit a list to the producers of, if it's this ingredient I need these other things on hand, and if it's that ingredient I need a whole different set of ingredients on hand. Well in advance. And they have assistants.
So, well in advance, I made the offer. First person to reserve for each of Friday and Saturday got to pick one ingredient. I'd take those two ingredients and plan a menu around both of them. Friday night's first, a reasonably regular Casa S attendee, whipped out "duck" faster than a gaucho in a pato match. And Saturday night's premier reserver, visiting from Canada for her birthday, envisioned chocolate, chocolate, chocolate. I can work with those. Now, I'd already decided that depending on the ingredients selected, it might not be that both appeared in every dish together, however, with these two, I knew I could get some overlap. The idea, or menu, proved so popular that we ended up with enough people to nearly fill a third night, so we opened on Sunday as well – unfortunately, a party of four cancelled about two hours before dinner, and one other reservation dropped in size by one person, so we ended up with an intimate dinner for five on Sunday eve. And a whole lot of leftover food.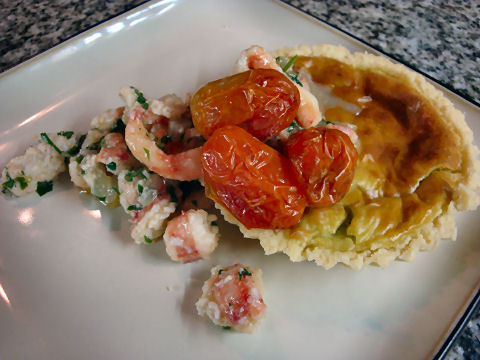 First up, a little white chocolate, in a dish I've made before, a white chocolate and avocado cheesecake-let with a crab salad. Tarragon isn't in season, I made the salad with a mix of basil, parsley and garlic chives.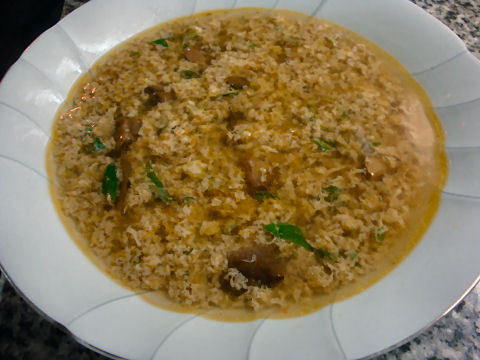 The Italian version of egg-drop soup, still one of my favorites, stracciatellla, made with duck stock, then I added in sauteed pine mushrooms, and the egg and semolina mixture, instead of a bit of nutmeg, is made with cocoa and mace.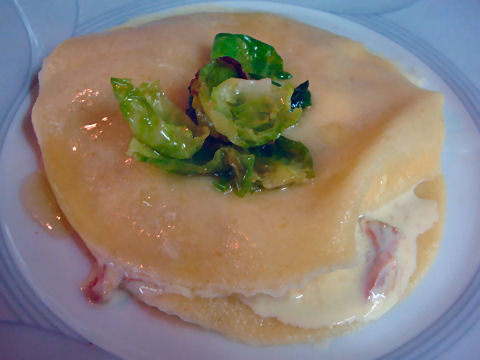 One of my favorite duck creations, duck confit ravioli, the only real difference here in the garnish, using sauteed brussels sprouts leaves with a touch of chili flakes instead of asparagus.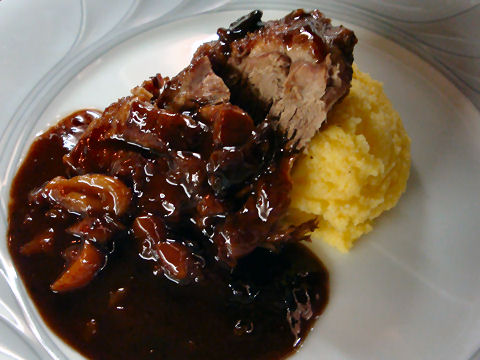 Here, a twist on one of my favorite Sardinian recipes, bistecchine di cingiale, made with duck breast instead, and for the dried fruits, just apricots instead of raisins and prunes, as I think they go better with duck.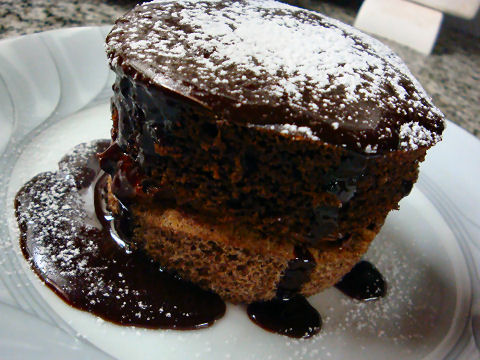 And, the next, and I think better, iteration on our chocolate "tower", getting the proportions and shapes right, though I still want to play some more with the presentation. Chocolate biscuit, chocolate olive oil mousse, chocolate-chili cake, and chocolate glaze. What's not to like?