Pony Express
St. JOSEPH, MISSOURI to CALIFORNIA
in 10 days or less.

WANTED

YOUNG, SKINNY, WIRY FELLOWS
not over eighteen, must be expert
riders, willing to risk death daily.

Orphans preferred.

Wages $25 per week.

APPLY PONY EXPRESS STABLES
St. JOSEPH , MISSOURI
That was the ad, 150 years ago, for the opening run to carry the mail into the sunset. The trail was relatively straightforward geographically, if not safe, but indeed that first rider made it. I decided to simply be inspired by some of the areas he passed through and the immigrant communities that were settling those lands – that pretty much meant I could cook whatever I wanted and just make up a story to go with it.
Big Jewish community in the Las Vegas, Nevada area… okay, they came along much later, but hey, I'm playing fast and loose here with history – still, it gave me a chance to bring back my spicy gefilte fish right there in the middle of Passover. The Italian community of northern California was the perfect entree to a "Gold Rush" minestrone. And those classic toasted ravioli of Missouri let me play around with some potstickers filled with roasted pepper puree (slightly gelled in order to form little balls inside that would melt when heated) and served with a roasted tomato and wine sauce.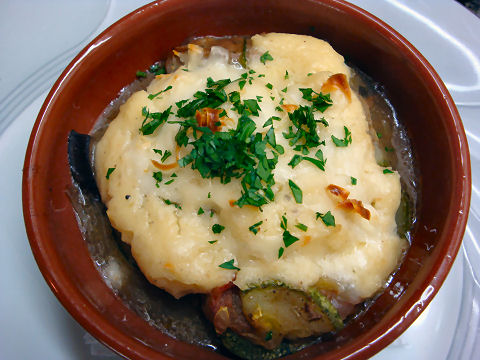 And then it was on to the Greek communities of Utah and Nevada and a classic moussaka with a twist, duck instead of lamb, served up in individual cazuela dishes.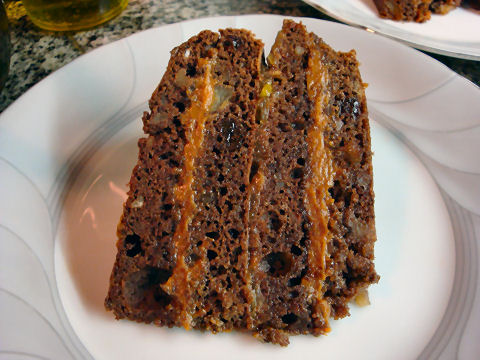 And then a complete reworking of that old Iowa/Kansas standard, the potato-caramel cake, normally in bundt pan form and dense as a hockey puck – instead I used my new sponge cake recipe flavored with cocoa and then lightly folded around whipped potatoes, raisins and walnuts. Then I layered that with two layers of dulce de leche and one of limequat marmalade. And, after this photo, poured a good ladle of hot fudge sauce over the top….
Happy sesquicentennial, Pony Express!