"A world devoid of tomato soup, tomato sauce, tomato ketchup and tomato paste is hard to visualize. Could the tin and processed food industries have got where they have without the benefit of the tomato compounds which colour, flavour, thicken and conceal so many deficiencies? How did the Italians eat spaghetti before the advent of the tomato? Was there such a thing as tomato-less Neapolitan pizza?"

– Elizabeth David, Author
Full disclosure – Nestor Gattorna is a charming young man with whom I've been acquainted pretty much since arriving in Buenos Aires to live five years ago. We've been out dining together, we've had wine tastings together, and, until relatively recently, he was business partners with a friend of mine from the U.S. in a wine accessories business. And, last year, he decided to go spend quite a few months in Naples learning how to make "true Neapolitan pizza", at the source. And, he just recently (a couple of weeks) opened up a local pizzeria offering that very product. I can't be fully objective about it, so there you have it.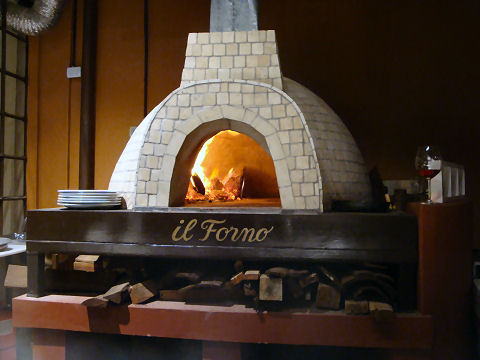 The place, Siamo nel Forno, Costa Rica 5886, Palermo – the name translating as the title of this post. The oven, a true, wood-fired, beehive style oven that heats up to 450°C/840°F cooks pizzas in a matter of 2-3 minutes tops.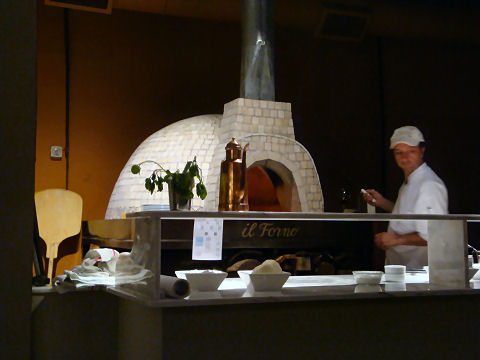 Nestor works the oven himself, along with an assistant. I like the room overall – well lit, lots of gleaming white and chrome surfaces, it feels… clean. And comfortable. We were the first ones in the door, but over the course of the evening a few more folk trickled in – the place hasn't caught on yet, but then, it's brand new, right?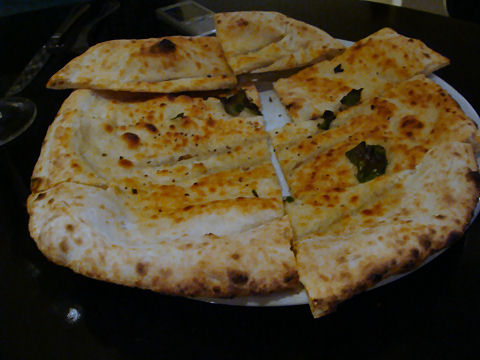 While we perused the menu (not a long one, but we were waiting for friends to join us) I ordered a focaccia – simple pizza dough drizzled with olive oil, sprinkled with salt and basil. The crust, nicely charred below, tasty – good – I tend to like a little more salt and herbs, but that's just personal.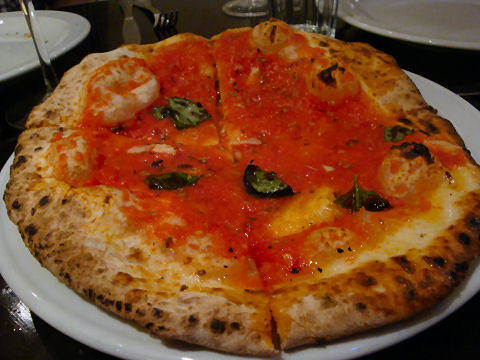 We had to go with one of the two classics of the Neapolitan canon – the marinara (the other one being the margherita). No cheese, in fact, the same as the focaccia with just the addition of the tomato sauce. I have to say, it was quite nice to have a really flavorful tomato sauce on a pizza for a change here.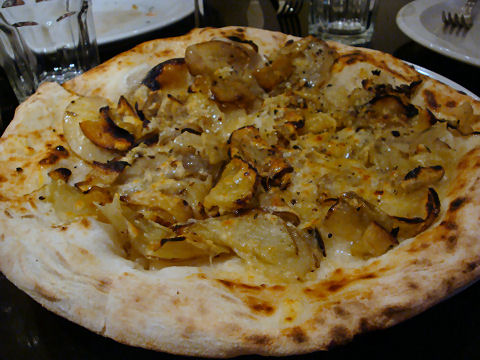 We also wanted to try something unusual – the patate – topped with thin slices of potato. I think this was our favorite of the evening – it was just different, and delicious.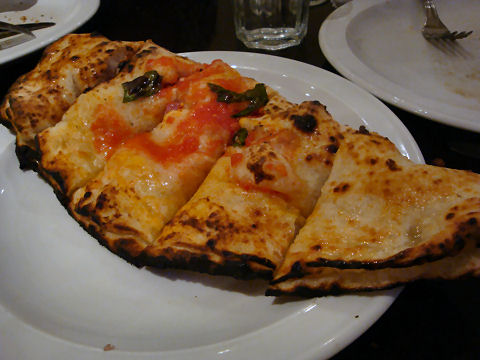 And hey, we were in the groove, so why not try one of the trio of calzones, this one the rosso e bianco – salami, tomato, mozarella and ricotta. And the mozzarella wasn't the usual oily, goopy stuff, it was real, fresh mozzarella. Yum!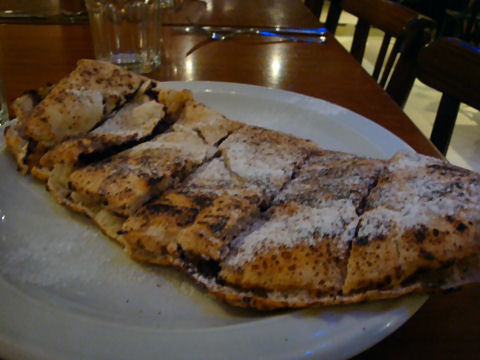 And, despite the fact that we were already about as full as we though we could be, Nestor sent us a complimentary dessert calzone – packed with nutella and topped with powdered sugar. We managed.
So, what do I think about the place overall? Not perfect but really good. Flavor-wise, all delicious, though we all felt that a little more salt, pepper, and a splash of olive oil added something to the focaccia and both pizzas – all are available on request. The dough – charred properly, flavorful, and, perhaps a touch… "doughy". I'm not sure whether they could just use another 20-30 seconds in the oven, or if this is the common problem of using soft wheat flour that we have here, where the dough stays softer than that of hard wheat flour – but it was among the best doughs I've had here in town. Toppings, just right. Prices, reasonable – and in line with other pizzas here in town (running in the 40-45 peso range), though the size of the pizza is a little smaller than the standard here (four of us managed 3 pizzas and 2 calzones, after all) – on the other hand, the quality makes up for that.
We'll definitely be back… and, at the same time, I'm glad it's not in our neighborhood!