"In the fifties a lemon meringue pie meant a person with a sour disposition. Today it is quite commonly used as a euphemism for lesbian."

Who knew?
A little private dinner this last week. Four of the dishes you've seen before…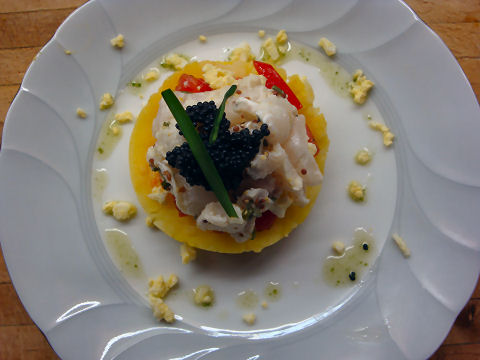 Sole Tartare though I think I've improved the presentation a bit.
Broccoli Rabe & Sausage Soup, Smoked Herring Risotto, and a Sardinian style Sweet & Sour Pork.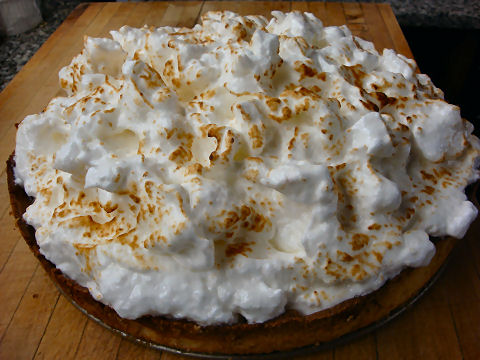 But, the new thing was a meringue tart, in particular, a Passion Fruit Meringue Tart – have to keep practicing these new pastry skills, you know? Tart shell again, a passion fruit curd, and, the first time since cooking school I think I've made a meringue topping – and I think that was a group effort. Not bad for a first effort…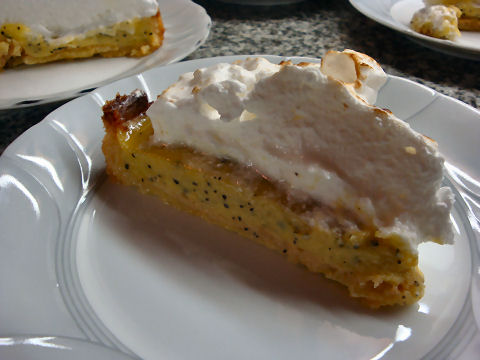 …but not perfect – you can see it didn't stick to the curd, and it's leaking a little sugar syrup. So I brought it up in class this week, and Roberto had me demonstrate, step-by-step, what I'd done. All was well except, simply, I didn't continue beating it long enough after adding the sugar syrup to the egg whites until it was cooled off, so it didn't combine properly and some of the syrup began to leak out. Now I know!