Dr. Melik: This morning for breakfast he requested something called "wheat germ, organic honey and tiger's milk."
Dr. Aragon: [chuckling] Oh, yes. Those are the charmed substances that some years ago were thought to contain life-preserving properties.
Dr. Melik: You mean there was no deep fat? No steak or cream pies or… hot fudge?
Dr. Aragon: Those were thought to be unhealthy… precisely the opposite of what we now know to be true.
Dr. Melik: Incredible.

from Sleeper (1973)
This is going to be a series of posts split over time. It is my search for the best leche de tigre, tiger's milk, a Peruvian specialty that is closely related to ceviche. At its simplest it is merely the juice found at the bottom of the receptacle used for mixing up the ceviche – the lemon, salt, herb and chili mingled with the juices drawn off the seafood, and served up in a small glass ranging from shotglass size on up, and oft-times used as a hangover cure. But it can also be what amounts in many ways to a soup version of ceviche – more liquid than fish and shellfish, but all the same ingredients. It is, to my mind, the essence of Peruvian coastal cookery – the fresh flavors of the sea blended with all the spices and herbs that make the cuisine what it is.
Just as a side note, there is also a leche de pantera that is made the exact same way, but uses as its seafood base the concha negra, the Black Ark (Anadara tuberculos), a mollusc that I shall leave you to research should you want, but which results in this preparation in a leche that is a muddled dark grey in color, hence the name. To the best of my knowledge concha negra are not available here in Buenos Aires, so I doubt anyone makes a leche de pantera. You can see an example of the ceviche about mid-way down this post from a visit to Lima. So let's start off with three completely different versions: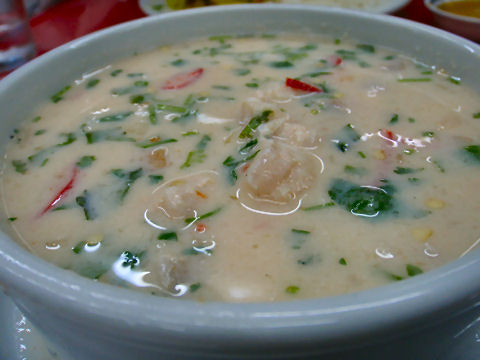 Somos Peru, Corrientes 2345, Piso 1º, Local 27 Moved to corner of J.E. Uriburu & Viamonte, and then shortly thereafter, closed, Once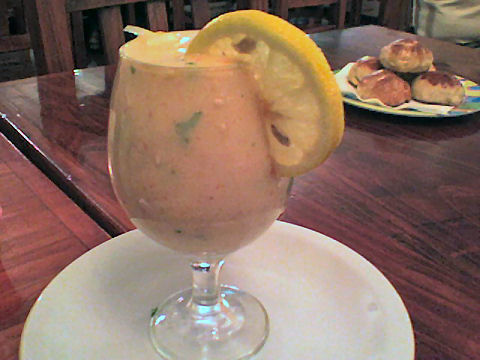 Mamani, Agüero 707, Abasto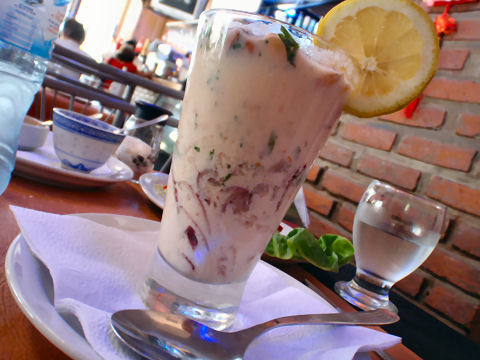 Sabor Real, Guevara 2, Chacarita