"The traditional Mediterranean diet is firmly rooted in the earth. The warm, sunny climate, the long growing season, mild winter, and fertile soil of this region have long provided its inhabitants with delicious, fresh fruits, vegetables, grains, legumes, and nuts. It is, and has always been, a plant-based cuisine, one that never depended on animal products to any large extent."

– Vegetarian Times Cooks Mediterranean
We don't often offer vegetarian meals, let alone vegan meals, here at Casa S, simply because we've found that we don't generally attract enough people to join us for the evening. But, one of my Monday students of our vegan classes prevailed upon me to give it some thought, so last week we added in an extra evening and offered it up as a vegan Mediterranean evening. Surprisingly, it filled faster than the Friday and Saturday dinners – though at the same time, only my student and the two who came with her were vegetarian – I think the date just worked well for many people. I decided against going the whole tofu, seitan, tempeh route and just focused on the fresh vegetables available in the markets right now.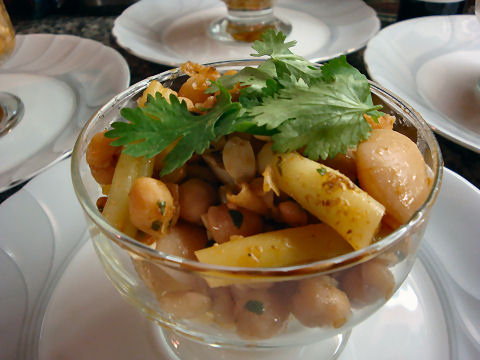 We started with a simple, Moroccan style four-bean salad – a mix of chickpeas, soybeans, white beans and fresh yellow wax beans, all spiced in paprika, cumin, coriander, garlic, lemon and cilantro. I think this was our favorite dish of the evening.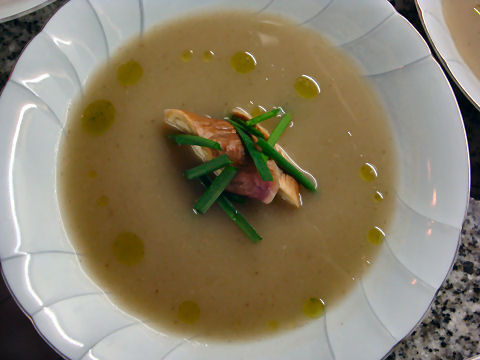 You might remember this from way back, based on a Charlie Trotter recipe – a pure, roasted eggplant soup with pickled Japanese eggplants in the center and a drizzle of basil oil around the perimeter.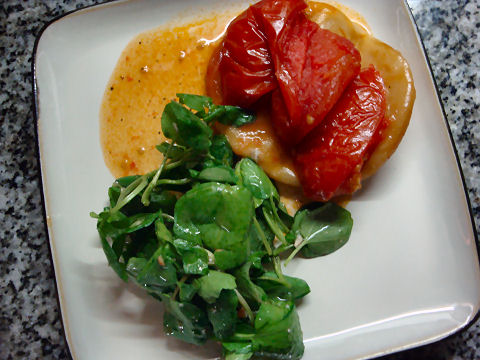 Likewise, the Tomato Tarte Tatin – the only differences here were using margarine instead of butter for the caramelization process and vegetarian "oyster" sauce (mushroom sauce) in place of the anchovies.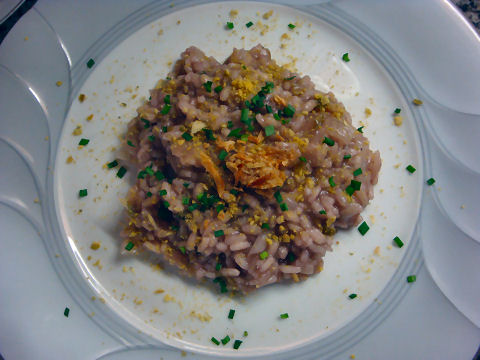 A seven-onion risotto, well, really eight – the risotto made with a red wine and vegetable stock, and into it a mix of sauteed leeks, green onions, white onions, yellow onions, red onions and shallots, and then at the end, a sprinkle of both chives and deep-fried onion bits. Another sprinkle of rawmesan, parmesan substitute, and hmm, maybe this was the winning dish of the night.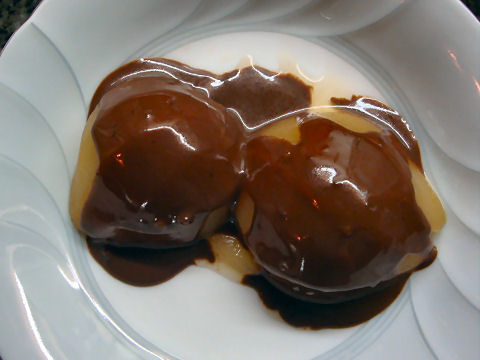 And, finally, some bourbon and vanilla poached pears topped with chocolate sauce (dark chocolate, soy milk, sugar, cornstarch), and I think we had some happy campers on our hands.