"Men are always pushed into group situations … like group sports with a leader. In the kitchen the chef is your captain, but in pastry there is more autonomy, more independence. Women relish that. you are permitted to be creative sooner than on the hot line."

– Claudia Fleming, NYC pastry chef
I've worked a good percentage of my adolescent and adult life in the food and wine world. I had my breaks – I was a security guard for a couple of years in college and a paramedic for a few years after, and I tried my hand at real estate sales and appraising at one point, and have done temp work in the word processing and legal assistant field. But, food and wine always found its way back in, and probably, since 1972 when I first set foot in a restaurant kitchen, I've spent about 30 years in either the front or back of house, as it were. And in all that time, I never really paid that much attention to pastry and baking. It wasn't my focus – it was always a curiosity, and I've built up my own little repertoire of desserts and breads that I can make, and make well, even if they're not overly pretty sometimes. And then, a couple of months ago, I realized, I'm at a point in life, and with a flexible enough schedule, that it might just be interesting to go back and learn how to do it and do it right.
So, a bit of research, and I enrolled myself in the pastry chef program at one of the local cooking schools with one of Argentina's top pastry chefs, Roberto Goni. We started last week, and I thought it might be fun, as we go (the program goes until the end of the year, once a week), to share what it is we're making. I'm not going to share the recipes, because, simply, this is someone else's bread and butter, pun intended – they're his recipes and it's his livelihood to teach people. Of course, down the line, as I get to the point where I can play around with things and even teach some of them, it'll be a different story…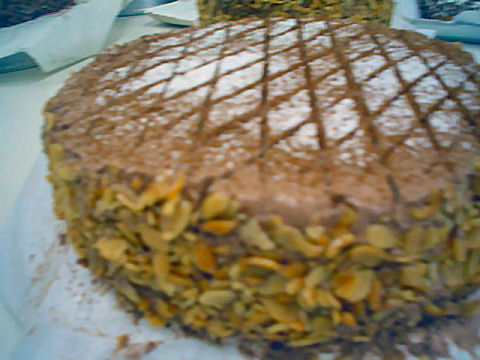 Apologies for the photo, I didn't have a camera with me last week (hadn't yet replaced the stolen one, ya know?), so I relied on someone else to snap the shot – I've photoshopped it about as much as it seems to be able to take. It's a basic sponge layer cake – what here is called bizcochuelo – and, not surprisingly for here, it's filled with dulce de leche and chocolate. The almonds and the design atop were, more or less, my own idea. Sponge doughs were the theme of the day and we made individual cakes like this, plus group efforts on vainillas (ladyfingers) and piononos (jelly rolls).
Oh, and hey, they make us bring home what we make, and neither Henry or I eat much in the way of desserts, so if anyone wants to start taking things off our hands….