"Everyone's a pacifist between wars. It's like being a vegetarian between meals."

– Colman McCarthy, journalist, activist
I was vegetarian once upon a time. It wasn't for a long period. I was dating someone who was, wasn't working in a restaurant at that moment, and it seemed to be a good move at the time. Two days after going back to work in a restaurant a half year later and I was eating meat again. Such is the life of an omnivore, and that ain't likely to change. It does, however, give me an appreciation for vegetarian food when I try it – because, back in that day, most of what was available when one ate out was essentially twigs, rocks and cardboard. At least I'm pretty sure that's what it all was, it was usually presented in unappetizing lumps all piled together on a plate.
In truth, the hideousness of most of the vegetarian restaurants around in the late 80s probably did more to push people away from vegetarian lifestyles than anything else. These days, that's changed. Somewhere along the way chefs and diners figured out that deprivation and suffering were not exactly attracting droves of people to the cause. Because let's face it, when it comes to the carrot versus stick approach, which one do you want to eat?
So, though I have no plans to opt for a non-meat diet, I do enjoy checking out what's out there these days. You may have even noted that I added a page linked in the righthand column for local vegetarian resources (please help me keep it up to date if you know of new stuff or something that's closed). And over the last week or so, I checked out two places that popped onto my radar.
The first place is called Sattva, Montevideo 446, right off Av. Corrientes. I've passed by it many times since it opened up about 7-8 months ago, and just hadn't stopped in. It has a sort of whole grain crunchy granola 1980s Lower East Side look about it – the kind of place I used to hate. And indeed, the ambiance isn't far off of that – a big round counter in the center offers up flyers and newsletters about yoga and spirit guides and holistic massages and what have you, along with a variety of treatises on the merits of socialism, communism and the like. And a few things directed at the gay community – in fact, several recent reviews of the place have touted it as a center of gay activity. If so, it wasn't obvious the day we were there. Most of the clients, at lunchtime anyway, seemed to be local office workers.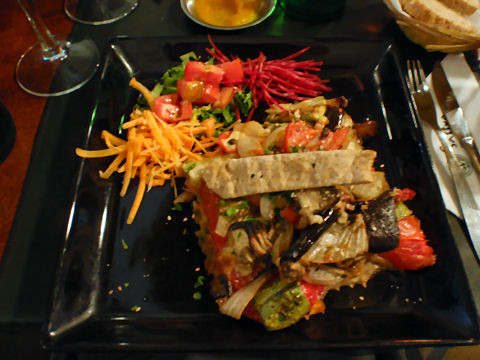 Service is typical – a bit lackadaisical, but friendly. On the other hand, our waiter handed us little four-fold brochures, each page of which lists a week's menu – Week 1, 2, 3, and 4 of the month – and advised us we were on week 3 I think it was, and that we could pick from that. Each of the week's menus offers up a salad, a sandwich, a pasta, and a stew, flat price of AR$26 with water or soda, and an additional price if you want coffee, tea and/or dessert. He neglected to mention that there's also an
a la carte
menu that actually has dozens of other options, from pastas to pizzas, sandwiches to main courses, and various side dishes. It would have been nice to know. Henry decided on the vegetable lasagna, which, as you can see, bears little resemblance to a lasagna – there was a wisp of something at the bottom of this jumbled pile of grilled vegetables that might have been some sort of pasta round, but we weren't sure. The vegetables were well seasoned, and he enjoyed eating them, but that's really all the plate was, a pile of grilled vegetables. No sauce, nada. How hard is it to layer vegetables with pasta and put a little tomato sauce and/or a vegetarian version of a bechamel sauce on it?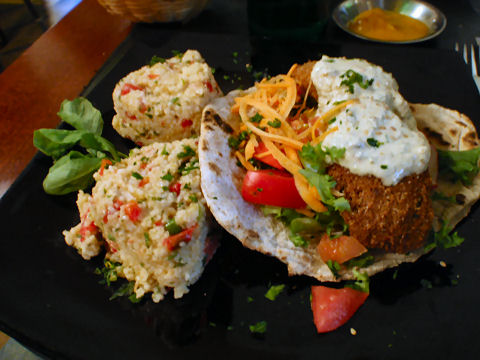 Likewise the falafel sandwich I ordered was a bit lacking. First off, a falafel sandwich is a vegetarian, actually even a vegan, dish. It doesn't really need to be changed. I'm not sure what they had in mind for the falafel balls, but it wasn't anything typically middle eastern – ground chickpeas and parsley and maybe some salt and pepper seemed to be about it – maybe whatever diet they espouse doesn't allow for garlic, cumin, or other spicing…. The salad to accompany was fresh. The "tahini" seemed to be sesame mixed with soy milk to make it more of a dressing. Why? What's wrong with good, intense, sesame paste? The two mounds of quinoa salad were tasty, if a touch too vinegary. I can't say we walked away impressed, but it was at least vaguely intriguing, particularly once we got a look at the regular menu, that we'll probably go back and check that out.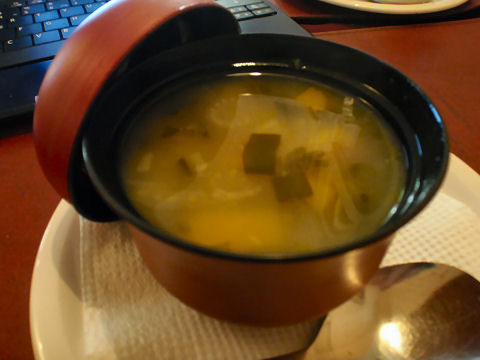 Although
La Casa de Ohsawa
,
Ciudad de la Paz 415 in Belgrano is cross-corner from the Krishna Center for Meditation, I'd doubt they have any direct connection, one being a macrobiotic Japanese-ish vegetarian restaurant and grocery, the other an Indian religious center
 Honduras 5900, Palermo. Still, it makes for an interesting corner in the midst of residential Belgrano. The room is bright and airy, the little shop is worth a visit. There's a takeout counter where there's someone in attendance to serve you things up to go, plan on a long wait for anyone paying attention in the dining room. To the best I could tell the day I visited (and similar commentary abounds on the place's reviews on the net), there were two people, a young tattooed waiter who seemed lost in space, and a harried middle aged woman who was running her butt off trying to keep up with a packed room, and clearly handling the other waiter's tables as well as her own. I was on my own, but wanted to try a few things… I started with the vegetable soup – they were out of miso soup, a shame since that's a favorite – which was actually quite good – very well seasoned, packed with a good amount of various vegetables, and piping hot… when it arrived, some 30 minutes after I ordered it.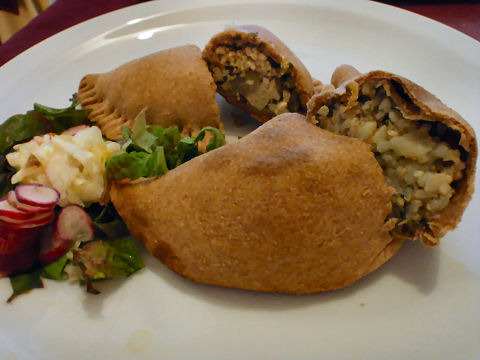 A couple of empanadas, I was curious to see what they'd do with a tofu version and a rice version. The crusts, whole wheat, a bit chewy, a real shame, as it's not that hard to make a good crust with whole wheat. The fillings, mixed review – the tofu was delicious, crumbled bits of tofu seasoned with spices, garlic and herbs; the rice, little more than plain white rice with a bit of
gomasio
– ground sesame seeds and salt, and not enough of that to really season the rice past its pasty white blandness. On the other hand, the little pile of pickled vegetables on the side became immediately useful as more than just nibbles – I simply packed them into the rice empanada to give it some flavor. Made all the difference.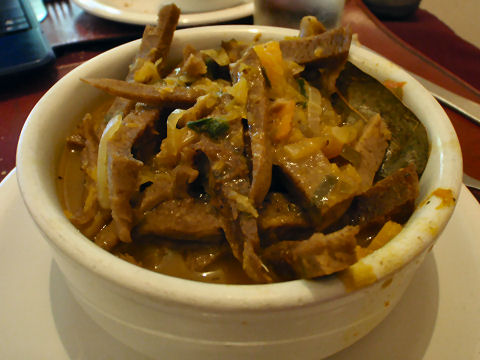 The
seitan especial
was a bit tastier, though awfully heavy. The seitan was of the pressed variety, so it was dense and chewy like meat – well, not quite, it actually, to me, when it's done that way, seems more like the texture of raw cookie dough without all the yummy, nutritionally vapid goodness. On the other hand, it was then stewed with onions and cabbage and plenty of spices – all of which made for a very tasty sauce around it. Do the same thing but don't try to imitate the meat texture and they'd have a winner here – maybe make the seitan into lighter meatball-ish pieces.
Overall though, despite the slow service, I was impressed with the place. The food was good, the prices inexpensive (all of the above plus two bottles of water for 40 pesos with tip), and if you have the time to just sit back and relax and read or write, or chat with your friends, I'd say this spot is a good bet.