"The fields from Islington to Marybone, To Primrose Hill and Saint John's Wood, Were builded over with pillars of gold; And there Jerusalem's pillars stood."

– William Blake
Over time, we've had quite a few visits from our local puertas cerradas compatriots, as well as visited their dining spots. We've had a few from the US and Canada, and, one visit from Australia. With the current burgeoning population of "secret/underground dining clubs" in London, they were due (and, of course, we're due to visit somewhere overseas as well). So, the opportunity to pull out all the stops and put together a fun dinner for one of our sister soirées from the isle of UK, sounded like great fun. A group of ten arrived one day last week and I think we put on a pretty good show.
Four of the five courses came directly out of past dinners – go with your strong points when you're showing off, you know? We started with a couple of our favorite middle eastern salads, salatit banjan and salata banadoura, with fresh pita bread and right out of our Syrian Jewish dinner last year. Then on to our trio of chickpea soup, with minor modifications – I fried the chickpeas and put them in the soup crisp, and instead of frying the falafel, made a paste of a fresh chickpea and spice mixture and put it in the middle to be swirled into the soup.
Then on to one of my favorite fish preparations – with a green pepper cream and fried garlic – this time using fresh cod. And finally, a duo, side by side, of small portions of two duck dishes – seared magret with piquillo pepper sauce and mango chutney – without the eggplant puree since we'd started with a very similar one, and confit of duck and goat cheese cream in an open ravioli with fried asparagus.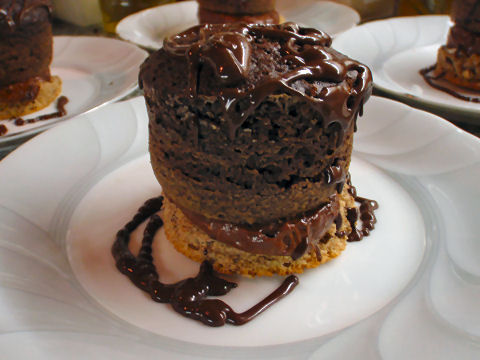 It was the dessert that I decided to play around with the most – a quartet of chocolate flavors – a base of cocoa bisquit, chocolate olive oil mousse, chocolate chili cake, and a drizzle of bittersweet chocolate glaze – all done as a little tower on the plate.
Hopefully we sent them back to Islington with fond memories!