"We've traveled almost the full length of the island and can report that every corner of it is wet, every river overflows its banks, every rain barrel is filled to the brim, every wall washed clean of writing no one knows how to read anyway."

– from In the Time of the Butterflies, by Julia Alvarez
Last year's Casa S celebration of the Dominican Republic's National Day was a hit, so we decided on a reprise, with some new recipes.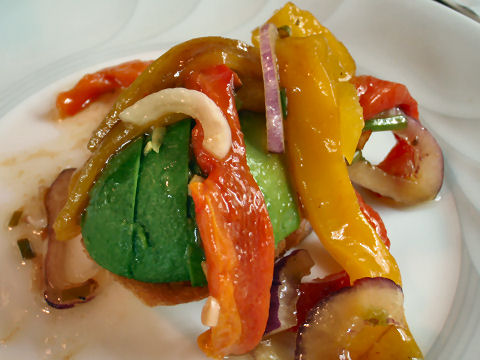 The pan con aguacate photo from last year is prettier, in this case I didn't change the dish at all, except that I didn't have any duck fat saved around so the bread was fried in olive oil and garlic. Paired it up with Chandon's Brut Rose which balanced nicely with the fruit vinegar flavors in the dressing.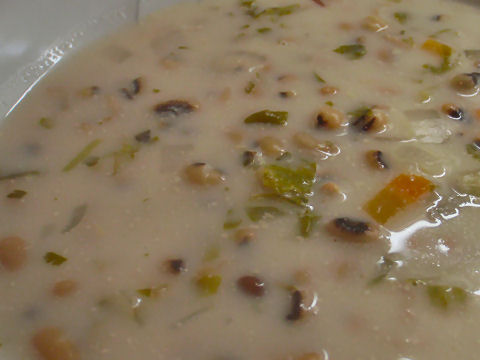 The traditional dish here, guandules con coco, is one of green pigeon peas and coconut in a soup that's based on chicken stock and seemed to me to be a little light on the seasoning. The peas aren't available here, but black-eyed peas seemed like a good substitute – I cooked them first separately with bay leaves until they were tender. Then, in the soup pot, I put celery, red onion and carrot, finely diced, some minced garlic, the beans, about half a liter of coconut milk, topped it up with vegetable stock, and let it all simmer together until the vegetables were softened. At that point I added a mix of chopped herbs – parsley, oregano, thyme and cilantro and turned off the heat, letting the herbs just infuse in the pot for a little while before dinner. Seasoned with salt and pepper and delicious! Pulenta Estate's Chardonnay was an inspired match, if I do say so myself, and I just did.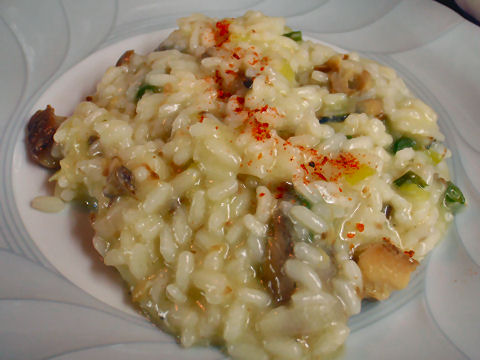 Sometimes I just thrill myself, I must admit. Taking a simple, basic dish, like boiled white rice that has some scattered chopped onions and flakes of smoked fish atop it and turning it into a simply divine risotto (according to several of the guests), was something that I'm just patting myself on the back for. The base, sauteed a mix of shallots, green onions and leeks in olive oil until softened and starting to color, then added carnaroli rice, let it toast a little, and started ladling in the vegetable stock until we hit that perfect al dente. To finish it, grated sardo, the local equivalent of pecorino, and at least minute, some broken up smoked herring (canned, in olive oil), oil and all. Salt and black pepper to finish. Couldn't have asked for better. Monteviejo's Festivo Rose, a blend of Cabernet and Malbec from flying winemaker Michel Rolland.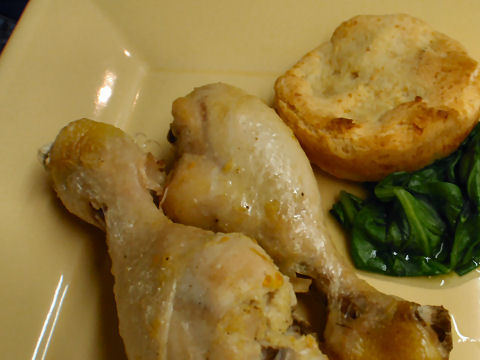 You know we like simple, comfort food around here. And so pollo con wasakaka seemed to fit the bill – simple roast chicken with a zingy lemon, salt, garlic and onion sauce to moisten it. If anyone knows the origin of the marinade/sauce name, wasakaka, let me know, it seems fairly Japanese, but the ingredients don't, nor to the best of my knowledge is their a massive Japanese influence on Dominican cooking, though I could be wrong about that. Being a fan of chicken drumsticks, I took a whole bunch of them. Then, into the blender went the juice of a half dozen limes, a white onion, a few garlic cloves, a chili (just because), salt and white pepper. Marinated the chicken in that mixture for the afternoon, then oven roasted in the marinade, turning regularly. Yum! A little wilted spinach, and the roast garlic chipas that I just posted about a couple of days ago, pressed into buttered ramekins rather than on a baking sheet so that they have a bit of a biscuit form to them. Paired with Pinot Noir from Padrillos, comfort food to the max.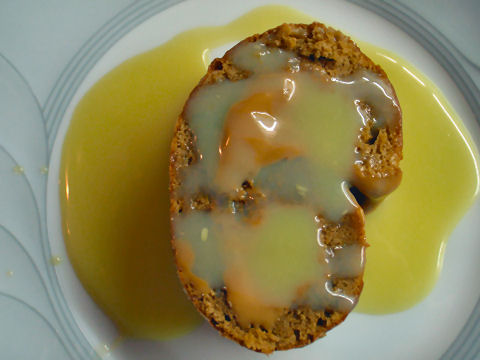 That ginger roulade with the dulce de leche cream last week had me thinking along the same lines. Here, the cake is flavored with lime zest (I had all those limes from the chicken marinade) and coconut flakes instead of all the spices and ginger. The filling is the same mix of dulce de leche and cream cheese. The topping is a white chocolate ganache, still warm. Bruno Barra's Tardí Blanco – late harvest blend of Chardonnay, Torrontés and Pedro Ximenez was stellar with the cake.