"If we will be quiet and ready enough, we shall find compensation in every disappointment."

– Henry David Thoreau
Really, disappointing is not the correct word, as in order to be disappointed, you must have had a level of expectation which exceeded the outcome. And, in the case of these two mini-reviews, I had no particular expectations about either place – they were more or less random encounters, last minute decisions of spots to just simply try out because they were there. Let's go with Dissatisfying Duo.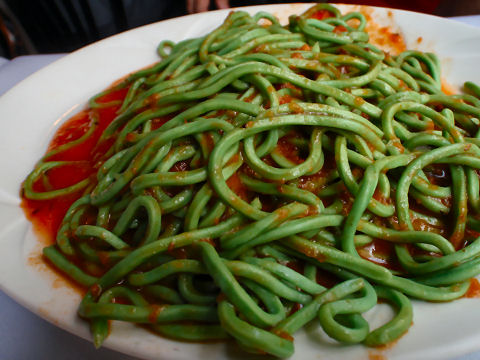 I'm not sure that I even want to know just how they managed to get this vivid teal color into noodles at Prosciutto, Sarmiento & Junín. They were cooked to a point slightly past limpness, they were dressed in a tomato sauce that seemed nothing more than a watered down tomato pulp from a tetra-pak, they were, did I mention, teal? But then, this dish was off "el menú", the daily lunch plate special, which is often not all that exciting. So how did the a la carte selection fare? A vitel thoné was thin, chewy slices of beef buried under a pasty mayonnaise that likely was tinged only with the liquid drained off the tuna can, a couple of anchovies and basil leaves placed in opposition. The canelones de verduras themselves were once again overcooked noodles wrapped around a filling of ricotta – if there were vegetables in the ricotta, they'd been pureed, perhaps some spinach? The putanesca sauce, on the other hand, was actually quite passable – anchovies, garlic, olives and capers all in abundance, and even a bit of chili heat. The place was busy, and people, in general seemed to be enjoying their meals, so perhaps it's just best to avoid the blue plate special….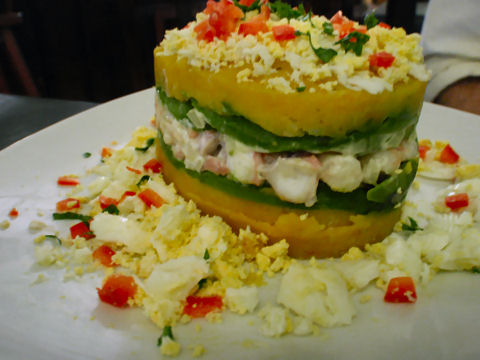 On the other hand, Tataki, Rodriguez Peña 433, requires a complete avoidance. This causa limena, dense and devoid of flavor, was the poorest excuse for this dish I've yet to encounter – how one can take that many different layered ingredients and still come out without flavor escapes me. The tamal was little better, and the kitchen couldn't, apparently discern the difference between their pork and chicken ones. After being told that there was no white fish in the house for sushi, and getting, instead, some average at best, sushi rolls that were best left not examined too closely (and very sweet rice to boot), both a tiradito and a ceviche of white fish were offered – sampling them proved the kitchen's point, the fish was old and bad and we sent back both dishes – covering up fish that's past it's point to be used for sushi by dousing it in lemon or another dressing is a sign of a restaurant that doesn't deserve my, nor anyone else's, patronage.
On to better things one hopes. Damn, now I've set myself up for a disappointment….