"Yet traditional Chilean food, although simple, has a medley of flavors, influenced by the vast diversity of plant foods and products that are naturally available. And this is all thanks to it's varying landscape and the cultures of the native Chileans, most prominently, the Mapuches."

Danielle E. Alvarez, Lonely Planet
While most of the world spent last weekend celebrating (St.) Valentine's Day or its precursor, Lupercalia, we spent the weekend being inspired by the flavors I found on my recent trip to Santiago, Chile. As always, no claims to authenticity, these are inspirations.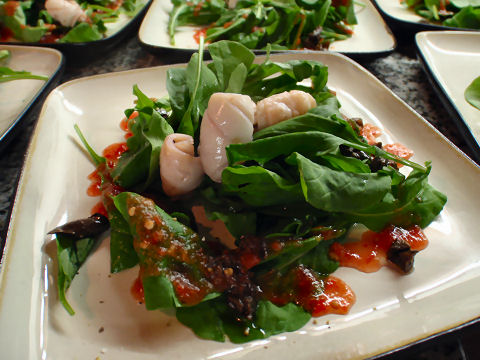 Grilled baby calamari served over a fresh arugula and black olive salad dressed with a couple of spoonfuls of a sweet chili sauce that was a mix of fresh red ají limo, a spicy Peruvian red chilie, tomato, sugar, salt and pepper all cooked down together over low heat for about an hour and a half.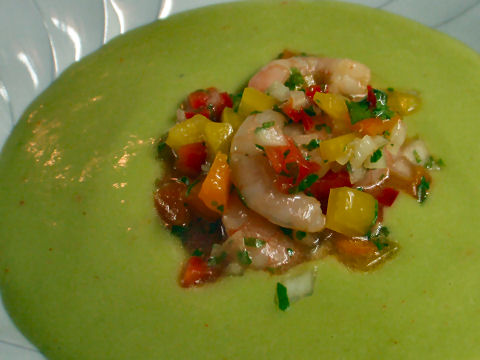 I pretty much followed this original recipe by Chef Ruth Van Waerebeek, this is a shrimp ceviche in avocado soup – some minor adjustments on proportions, but that's just personal taste.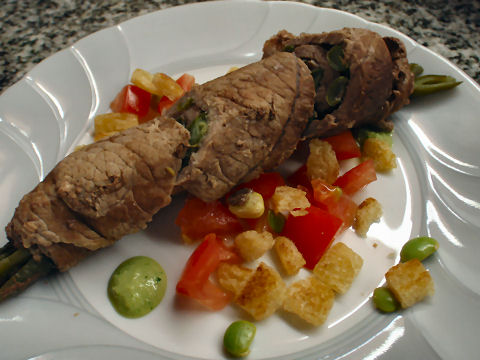 I mentioned back in my posts in Santiago that I really loved the chacarero sandwich – thin sliced beef cooked until tender in a beef and onion broth, served steaming on a bun with tomato, steamed green beans, mayo and green chilies. Here, a complete reworking using the same flavors, a braccioline of the beef around the green beans, browned and then cooked in a beef and onion broth, served with diced tomato, fried croutons, some scattered fresh edamame, and a fiery green chilie mayonnaise.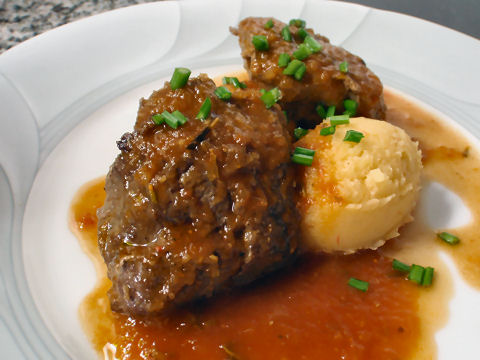 Technically, a garrón is just the shank of a lamb, though it seems to refer in various Chilean recipes to the shank after it's been stewed. You may remember how much I liked the dish at Los Buen Muchachos in Santiago, served atop papas rusticas. Lamb shanks were not to be had here, unless I wanted to buy the whole lambs… hmmm… 24 people, that'd be six whole lambs… nah. I used lamb loin, and instead of braising it in the recipe's delicious broth, I simply seared it until medium rare. The broth was cooked separately, sauteed onions, garlic and rosemary, then pureed that with tomatoes, white wine, olive oil, salt and the Chilean smoked dried pepper, merkén, cooked that down until it was nice and thick. The potatoes were simply mashed potatoes finished with a puree of smoked, cured lamb, onion, tomato and garlic. A sprinkle of chives over the top for color – delicious!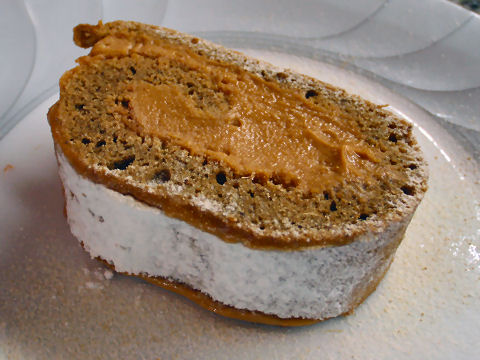 And finally, a ginger jellyroll cake wrapped around a filling of half dulce de leche and half cream cheese – both homemade, of course. The whole thing dusted with powdered sugar and ginger. Killer!