"Even when Canadian humour is awful it just lies there being awful in its own fresh way."

– Robert Thomas Allen, writer
In the tourism industry, it's a given that Canadian tourists are affable, i.e., they play well with others. And, in general, that's been my experience. So the question was, what are they like when they don't have others to play with – that's to say, we had a decade of them coming for a private dinner… Turns out, they're still easy going, pleasant, fun to hang around with, if, perhaps, a bit more boisterous than they tend to be when mixing with those from other lands. Well, this group anyway. The menu they left up to us, with just a request that there not be too much in the way of seafood. Other than that, Mush! Ey…
First two courses you've seen before: Salade Olivier, now one of our favorite salads, and an Ajoblanco, with green grape halves instead of melon balls.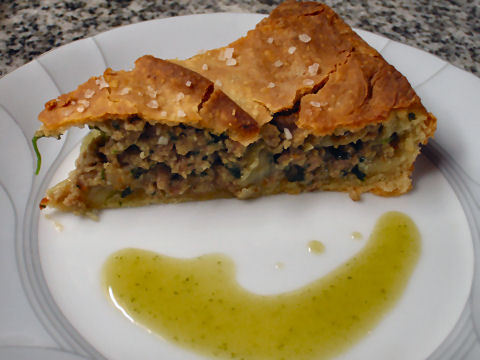 This is a classic dish from Basilicata in southern Italy, a torta salata di verdure, and one of my absolute favorite dishes from the south – so easy to make. It's an enclosed pie filled with fresh Italian sausage and lots of fennel, arugula and basil, along with garlic and grated cheese. Brushed with a little olive oil and sprinkled with coarse salt it bakes up into a delicious golden brown treat!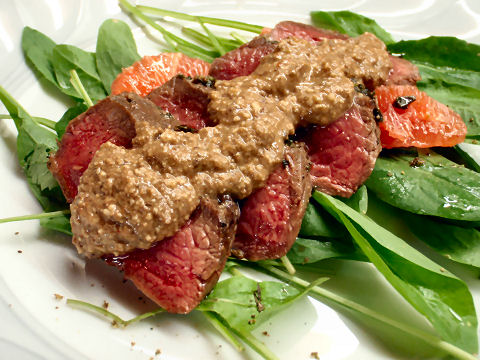 A summertime lamb salad based on a barbecued goat salad that Mario Batali has offered up to the world. Lamb loin marinated in mint, garlic, olive oil, coarse salt and cracked black pepper for about 6 hours, then grilled to between rare and medium rare (or, however you prefer it). Sliced and served atop a salad of radiccheta (a local bitter green similar to mizuna, arugula works well too) dressed with pink grapefruit segments and a mix of the juice and some olive oil, and then topped with a black olive, orange juice and almond tapenade.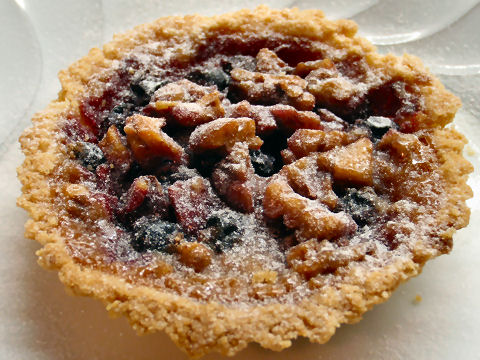 And, the coup de grace, a Blackcurrant and Pecan Tartlet. Need I say more? Our new found Canadian friends headed out into the night, well-sated and happy.