"Another factor that renders Peru exceptional: The unusual is commonplace."

– Fabiola Santiago, Miami Herald
It's really not news around here, or probably in any hot culinary landscape, Peruvian cuisine, and in particular modern, fusion, or nueva andina, are all the rage. For some time now I've been hearing about a hotspot of the genre in Palermo, Francesco, Sinclair 3096, 4878-4496 (moved to Soler 5598 in Palermo, we haven't been to check it out). The reports of both cuisine and service have been extraordinary, but they've always come with a caveat. "Expensive doesn't begin to describe it", noted a group of visitors from London – and that's not a city noted for cheap eats in white tablecloth dining spots. So we saved it for a night when we were feeling like splurging – let's just say that when I was thinking about how much cash to bring, as a precaution I stuck a couple extra hundred peso notes in my pocket – and let's just say that was a good move. [Closed]
The room is quite pretty – you enter in a small lounge area with a gleaming bar to one side. One bartender was at the ready, nodding a greeting at us as the maitre d', a charming young woman who shall figure prominently in the rest of the evening, also greeted us. The other bartender was reading the newspaper, yawning and scratching himself. Across the lounge to the right and we were seated at the first table, in the window – an odd sort of good Siberia – it's one of two tables completely outside the dining room and as such, it turns out, we found ourselves completely ignored most of the evening by the waitstaff, who didn't seem to be able to see beyond the archway of the main room; and, on the other hand, they're the only two tables with a window view looking out onto the neighborhood, certainly more romantic for a quiet date than the rest of them. The main dining room has very high ceilings and walls covered with splashy modern art. There's a semi-open kitchen towards the back of it and a loft seating area above it that is probably the true Siberia of the restaurant. It was early, only 9 p.m., yet the room was about half full – all Americans and Brits. And, that seemed to be the primary clientele throughout the evening – as the place filled up we heard nothing but English in one form or another from the people passing by, other than one group of mixed Colombians and Americans. I have only one criticism of the ambiance – they use one of those scent machines, which is perched atop a wine cabinet in the lounge and is, at least if you're in or next to the lounge area, blasting out a vanilla scent that was, at moments, a bit overwhelming.
We were presented with the menu, and sticker shock set in pretty quickly, in fact, Henry offered that he wouldn't find it amiss if we were to simply get up and go – appetizers kick in in the high 20 peso range and go on up to over 40, and main courses run from the mid-50s to around 80 pesos. We were not given a wine list, though I noted other tables were, and when I asked, our waitress, a tall, rather stiff young woman who spent most of our initial contact with her nose in the air and rolling her eyes, turned on her heel without a word, and returned about five minutes later, simply tossing the list on the table and left again. Service was not looking good.
She returned in a bit, took our food and wine order without so much as a word – we did decide on just two glasses of wine, each of which cost around 20 pesos – since the cheapest bottle on the list was 65 pesos and was one that in most restaurants would sell for about 40 – their markup seems to be about 2-1/2 times retail price, very high for BA – and to add insult to injury, the pour size is about 2-3 ounces, what I'd think of as a tasting pour. After that point, we never had contact with her again, and, in fact, other than the runner who dropped off our food and cleared the plates, we had no other waitstaff contact save one – one of the conceits here is that the water bottles are kept on a sideboard and someone is, presumably, supposed to pour them for you – no one did, and we tried flagging down another waiter to see if he would, and his only comment was, "you're not my table, I'll tell your waitress". I got up, removed the bottles from the sideboard and brought them over and put them on the table. At about that point, the maitre d' realized something was wrong and came over to ask – I told her our experience so far, she graciously apologized – though to the best I can tell, did nothing about it in terms of the other staff. On to the food: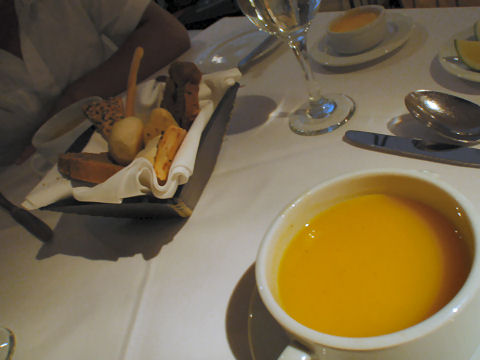 The food is where Francesco certainly shines, let's get that out of the way with. The kitchen sends out a basket of warm, mixed breads with some sort of little puree that was tasty (though we never found out what it was, since we had no one to ask), and two bowls of a quite good fish broth to whet the appetite.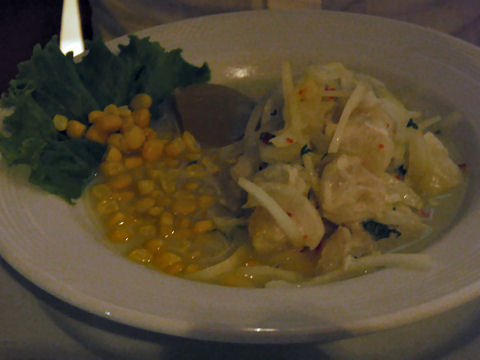 Henry ordered his usual favorite at any Peruvian restaurant, a classic ceviche. Absolutely fresh fish, lenguado (sole) in this case, with a great citric and lightly spicy curing broth – we did ask the runner for some fresh chilies and he returned with a small bowl of pureed green chilies that we made ample use of during the evening – but then, we like things spicier than many do. The fresh corn was nice, though we both prefer the little toasted corn kernels, or if it's fresh corn, on the cob, in our ceviche – but that's not a criticism, just a preference. This was just plain good, even if it cost as much as the family platter ceviche at
Solopescados
.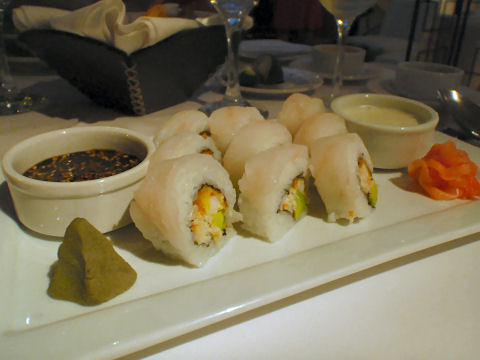 I decided on the
maki encebichado
– an interesting sashimi roll with fried shrimp, crabmeat and avocado on the inside, wrapped in a slice of white fish that had been cured, ceviche style. The maki itself, along with the wasabi paste, was great. The two sauces did nothing for the dish – one seemed to be a lightly spiced mayonnaise and the other some sort of thick, sweet, sesame and soy dressing. I tasted each and then ignored them – the wasabi and the fresh seafood were more than tasty on their own.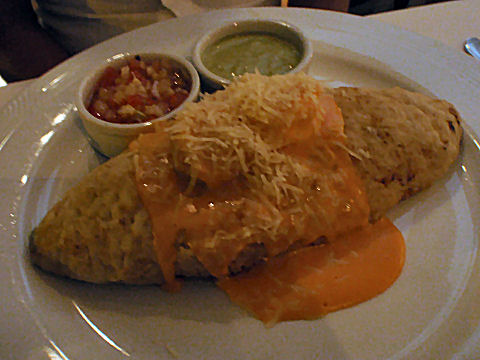 The least expensive entree on the menu is the
tacu tacu
, and it's also one of Henry's favorites, though I think he ordered it because he was worried about how much we were spending. It's easily the most elegant presentation of the dish we've seen – after all, it's just a rolled over fried cake of leftover rice and beans at its heart. It was drizzled with a very good mildly spicy rocoto sauce and served with sides of dipping sauces, and a little cheese grated over the top. Really delicious.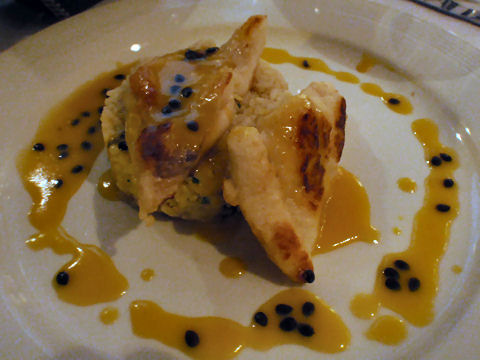 I lied. We had one other contact with our waitress. That was when, after our appetizers had already been served, she returned to tell me that the lasagna of fresh prawns and artichoke has no artichokes in it, and hasn't for a couple of months since they went out of season, and did I still want it – umm, no, it was the combination that I was interested in (and why haven't they changed it on the menu, it's just slips of computer printed paper slipped into the menu cover?) – I went with my second choice the
pez blanco en maracuyá
– white fish in passion fruit – she had no idea what fish the white fish was, "most likely either lenguado (sole) or mero (sea bass)". Whatever.
Okay, here was the one kitchen mis-step – I don't know if it was some cook's retaliation for my cancelling the lasagna after they'd already probably started making it, or if it was just lack of attention… The sauce, the rice with its raisins and almonds – delicious. The fish, lenguado as it turned out, cooked to the point where it was dry and chalky, completely inedible, I mean, on the edges you could actually break pieces off and hear it crack. I tried to wave down our waitress, or another waitperson, or even a busboy – to no avail. The maitre d' spotted my attempts and came over to inquire – I told her the problem, she whisked the plate away, offering to either replace the dish with another of the same if I wanted, or I could change to a different dish – I wanted this, just asked to make sure that the fish wasn't overcooked. Ten minutes later a fresh plate arrived, though with just a single piece of fish on it, not really any bigger than one of those on the first plate, but, perfectly cooked and juicy. The dish was delicious, it was just more trouble than it was worth, and a bit skimpy, especially compared to the size portions of the other plates we'd had.
We decided against desserts – no idea how they're priced, but we didn't want to know. Overall, service – poor; ambiance – beautiful; food – despite the misstep, excellent. But, the price tag for two appetizers, two main courses, two bottles of water, and two glasses of wine – 310 pesos. And, to make clear how bad I felt the service was (and in particular for a restaurant of this caliber and price range), this is only the second time in near five years in BA that I've basically stiffed the waiter – I left 320 pesos and probably wouldn't have left the 10 peso tip except I just didn't want to have to wait for change.
Would we go back? No. Plain and simple. Too expensive, and the service is a problem. And especially not when there are fusion places around like PozoSanto, Astrid & Gastón, Osaka and others at the same or lower price levels, all of which have not only the good food, but a better attitude.