"The territory of Ukraine, divided over the centuries, including Galicia, Bukovyna, Carpathian Ruthenia, and Dnieper Ukraine will now become a great united Ukraine. Dreams, for which the best sons of Ukraine fought and died for, have come true.

– translation from the Zluky Act, January 22, 1919
A good percentage of my ancestors are from Belarus, or as I grew up thinking of it, White Russia. The Ukraine is not so far away, and while there are cultural and culinary differences, there are just as many similarities. Of course, celebrating the reunification of the republic, short-lived though it may have been before its incorporation into the USSR a mere 2 years later, is apt – it's now an independent republic again, following the 1991 dissolution of that ponderous and massive conglomeration of states. As a friend and colleague who came to dinner put it, he couldn't quite believe he was coming from California to Buenos Aires in order to have Ukrainian food, but there you have it – of course, as usual, I stray from the traditional…. though not too far this time.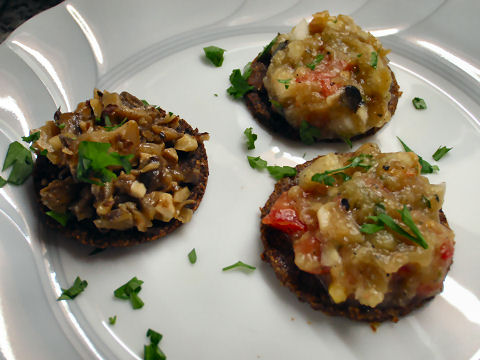 Vegetable caviars have little in common with real caviar, other than that they tend to be little mounds of finely chopped, sometimes jewel-like bits of vegetable, usually intensely flavored, and often eaten in hors d'oeuvre sort of form. I made two for the dinner – a charred eggplant mixed with onion, tomato, garlic, parsley, red wine vinegar, and olive oil; and sauteed brown and white mushrooms with shallots, garlic, hot paprika, hazelnuts, parsley and white wine. We served them over homemade rye crisps, which were actually kind of fun to make, I haven't made crackers at home in years, but good rye ones are hard to find here – these, a simple blend of 2 cups of rye flour, ¼ cup each of bread flour and cornmeal, 6 tablespoons neutral vegetable oil, 2/3 cup water – then rolled out thin, cut into rounds and baked for 40 minutes at 350°F.
For our soup, no photo, it looked pretty much the same as last week's soup, a beet one, though this version not vegetarian – a slow cooked beef stock and then beets, onions, tomatoes, carrots, green bell pepper, prunes and garlic added to the strained stock, cooked until the vegetables were soft and then pureed and chilled. I decided not to put the dollop of mascarpone on, just a little scattering of herbs across the top.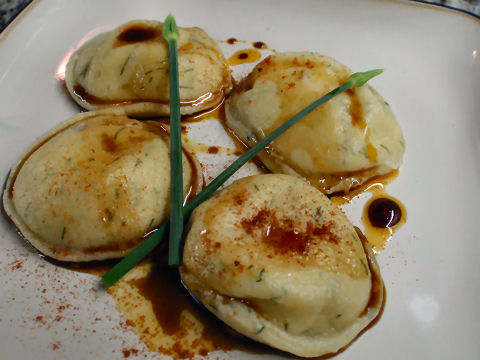 Let's call these vareniky pansoti, or pierogi pansoti – I took a classic pierogi filling of mashed potato, some cheese, and egg white, lightly seasoned, and put it into a dill flecked semolina pasta. Instead of a traditional onion sauce I drizzled them with pomegranate molasses and chili oil. Not bad if I do say so.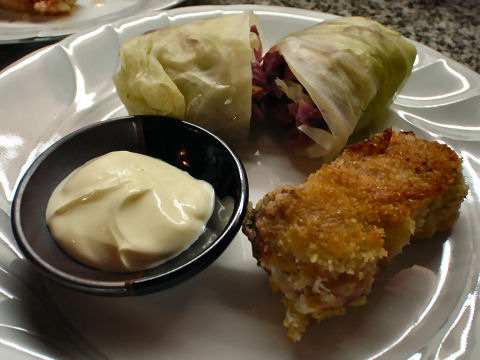 What's not to like about Chicken Kiev that can't be improved upon by making it Duck Kiev? Pounded thin skinned breast of duck wrapped around dill-lemon butter, then breaded with panko crumbs and fried to a golden brown. To accompany, sweet and sour red cabbage stuffed into a blanched leaf of green cabbage and then baked, the ultimate in stuffed cabbages I suppose. A little homemade sour cream to accompany it all on the side and, it was a hit, including with the couple of people who'd warned me that they weren't duck fans….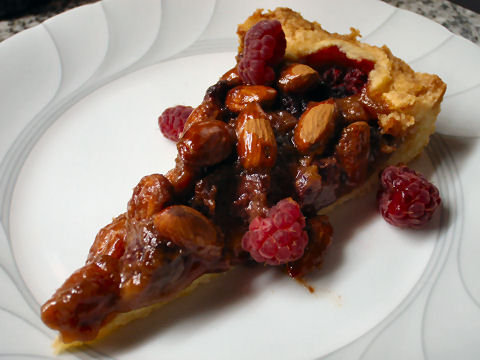 And, what turned out to be the star of the show for many of the guests, a raspberry and almond tart, inspired by a traditional cake with the same flavors. I made it following the basic structure of the Engandiner Nusstorte, though without the top crust. The differences, whole almonds instead of walnuts and a pint of raspberries thrown into the mix. Chilled and topped with more fresh raspberries it was decadently delicious!