"Everything secret degenerates, even the administration of justice; nothing is safe that does not show how it can bear discussion and publicity."

– John Emerich Edward Dalberg Acton, First Baron Acton of Aldenham
Our business in private parties has picked up again, slightly later this year than usual – the last three summers we've been flooded with requests during November and December, this year it seems to be January and February. Last week, a group of friends decided on an evening out, some of them are studying and/or living here, others were visiting. The only restrictions, no mango nor mushrooms.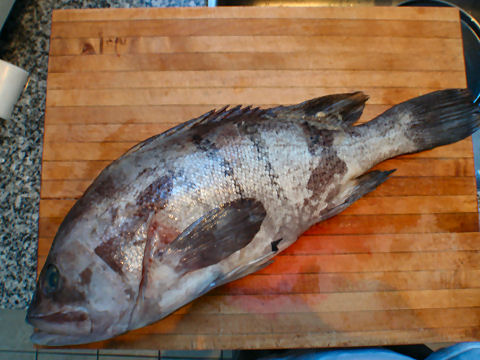 Rather than show the dish, which I've made before and you can see here, along with the "how to", I thought I'd show one of our local fish, the mero, a type of sea bass. This is one of our two favorite fish, along with lenguado, or sole, from which to make ceviche or tartare, it's just such a clean, fresh tasting white fish – especially when you start with a whole one and clean and fillet it yourself….
For the soup, a reprise of the watermelon gazpacho that I whipped up for our last dinner of 2009, with a few more herbs thrown in for color – basil and parsley.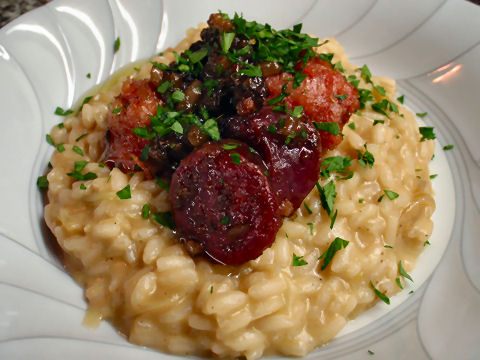 At that same dinner, I'd made a caramelized shallot risotto with morcilla sausages and sweetbreads. Well, wouldn't you know, but there wasn't a sweetbread to be found. I hit every butcher shop in the neighborhood, and even the supermarkets. Not a one. Not even frozen. I decided on a trio of sausages instead – the morcilla, some fresh chorizos, and some cured fuet de Tandil, one of my favorite smoked sausages from the southwest part of BA province. Delicious!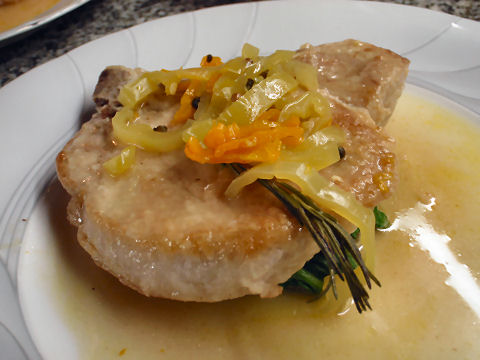 One of my favorite recipes from my time spent, many years ago, at Felidia Ristorante, Costolette di Maiale Piccanti, or Piquant Pork Chop. No cherry peppers here, but I used a mix of mild ají vinagre, or Italian frying peppers, and ají amarillo, spicy Peruvian yellow peppers, and pickled them myself. Other than that, stayed true to the recipe posted at the bottom of the linked page.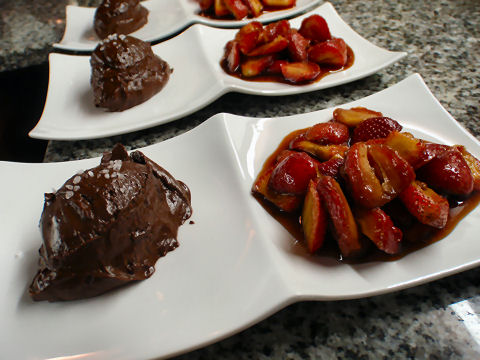 Two great tastes that taste great together, as Reese's might say… oh, they did. On the left, chocolate olive oil mousse topped with a sprinkle of coarse sea salt; on the right, a dish based on one from some trendy chef in the Val d'Aosta region, northwest Italy (which, interestingly, I've seen republished by Marian Burros in the NY Times, also slightly modified, as a New Orleans recipe).
Yum…! I should have done those with the molasses cake from the weekend!