So, what about the food here. Well, let's start with everything I was told… no, forewarned, about coming to Santiago…
Chileans aren't friendly. They'll cheat you left and right. Santiago is dangerous. Be careful, if not paranoid, about everything.
Chilean food is so bland it makes Porteño food look spicy.
What decent food there is in Chile is on the coast, there's nowhere interesting to eat at in Santiago.
Santiago is outrageously expensive, expect to spend anywhere from 50-100% more on meals and everything else than in BA
It's in the mountains, it'll be cold. There's nothing to do there.
So hmmm, let's just throw a big "NOT" into the pile of all that crap. Okay, Chileans don't run over to kiss everyone who walks in the room like porteños do – they do, however, greet you warmly and shake your hand. I'd have to say I feel safer, in the first 24 hours, of walking around in the city than I do in most parts of BA, and generally, I feel pretty safe in BA. I have no idea who started the bland rumor – it may not be Mexican or Indian spicy, but most of the porteños I know couldn't handle pil-pil or even the basic salsa pebre without whining. The food, so far, is exquisitely good, both the traditional, home-cooking sort of stuff and the fancier restaurant fare. It is pricier than BA, though I'd say more like 15-20% – this may be relative, one has to keep in mind the collapse of Argentina's economy just a few years back which it is still recovering from – I suppose since Chile's been relatively stable, that given Argentina's 30+% annual inflation rate, that a couple of years ago, the difference was much greater. It's hot and dry here, at least at the moment – it's the mountains, yes, but it's summer, the sun is intense – if anything, you have to be careful not to overdo it or burn. The city probably doesn't have near the cultural outlets that BA does in terms of theaters, concert halls, museums, etc., but it certainly has enough – especially given that the population of greater Santiago is 1/3 that of greater Buenos Aires. On to the first bites of food…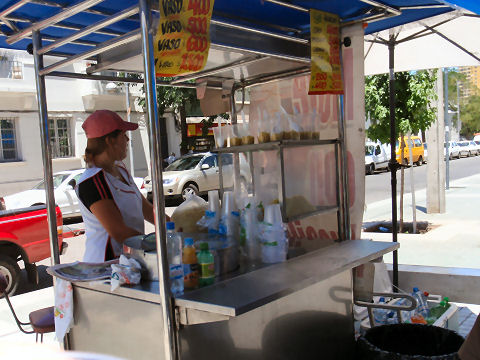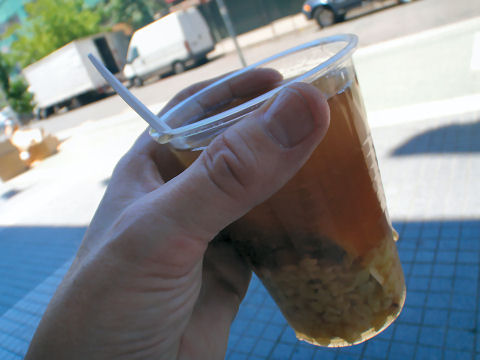 One of the first things you see is that there is street food here, something that outside of the two costaneras, or boardwalks, BA is lacking in. Truly ubiquitous, at least in this hot weather I imagine, are stands offering mote con huesillos – barley that's been boiled and then soaked in a sort of peach iced tea – you get a decent sized glass, half a liter, at most places (smaller available) with a scoop of the barley, a skinned peach, and filled with the jugo, for about 500 Chilean pesos, about 3,75 Argentine pesos, or a dollar. If you buy the same in a restaurant it'll probably be double that.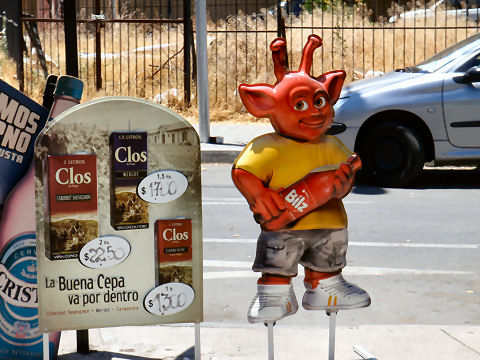 It's thirsty business being here – the altitude and dryness and heat parches you – but, unless you have an aching sweet tooth, I don't recommend going for one of the two national soft drinks – Bilz or Pap (the latter shilled by the same demon looking sort, but in yellow-ish orange), respectively strawberry and papaya sodas – but syrupy sweet.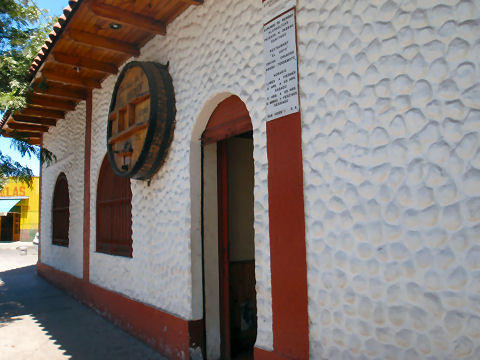 Among the many things I did in prepping for this trip were to checkout various sources aimed at the traveling foodie. This place, El Hoyo, first came to my attention when watching Anthony Bourdain's No Reservations episode for Chile – I pretty much immediately dismissed it, as so much of the things he spouted about Chile and Chilean cuisine (and references to neighboring Argentina) were so far off the mark that I figured it was all in his head. But then again, he generally knows his pork, and that's what this place is about. When new online contact Liz Caskey also recommended it, and turned out to be the person who set it up for Tony to head there, I figured it was worth checking out. Liz, by the way, is the writer of the only English language food and wine blog I know of dedicated to Chilean cuisine, Eat Wine, and also author of a great ebook guide to dining in Santiago, well worth the price of the download.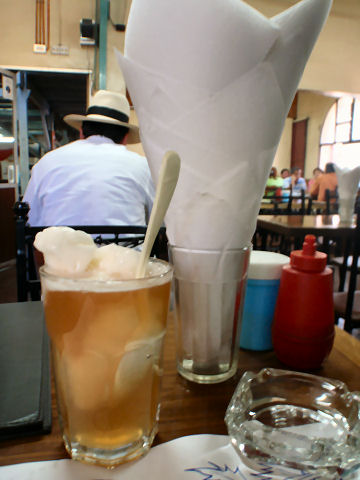 I decided to, more or less, duplicate Tony's menu, though since he was sharing the table, he had some help – there was no way I was ordering the quantity of food that he did. First off, the classic Santigueno cocktail, the terremoto, or earthquake – a blend of white wine and pineapple sorbet – just a glass thank you, not a pitcher. It's purported to be incredibly strong – it really isn't, it's just that with the sorbet blended into the wine, it goes down so smooth, you find yourself drinking it faster than you'd drink the same quantity of wine (half a liter, less the space for the sorbet), so it's a little too easy to drink too many of them. Did I mention that it's really quite good for such a strange sounding combination?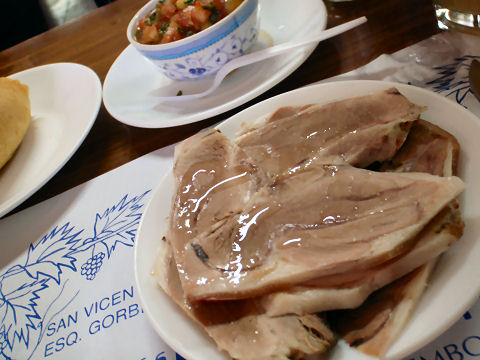 My waiter came to the rescue, recommending that rather than ordering the main course of pernil, a whole braised pig's leg (below the ham), that I get it served as a cold appetizer – slices, topped with the braising liquid and accompanied by pebre, a salsa that at El Hoyo is a simple mix of tomato, lots of onion, and a healthy amount of fresh green chilies. This is simple, good food – it'd make a great sandwich, which they also offer, or I could have made one with the bread rolls served on the side.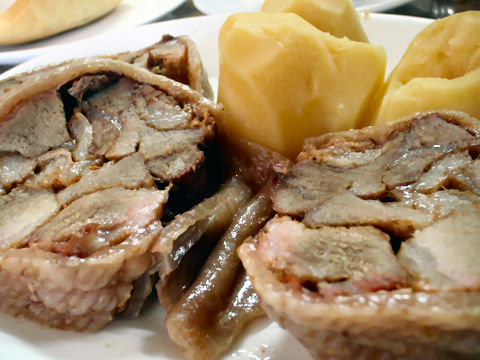 Tony turns out to be both on the money and off the mark at the same time with this one, the arrollado. He's dead-on that it's "porky goodness", though the phrase, which he uses just a bit too often, is as grating to my ears as his nemesis' fave, "yummo". On the other hand, he describes it as bits of various parts of the pig wrapped up in skin and boiled. It's not various parts, which made it sound like a mashup of offal and meat, not necessarily a bad thing, it's really just fresh pork loin, and it's wrapped in a sheet of fat that helps keep it moist while cooking. He also failed to mention that it's chockful of spices – cumin and garlic standing out amongst them, but also red wine vinegar and, I'd guess, a little merkén, the local smoked pepper – and absolutely delicious. Even the potatoes served on the side, a dense, waxy variety, seem to be impregnated with the juices – perhaps they're cooked in pork stock?
El Hoyo gets a big thumbs up, and for all of this, plus a bottle of water, I laid out a whole 8,400 local pesos, or 63 argie ones, or dare I say it, $16… oh yeah, I'm overwhelmed by how expensive it is here….