Secondo: What's the matter with you, are you sick?
Primo: People should come just for the food.
Secondo: I know. Primo, I need your help here, okay? Louis Prima is coming! He's not just some guy, he's famous!
Primo: Famous? Is he good?
Secondo: He's great.
Primo: People should come just for the food.
Secondo: I know that.
Primo: People should come just for the food!
Secondo: I know that, I know. But they don't."

– from Big Night
One of the things that comes up frequently in regard to restaurants here is the quality of certain types of food – in particular, related to Italian food – whether it be pizza, pasta, or anything else from the canon. Pizza has too much cheese and not enough sauce, pasta is over-cooked and the sauces are ghosts of what they should be, and other dishes seem to be based on some vague description that someone heard, somewhere, once upon a time. I'm sure part of it simply came about because of the lack of certain ingredients over the last century since the largest wave of Italian immigration, more of it, perhaps, because of a disjointed passing down of recipes and stories from generation to generation, and some of it, likely, to fit local tastes. But for those of us from elsewhere, especially anywhere with a strong Italian cuisine, it becomes a pleasure when we find a spot that… does it right.
So, it was, indeed, a pleasure to find ourselves at La Mamma Rosa, Jufré 202, corner of Julián Alvarez, in Villa Crespo, on a recent Sunday afternoon. Looking relatively nondescript, much like any parrilla or neighborhood hangout in the central barrios, it's a hidden gem. It's the sort of place where you could see that if you're a regular, you're greeted like family, where a mountain of food is going to be heaped upon your table, and where you can do nothing at the end of the meal but loosen your belt, pat your stomach, sigh contentedly, and hope that no one has planned another meal for you for the next 24 hours.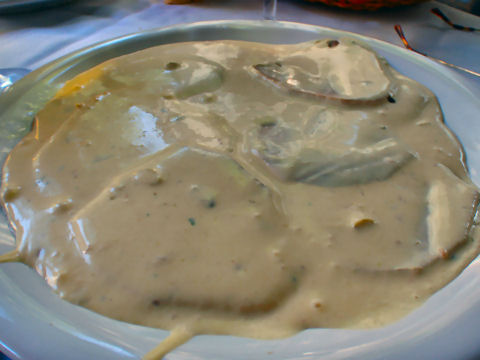 A properly made vitello tonnato, creamy, rich, the veal cooked just right. Perhaps a few more capers in the mix to give it a touch more sharpness, but really, one of the better ones I've had here in Buenos Aires. And, a portion that could only be called an entrada for a family of four.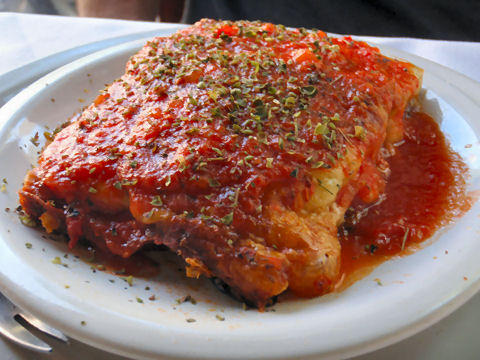 Billed as, hmm, I don't recall what, an eggplant appetizer, this full-plate sized slab of what was essentially eggplant parmesan, was enough for two to share as an appetizer, or a full meal for one. The eggplant itself, a trifle salty, as if they'd sprinkled it with salt to drain some of the juices out of it and not quite rinsed it well enough – the rest of the dish, beautifully balanced.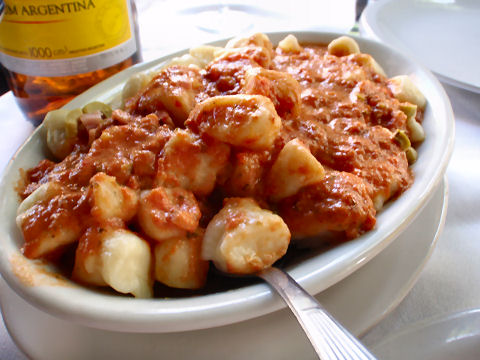 Falling somewhere in between light and delicate and heavy and leaden, the gnocchi were quite good – not so heavy that they sat in your stomach, and not so light that they seemed a waste to have eaten – just the right amount of… chew. The house sauce, la mamma rosa, is a classic pink sauce – combining tomato and bechamel sauces, but with the addition of lots of chopped onion, garlic, and bits of ham.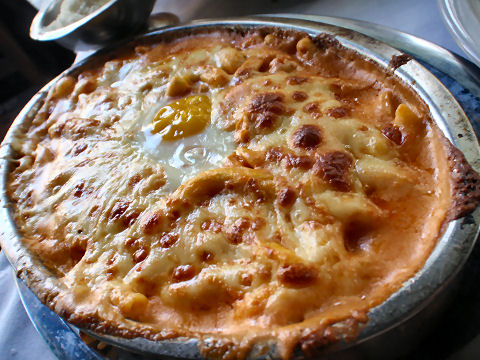 The house-made fusilli, themselves, nigh on perfect, and cooked an absolutely dead-on al dente. The sauce, one of my new faves, principe de napoli, or prince of Naples, at its core, just what it should be – creamy, rich with cheese, mushrooms and ham – missing, only, the peas that I like for a bit of green and vegetation, but then, I'm not sure if those are truly traditional or more of an affectation.
We didn't remotely finish everything on our plates – with two of us I think we made it through the veal, half the eggplant, and about half of each pasta… though we continued to nibble our way through a bit of the fusilli as we sat and moaned. And top it all off – not expensive at all. For all of that food, a couple of waters and a large beer that we split, it barely topped 100 pesos.