"I am not a vegetarian because I love animals; I am a vegetarian because I hate plants."

– A. Whitney Brown, writer & comedian
Before anyone feels the need to point it out, I know I said awhile back that I wasn't scheduling any more vegetarian dinners – but that's not exactly what I said. I said I wouldn't schedule any more weekends as vegetarian themed menus. But, we already three nights booked with our Brazilian themed menu that I covered in the last post, several people asked me about a vegetarian night, we had a free Sunday, so I added in a fourth dinner for the week – vegetarian. It also seemed a good moment to show you some more of what we've been doing in our recent ASEAN countries vegetarian (actually, vegan) classes. Now, no surprise, the group, locals, that requested the dinner, having complained that they have no options and really wish someone would do vegetarian dinners (us, and A Little Saigon on occasion; Casa Felix and Kensho on a weekly basis) – reserved and then cancelled, all within a day. But, the night filled up – no one vegetarian, though one person who is a pescetarian.
Still, I went ahead with the theme, no one who reserved expressed a desire for anything different… and, away we go….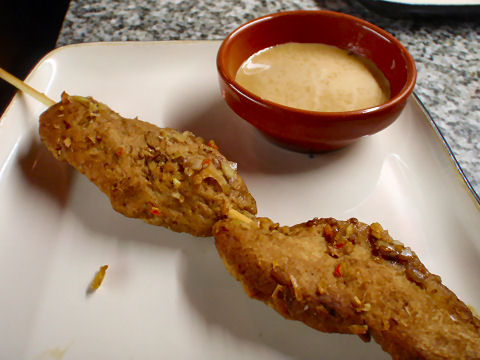 One of the things we did in the series was really get a handle on how to make seitan, or as some folks call it, "wheat meat", easily and quickly. Thanks go out, as seems to happen more and more in this endeavor, to Ed Coffin at the Eating Consciously blog for a simple and direct approach – the only thing I do differently in the making of the seitan itself is add a good scoop of nutritional yeast to the gluten before adding the water – it gives it more flavor. After it was all cut into long strips and simmered away in water and soy sauce, I left it to marinate in a mix of all sorts of good spices, then whipped up a traditional Malaysian spicy peanut sauce to dip it in. I've found that grilling seitan is a bit difficult, it tends to stick to the grill too much, even with oil, so instead I put it under the broiler to give it a little browning.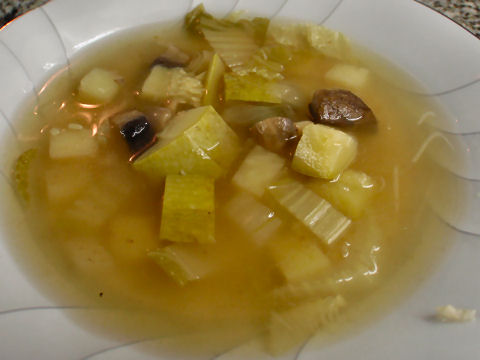 On to our soup course and a visit to the Philippines, a classic "sour soup", or tamarind based broth, here with all sorts of veggies in it, and a mix of mushrooms filling in for the meat.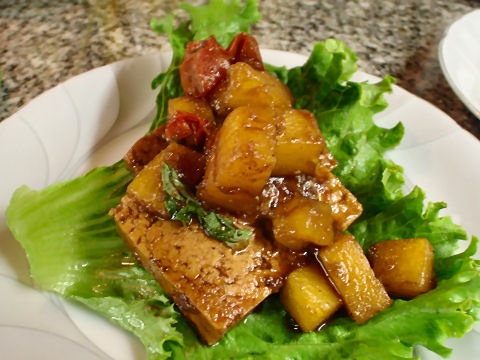 Going back awhile (to March), you might remember our Vietnamese catfish in pineapple caramel – the recipe works brilliantly for slices of extra firm tofu, and, as one of my students put it, "it's really hard to get a piece of tofu to taste good as the center ingredient" – this works.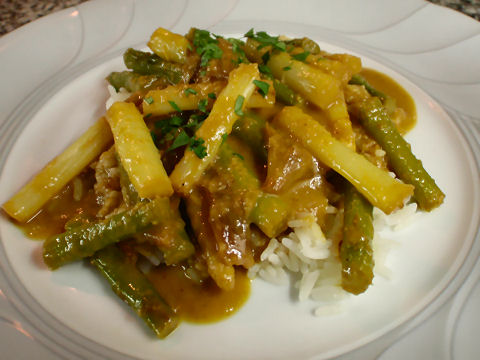 And for our main course, on to Indonesia and a shallot and asparagus rendang, the only change here from our class is that I used a mix of green and white asparagus since both were in the market and I thought it would look purty….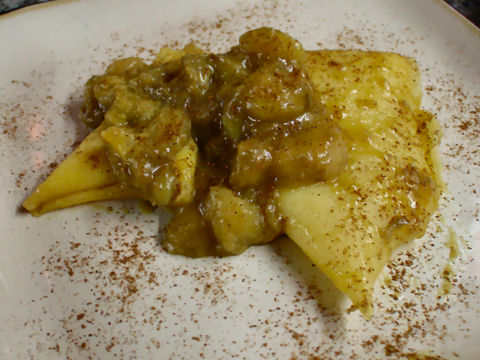 I've made my whole baked banana phyllo springrolls many a time, this time I decided to do something different. Originally I'd planned to make it completely vegan, with some coconut milk crepes the way we'd made in our last class, Cambodia, but since no one at the dinner was vegan, I decided to use eggs, which does give a nicer texture – so a simple batter of rice flour, coconut milk and eggs – then I cut up the bananas and cooked them in my usual springroll sauce – coconut milk, brown sugar, turmeric for color, a pinch of salt. Dipped the crepes in the caramel and folded them in quarters, sort of haphazardly, then ladled the sauce over the top.