"Ring out the old, ring in the new,
Ring, happy bells, across the snow:
The year is going, let him go;
Ring out the false, ring in the true."

– Alfred, Lord Tennyson, poet
Last week, La Nacion published a weird interactive map of the "best pizzerias" in Buenos Aires as chosen by their readers. The map is weird mostly because it's difficult to use, their little silverware sets to click on overlap and aren't easy to single out in some parts, and if the intent was to show where things are within the city, they haven't a clue – they have a Palermo pizzeria in the heart of Recoleta, and vice versa, and things just aren't quite right. I guess it's an attempt to be very hip and with it in their online site, but sometimes, a list is a whole lot more sensible. Beyond that, there are few surprises. Most of the choices are classics of the porteño canon – Banchero, El Cuartito, El Fortín, Angelín, El Imperio, etc. (some reviewed, and not necessarily to acclaim, here on these pages); though there were a couple of interesting choices that don't pop up on the usual suspects list, like the new chain of Almacén de Pizza, which goes against everything that porteño pizza eating normally involves, i.e., they actually let you pick your toppings; and, there were one or two I hadn't heard of before. Also not surprising, in the 200+ comments to date that have appeared on the article since, the vehemence of support for some of what I think of as the worst pizzas in town has popped up, though too, a few voices in support of more classic Italian style pizza are raised.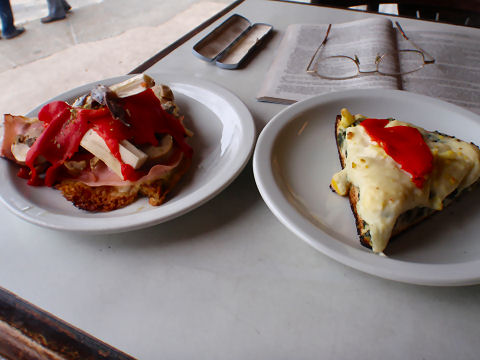 It was timely, because I've just checked out two spots over the last week, one old, one new. A surprise, the old one, which normally shows up on every local's list of "you have to check this one out", isn't on this one, even in the readers' comments. But it's one that's hard to miss, being that it sits prominently on a corner at Plaza Italia and boldly proclaims that it's been serving the best pizza in the barrio (Palermo) since 1950 something or other if I recall correctly. The place, Kentucky, Santa Fé 4602, serves up pizza al molde, or deep-dish pizza, and goes beyond the usual combinations to have a few that are a bit more inventive – not too far, but beyond. The crust, very bread-like, and a bit over-cooked as far as I'm concerned, though tasty. The toppings, plentiful. I know in the photo, the one on the right looks like it's oozing some of that goopy mozzarella I was recently talking about, but it's actually not – instead it's oozing bechamel sauce. The cheese is used quite sparingly on both slices (Kentucky offers most of its combinations by the slice as well as whole pies, a nice plus). The one on the right was a pizza bianca of sorts, a bit too much of the bechamel and very little spinach (probably from a bag of frozen, pre-chopped); the one on the left, the house special, the Kentucky, topped with an odd assortment of mushrooms (canned, very disappointing), hearts of palm and roasted peppers (the same) and ham (supermarket lunch slices quality). Overall, pretty disappointing – everything lacking seasoning, and the quality of the ingredients mediocre at best – and quite unusual, because one thing I do like about most porteño pizza places is the freshness and quality of the toppings (other than the mozzarella problem previously discussed), and here, that's not the case. Give this one a pass.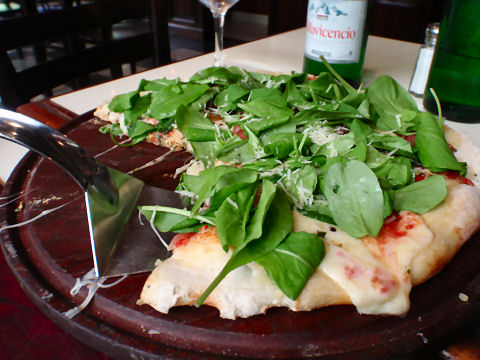 On the other hand, the new Quentino, French 2301 here in Recoleta, has thankfully taken over the spot recently vacated by the appallingly bad Scetta, and more thankfully, because it's actually pretty decent pizza. We literally caught them just after opening, they were still setting things up in some parts of the restaurant, but the kitchen was open, and the arugula and bacon pie sounded like a nice choice, no? The crust, very light and airy, thin, quite good. The sauce, minimal, but well seasoned. The cheese, as usual too much, but, happily, of good quality. The other toppings, plenty of bacon and, as you can see, more than sufficient arugula. Not bad at all – I'll have to stop back once they have their menus printed, I think they'll probably replace Los Maestros as our local delivery spot. [Unfortunately, as they had become our "go to" spot in the 'hood, they closed in late 2014, replaced by a new branch of Almacen de Pizzas, opened in May 2015.]