"Children don't read to find their identity, to free themselves from guilt, to quench the thirst for rebellion or to get rid of alienation. They have no use for psychology…. They still believe in God, the family, angels, devils, witches, goblins, logic, clarity, punctuation, and other such obsolete stuff…. When a book is boring, they yawn openly. They don't expect their writer to redeem humanity, but leave to adults such childish illusions."

– Isaac Bashevis Singer, Author
I realized that this was the first time (I think, anyway) that Halloween fell on a night we were having a Casa S dinner. It's too important a holiday to let pass by without acknowledgement, so saddle up your broomstick and away we go…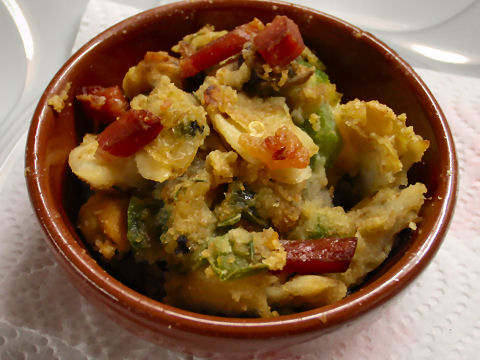 Deviled Shellfish – a mix of clams, cockles, scallops and mussels mixed with sauteed green pepper, fresh chilies and onion, some breadcrumbs, parsley, lemon zest and bacon. Packed into a small cazuela dish, spritzed with a little oil and broiled.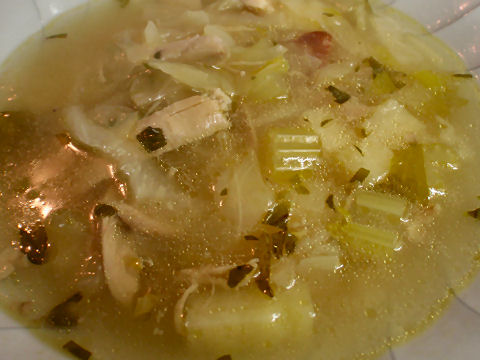 Based on a classic Portuguese soup, Sopa de Espiritu Santo (well, okay, that's how you'd say it in Spanish, not Portuguese), or Holy Spirit Soup, we made this into a Spirits Soup – a hearty oxtail and garlic brown stock that was then packed with chorizo, chicken, celery, carrot, onion, potato and cabbage, and flavored with a mix of bay and mint added in the last bit of cooking.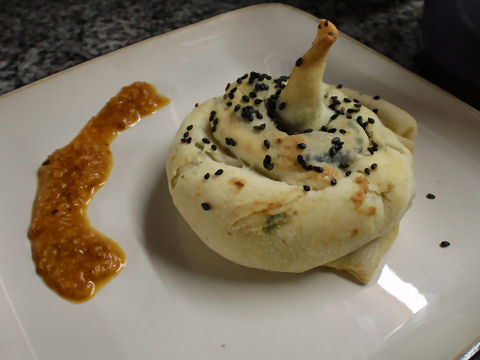 Okay, it kinda sorta looks like the form of a Witch's Hat, no? Still playing around with the homemade phyllo dough, here stuffed with spinach, goat's milk cheese, paprika, cinnamon and salt, topped with black sesame seeds and served up with a roasted tomato and chili sauce.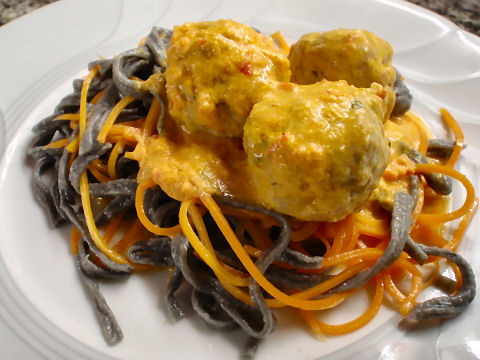 I don't know whether the church of the Flying Spaghetti Monster approves of eating spaghetti, but we did. Squid ink tinted espaguetis caseras (homemade spaghetti), finely julienned carrot cooked separately, meatballs made from albacore tuna, salmon, chilies, chives, lemon zest, salt and pepper, and a classic pink vodka sauce.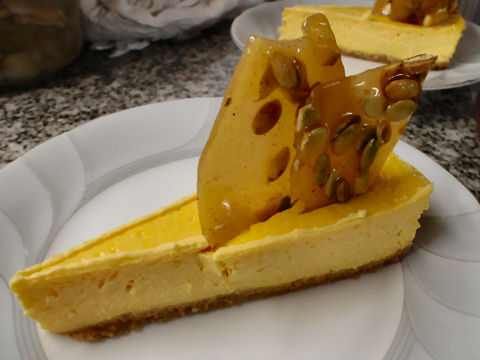 Likewise, I'm not sure how the Great Pumpkin feels about the eating of pumpkins, but here, a pumpkin cheesecake topped with a shard of pumpkin seed chipotle chili brittle. The night was hot and humid… sultry even… and within a minute, all the shards had collapsed into droopy ribbons – so much for the pretty presentation. Still, the flavor was there, even if the brittle was a bit more like chewy caramel.