So this is it, the last post on my NYC visit this year. I had fun with the folks I got to see, though I must admit, I was frustrated by the number of people I didn't get to see – partially due to the short visit, partially due to my training schedule, partially due to, as noted in previous posts, people not showing up or cancelling, and probably, a good part due to trying to arrange this all via social networking rather than just calling each person individually and trying to pin them down to a time that worked – which gets back to the first to parts of this run on sentence. I don't think I'd approach it that way again – I'm not sure what was different – my usual visits involve setting up some lunches and dinners with friends who I know I can't miss seeing without setting myself up to never hear the end of it or causing hurt feelings, and then telling other people who I want to see, "this is what I'm doing, with X, and if you want to join us, that'd be great". This approach just left out the "with X", and put it out there via Facebook and Twitter rather than making round after round of phone calls or e-mails – it was far easier on me, but seemed to be less enticing for others. I'll figure something out for the next visit.
So, on to the last day, my sister came in from the Lancaster area to spend the day, so it wasn't an open invite at lunchtime. We spent most of the day just wandering about, poking into stores and such, chatting and catching up. Lunch at Cafe Asean, good as always. Dinner planned at Apiary, 60 3rd Avenue, for a group of four, two of whom cancelled, one the day before, one a bit more last minute. Didn't fill in the spots and ended up with two of us there. I particularly wanted to try this place as Scott Bryan, the chef/owner, is an old friend, we worked together many years ago in the kitchens of Mondrian, Tom Colicchio's first restaurant (me doing cold appetizers and filling in stations and him in the baking/pastry kitchen), and then again when I was the opening wine director for Veritas and he was the chef. I really liked his food at Veritas and I was curious to see how it's developed over the last eight years or so since I've seen him. [Closed]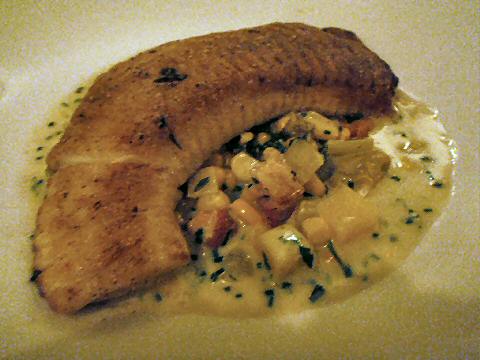 Sorry about the photo, but if I have any criticism of Apiary, it's simply that it's really dimly lit – I know that's East Village standard, but I have to admit, as I've gone from the 34 year old I was when I first moved into the neighborhood to 17 years later, I've started to find it difficult to read the menus or see the food. Go figure. So, the photo is edited to as best I could get it with the software I have with me. Back to the restaurant – nice energy, fun design, weird lighting (beyond being dim, the fixtures are… different), and, the things most important to me – great food, great wine list, and great service. We tried a trio of appetizers –
hamachi
crudo with avocado and jalapeño; seared scallops, and, my favorite, crispy sweetbreads with romesco sauce – one of the sauces that y'all know is a personal favorite of mine – works beautifully with these – his version is a bit spicier than mine, and that just kicked off a nice dinner. Main courses, seared duck breast with parsnip puree, delicious, and, simple though it may be, I loved the pan-roasted skate wing with a razor clam chowder – I think he used to do the same dish, or at least a precursor of it, at Veritas, and I loved it then – if anything it's gotten better, and I do love skate, something we don't see much of in BsAs – going to have to play with that for a dinner next time it's in season. Apiary's sommelier, Brett Feore, picked some great wines to accompany the meal, I have to admit I didn't take notes, but we started with a wonderful sparkler, Dibon Cava as we eased into the evening, then the Leitz "Dragonstone" Riesling with the crudo and scallop, the Ramírez de la Piscina Rioja Reserva with the sweetbreads, and finally the John X. Merriman blend (Bordeaux varietals) from South Africa's Rustenberg with our main courses. All worked brilliantly – don't pass up the opportunity to have Brett pick wines for you when you visit this spot.
Next report from Baltimore where I'm spending the weekend before heading back to BsAs. Depending on whether or not my friends have wi-fi, I'll report in tomorrow, or not until I'm back home….