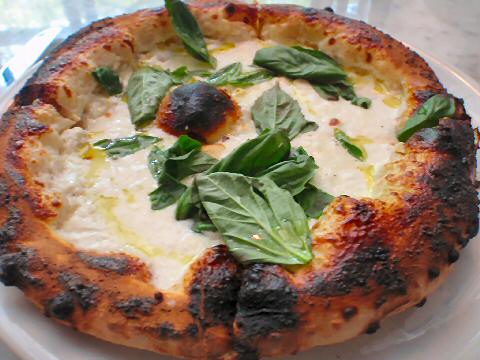 I'm tempted to just leave the photo as is and not comment, but that's not me, ya know? So, the other day, I tried to go to
Motorino
, 349 E. 12th St, and found them closed on a busy Saturday afternoon, when the streets were full of people. Yesterday, just passing by at lunchtime, I noticed they were open – near packed to the gills, but one table remaining, so I grabbed it – it was the end of lunch hour here in NYC, only about 1p.m., and within about 10 minutes the place was near empty. The menu lists 7 or 8 pizza choices, and since one of them was based around one of my favorite cheeses,
stracchino
, I jumped at it. A little good olive oil, sea salt and fresh basil leaves rounded it out – no sauce. Delicious, the crust has a great texture and a really nice char, the ingredients fresh, no complaints, but, no hype either – it's not the world's best pizza, nor even New York's – it's just really, really good.
At some point you'd think that people would get that vegetarian cuisine doesn't mean twigs and leaves or dry brown rice cakes. But that seemed to be the responses I got from people yesterday when I offered up that I was headed to Kajitsu, 414 E. 9th Street 125 E. 39th Street, for dinner. Was surprised I was able to get a table given that on Monday, the new Michelin guide graced them with a star – but then, friends have been telling me for the last couple of years that the Michelin guide seems to have minimal effect on business here, other than with European visitors. In the end, since I was solo, and the dining room was half empty, I decided to just sit at the counter and watch the chef work, which was great fun. You have a choice of a four or eight course tasting menu, respectively $50 and $70. A good, though short list of sakes, beers and wines is available. Of course, I went for the eight course menu and a carafe of a good sake. And, just to save any suspense, if there is any, the food was amazing – beautifully presented, flavorful, interesting, fascinating – an experience well worth having.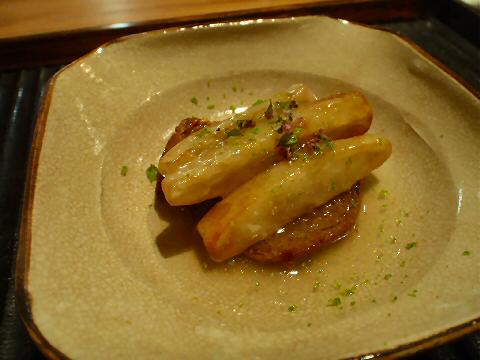 The meal opened with one of my favorites of the evening – steamed taro root over fried
nama-fu
, which is sort of the Japanese equivalent of
seitan
, not exactly the same, but gluten based (oh, Kajitsu makes a point of that their menu contains gluten, nuts, sesame and other potential allergens and no substitutions or special requests are entertained, something to note). The texture and flavor were absolutely amazing together, and the little accent of grated
yuzu
rind and
shiso
flowers were just perfect. The second course was a simple, clear broth with a mix of matsutake and white mushrooms and freshly made tofu – good, but not the wow of the first dish.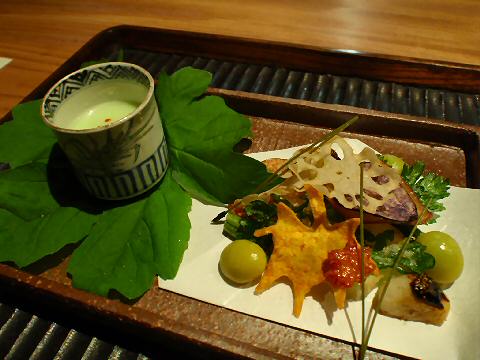 On to the third course, the prettiest of them all, designed to look like a pile of colorful fall leaves – very simple in terms of flavors – an array of vegetable chips (dehydrated, not fried) – more than a dozen different vegetables, fresh ginko nuts and accompanied by a creamy soybean soup – I want bowls of both soup and chips to just sit with in front of the t.v…. Next up, a plate of freshly made buckwheat soba noodles with traditional dipping sauce, really good, but not out of the ordinary.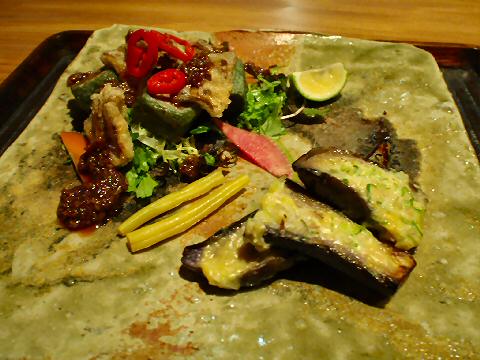 The main course – grilled Japanese eggplant stuffed with ginger and scallions, actually a dish I like to make myself – though this was so much better than any version I've managed – very delicate – accompanied by a mix of maitake mushroom tempura, steamed maitake mushrooms, and more of the
nama-fu
, this time flavored with a slightly bitter green herb – everything worked brilliantly together.
The followups to the main course, a deliciously simple bowl of rice with roasted chestnuts and a mix of traditional Japanese pickles, with a dish of grated macadamia nuts and chestnuts to sprinkle over the top; a sweet potato pastry coated in caramelized sugar, and finishing with the traditional whisked macha tea and some sugar candies to accompany it – all quite good! Y'all missed out. And, contrary to my concerns at the beginning of the night, I didn't leave hungry, though, I admit, I woke up early this morning ravenous….