Plan A was for dim sum yesterday noonish. But then I spotted a poster for the Turkish Days Festival on 41st Street and thought that might be a fun place to start – depending on how good and how much food there was, we could move on to dim sum or not. Turned out not, because there was too much, too good food, and not enough of us even with splitting things to contemplate more somewhere else.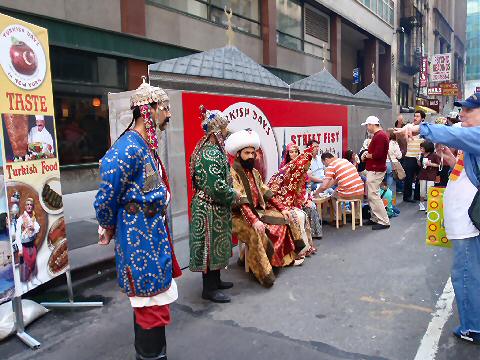 There were, of course, the requisite folk in native garb, many wandering the street fair, others just hanging around waiting to have their pictures snapped.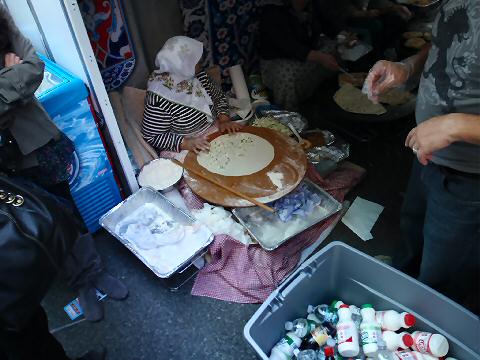 The food – there was just so much, from grilled beef and chicken and… hot dogs in some sort of strange gooey looking paste (didn't try that one)… in sandwich rolls, in pita bread… potatoes stuffed with olives and yogurt… Turkish coffee and tea… pastries like bakhlava and others… a Bosnian booth and an Albanian booth wedged in as well… and, my favorite, a trio of women making
börek
– rolling out and filling the phyllo dough, cooking it on a griddle, and serving it up hot and fresh filled with cheese or spinach…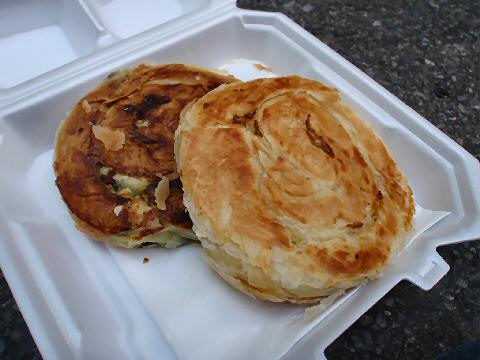 The dojo's closed on Sundays so I had the afternoon free and since the sun had finally decided to come out, I wandered and shopped and fought with American Express (who have decided that since I haven't used my credit line in several months that I clearly have no use for it, so they suspended it after the first time I accessed it and have informed me I'm welcome to reapply but probably won't get it approved since they "have rules" – one of which is apparently that you must use your credit line at least once every six months, it can't be saved for vacations and emergencies – which is what they sold it to me for in the first place!).
Met up with a couple of friends for dinner in Koreatown, or is it Little Korea, I never remember. 32nd Street between 5th and 6th… in particular, at Arirang Home-made Noodle House, 32 West 32nd, 3rd floor (not much in the way of signage, at least not in English, just thread your way through the hallway and up the stairs), the Manhattan location of a place that's apparently been a secret foodie destination out in Flushing for many years – that place has, I gather, only 4 tables, the new location has about 15 or so. One of our trio being from Korea proceeded to order rapid-fire a quartet of dishes. The specialties of the house, not surprisingly are noodles, and also chicken dishes. [Closed]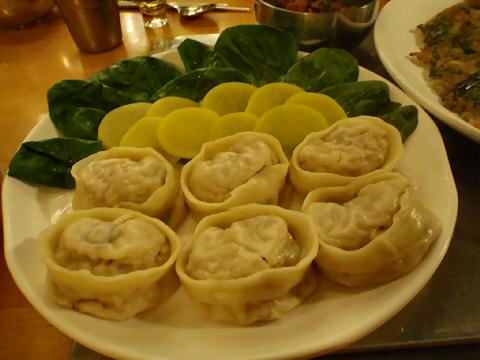 The food was great. We had a classic seafood pancake – more scallion than seafood, which was a little disappointing, though the flavors were delicious – and, we'd ordered the kimchee pancake, not the seafood, but decided not to exchange it – especially because we had a plate of these wonderful chicken and kimchee dumplings enroute – nice, thick and chewy, flavorful filling, and a nice side of mildly hot sauce.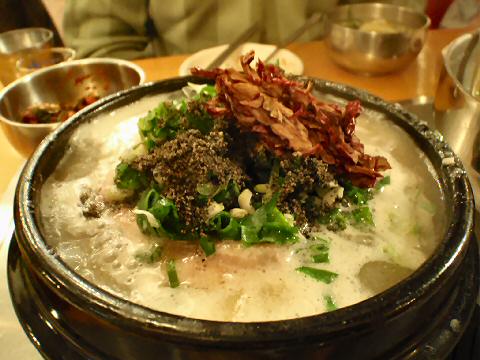 We also had the noodle soup,
kar-jeabe
(I think), which was a dried anchovy based broth packed with both long, fettucini-like noodles called
kalguksu
and thicker, chewier ragged noodles called
sujebi
, some vegetables – probably my favorite dish of the four just because of the texture of the noodles. And this, which is really excellent, I think is called
dak dori tang
– hidden away in this bubbling cauldron are a half chicken, so tender it's falling off the bone, flavored with slivered jujubes, chestnuts, garlic and young ginger – as one of my friends put it – this is braised chicken that's good for whatever ails you, no matter what it is.
After dinner we wandered a block away to Dons Bogam, a Korean BBQ and wine bar spot at 17 East 32nd – not for more food, which we would not have been capable of, but to share a bottle of wine – Korean food and a great wine list – we went for the Egon Müller Riesling Scharzhof – I do love a good, dry Riesling, and this hit the spot for winding down the night.