New York City – I'm not going to do any long-winded reviews while here, just highlight whatever stands out on any given day. I'm in town for a variety of business and personal reasons, so it's not going to be the most social of my visits – though I'm posting "where I'm having lunch/dinner" notes on both my Facebook and Twitter feeds – if I've posted it as an open invite, and you're around and want to drop in, feel free to do so!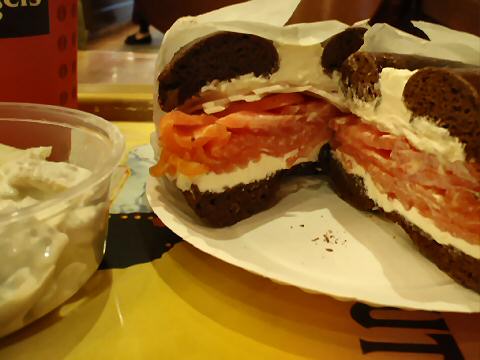 There is, of course, the requisite bagel and lox after landing yesterday. I got into the apartment where I'm staying, showered, and headed out to the best of the neighborhood's bagel shops that I know – Tal Bagels on East 86th Street between 1st and 2nd Ave – and dove right into a toasted pumpernickel bagel with cream cheese (light, I'm trying to watch it a little while I'm here), lox, tomato and onion; on the side, a small creamed herring salad (so much for the light cream cheese), and, a real, large, brewed coffee. New Yorker comfort food.
Dinner, no photos, back to visit with friends at Accademia di Vino, reviewed on my last visit (some photos there) – a variety of plates crossed our path over the course of the evening, the standout, one of the simplest – a contorno, or side dish, a cold salad of calamari rings, toasted almonds and fried rosemary leaves. Completely amazing flavor combination and totally unexpected. Look for some variation on that in a future Casa S menu…. Tasted our way through a quartet of wines, all Italian of course, and all quite good: Vigna della Rocca's Tre Monti Albana di Romagna Secco 2008 – pear, pineapple, honey, toasted almonds – did that ever go well with that calamari dish! aMaccia's Pigato 2007 from Liguria, rich, ripe, floral, lots of fruit and steely mineraliness, delicious with a seared yellowtail cheek, crispy on the outside and still bordering on sashimi on the inside. On to a Taurasi from Feudi di San Gregorio, 2004 – amazing depth, earthiness, dark fruits, spice – perfect with the robiola cheese and black truffle pizza that was working its way around the table. And, finally, from Carlo Hauner, the Hierà Nero d'Avola 2007, with complex dark fruit, spice, and a very soft, velvety feel – we just drank that on its own while chatting.