"If there is anywhere a place that encompasses the perfect match of climate, soil, costs, human resources, and, above all, freedom for creativity and minimal bureaucracy to hinder the genuine development of a new and exceptional viticulture, that place is undoubtedly Argentina…Argentina's potential for wine making is amazing and the diversity of its future prospects is dramatic."

– Michel Rolland, winemaker
Buenos Aires – Anyone who has any serious interest in wine as a hobby or profession is familiar with Michel Rolland, the "flying winemaker" who has been in turn praised and vilified in varied forms of media for his devotion to a particular class and style of wine as a focus. Having had the opportunity over the years to taste a variety of his wines, there is certainly a thread of commonality that comes through, but, at the same time, I'd avow that there are clear differences. Here in Argentina he is a driving force behind the well-known Clos de las Siete winery group (five wineries are part of the project, three have been built and are in operation, with two still in the works). Under the Bodega Monteviejo label they produce several wines, of which, the Lindaflor label is, I believe, considered the top dog. At a sommelier society election presentation last week, on-the-ground oenologist Marcel Pelletiri dropped in to offer up a special vertical tasting of every vintage of this wine produced, from the 2002 to the 2008 (barrel sample). As to pricing, obviously depending on vintage, but generally they run around US$35-40 a bottle, more in some markets, and certainly for the older vintages if available.
A couple of notes on the wines, first, they're all 100% Malbec; second, the 2002 through 2006 spent roughly 14 months in new barriques before bottling, however a decision to up that has the 2007 spending 18 months and the 2008 to spend 24 months in new barriques (the 2008 tasted is a barrel sample and is approximately 18 months into its barrel time).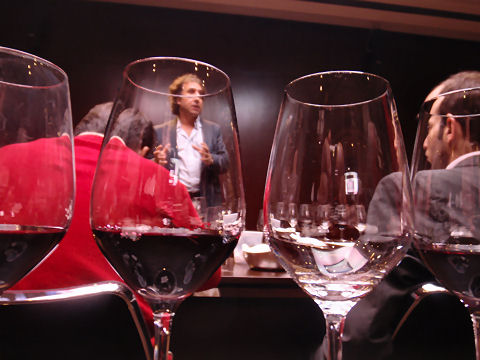 2002 – blood red color; on the nose, blueberry, licorice, vanilla and toast; on the palate, soft tannins, medium body, good acidity, notedly high alcohol, bringing in notes of old leather, szechuan peppercorns, and tar, particularly on the finish which is fairly short and all alcohol and tar.
2003 – blood red color; on the nose, raspberry jam, milk chocolate and warm sand; on the palate, soft tannins, medium body, good acidity and notes of new leather, Milk Duds (remember those?), and red currants, with a medium length finish that is slightly cloying with residual sugar.
2004 – blood red color; on the nose, dry stone, black currants and strawberries; on the palate, dry tannins, fairly full bodied, good acidity, high alcohol, notes of black currant edging into cassis liqueur, black pepper, minerally, a touch of tar and an odd, off-note of acetone, the finish fairly long and very alcoholic.
2005 – blood red color; on the nose, minerally, earthy, bay leaf, black grapes, charred wood; on the palate, dry tannins, medium to full bodied, good acidity, the charred wood note comes through strongly, with black fruits and a fair amount of residual sugar that carries over into a long finish that is cloying and brings in a note of burn rubber, like someone stepped on the brakes too hard.
2006 – edging into violet color; on the nose, blackberry and raspberry, nutmeg, toast, and a hint of chlorine, like pool water; on the palate, dry tannins, full bodied and fairly high acidity and alcohol, dark chocolate, black raspberry, cinnamon stick, the finish long and hot.
2007 – a color that here they call "obispo", the color of a bishop's robes; on the nose, intense roasted coffee bean, blue plum, violet, toast, vanilla and white chocolate – the first of the wines to have the profile of a "classic" Malbec (other than the coffee); on the palate, very drying, astringent tannins, medium bodied, high acidity, plums, violets, mixed spices, very classic again, and a medium length finish with too much residual sugar, to the point of being cloying.
2008 – keeping in mind that this is a barrel sample with six months of barrique time left before it gets bottled, an intense purple color; on the nose, blackberries and red plums, sassafras/root beer, white pepper; on the palate, dry tannins, full bodied, high acidity and alcohol, red plums, red currants, sassafras and pepper, medium length finish that is slightly alcoholic and brings in a touch of tar.
So, overall, I have to say, I wasn't thrilled with the wines, the 2006 being the only one I think I'd want to drink again with the 2008 being a "we'll see". Given the range of choices out there, including some of Rolland's other wines from the same project, many of which are less expensive, I doubt that Lindaflor would be something I'd purchase either retail or in a restaurant.