"Get to know other worlds, if only for comparison. I am near, too near for him to dream of me."

– Wislawa Szymborska, Polish poet & essayist
Buenos Aires – There should be rule. And the rule would be, don't tell me that place X is the "best", "ultimate", "most amazing", "stunning", "incredible" spot to dine, either on one particular cuisine, or another. The rule should stop there, but one might add, "unless you're willing to guarantee it". And the guarantee would be, hey, if you insist I go there because of one or more of these superlatives, you pick up the tab if I don't agree. And I promise to be fair. The real reason for the rule, however, is that despite whatever automatic misgivings such statements produce in my hindbrain, it's hard to go into such a place without very high expectations. And it's really hard for any restaurant to meet those expectations, regardless of how good it is.
Now, the rule out of the way, let me say that I didn't dislike the restaurant I'm about to review. I liked it. I just wasn't wowed by it. As the title of this post might lead to, in comparison to other restaurants of a similar sort, here in Buenos Aires, this one may just take the top honors. The place, Azema Exotic Bistró, Angel J. Carranza 1875 in Palermo, 4774-4191. It's sort of Asian fusion, sort of pan-Asian, sort of a mix of a lot of things. No question that "exotic" is a good descriptor, both of the amusing decor that is a mix of old British colonial prints and far eastern kitsch, and the menu, which ranges from Vietnamese summer rolls to Louisiana style barbecued ribs. I like the room, I like the service, which was friendly and attentive, and, for the most part, I like the food. If there was any negative note on the evening, it was pure happenstance, the owner, chef Paul Jean Azema, was having a "water tasting" with a group of culinary colleagues, and it was being photographed, which meant the entire meal was punctuated by bursts of light coming from various angles – I'll give them that that's not likely to be an ordinary day, but then again, why do it in the middle of dinner service, even if it was a quiet night? [This place has closed.]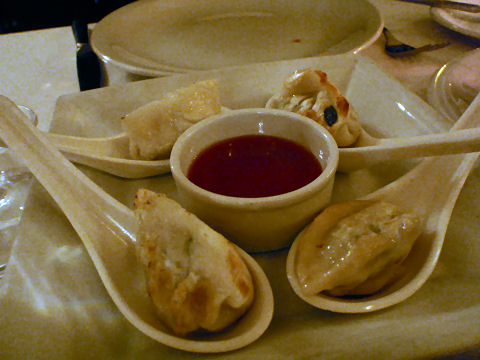 We were hit with one minor disappointment, the delicious sounding Vietnamese summer rolls were not available, simply, "there aren't any" – though I'm pretty sure I saw a platter or two of them delivered to the chef's table later on. We decided on ordering a bunch of appetizers, a couple at a time, and just sort of eating until we weren't hungry anymore. Our first plate, Chinese style dumplings with sweet and sour sauce. The dumplings, good, well-seasoned. The sauce, well, over-the-top sweet, no sour, like that glowing red stuff right out of a jar. On the other hand, we asked for hot sauce, and the smoky, reasonably fiery blend that was brought to the table was one of the better hot sauces I've encountered in Buenos Aires.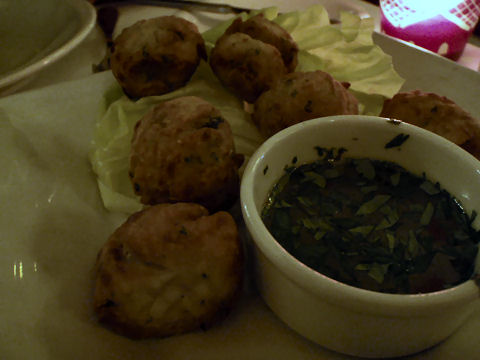 Deep-fried fishballs, again, in and of themselves, quite good and flavorful. The sauce was little more than a bit of rice vinegar with sugar, cilantro and a few flecks of chili. A little fish sauce would have been perfect in it, again, however, the hot sauce came to the rescue.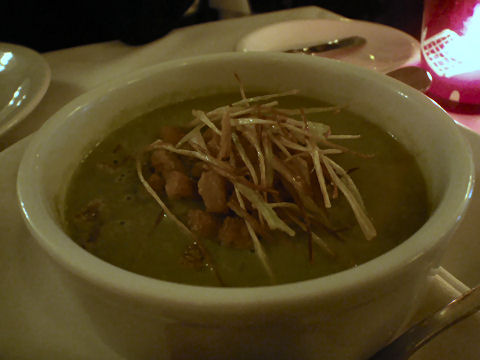 The leek soup, hmm, very classicly French, no Asian spicing at all, which is fine, as noted, the dishes range all over the globe, a tradition that given my style of cooking at Casa S, I respect. But it was a little bland, and needed both salt and pepper to give it much flavor. The croutons were great, the "crispy leeks" on top were simply not crispy, just oily and soft – hotter oil and longer cooking time perhaps?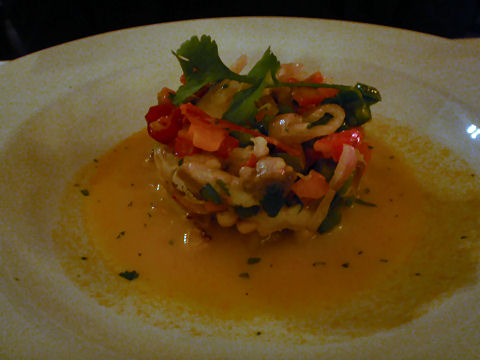 This was the best dish of the evening, even if it doesn't really fit the what a
tiradito
is – a Peruvian-Japanese tradition of ceviche style fish that is cut in sushi-style strips (
tiras
, hence the name), cured in citrus and, usually, olive oil. This was much more like a simple ceviche, but with really nice herbs, fresh chilies, and a good amount of spice.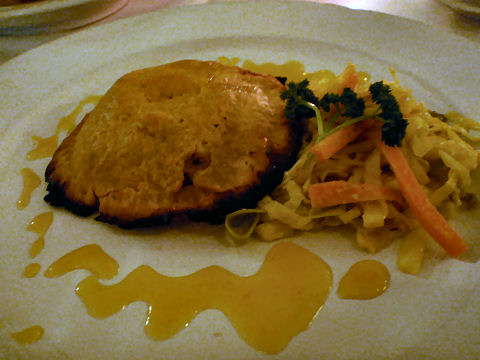 This, on the other hand, was a borderline abomination. Billed as an Reunion Island (where the chef's family is from) style empanada filled with chicken and pork pate, it was bland, dry, the crust barely edible and burned, the filling not remotely resembling any sort of pate, anywhere, just chopped bits of chicken and pork, overcooked, and unseasoned. Even the sort of odd coleslaw on the side was flavorless, pretty much dressed with mayo and nothing else.
We were pretty much filling up at that point and decided we'd leave trying other dishes for another night. And I would go back, because other than, perhaps, Buddha BA, and maybe Sudestada, nobody else is really doing interesting pan-Asian cooking here, and this place is certainly better than the latter, and more varied than the former. It is, however, pretty pricey – not outrageously so, but up there – for five appetizers plus a relatively inexpensive bottle of wine, we hit just shy of 200 pesos. I'd recommend the place, probably more for locals than for visitors, if you're arriving here from anyplace out there that has an Asian community to speak of, you can probably do better back home, and besides, you came here for the steaks and empanadas, right?