"If a man insisted always on being serious, and never allowed himself a bit of fun and relaxation, he would go mad or become unstable without knowing it."

– Herodotus, Greek Historian
Buenos Aires – Sometimes I simply find historical timelines of events to be amusing – I mean, who kept track that the Greco-Persian War(s) ended this weekend, 2,400 years ago. You know, "around the end of August" is one thing, but "August 29, 391 BC" is pushing it, no? And besides, it's not really accurate, the G-P Wars really ended some 60 years before that, this was more of a Greek – Persian – Spartan – Ionian dustup, that flare on and off for some time before this date and some after. Nonetheless, since our Casa SaltShaker dinner themes are really based on whim, all it took was one site claiming the date and I was good to go. Since the Greeks won, their cuisine got the honors for the evening, which we launched during the cocktail hour with a roasted fig and gold rum cocktail with just a hint of apple and pear thrown in. The menu was a reworking of our Elusian Mysteries dinner from almost a year ago….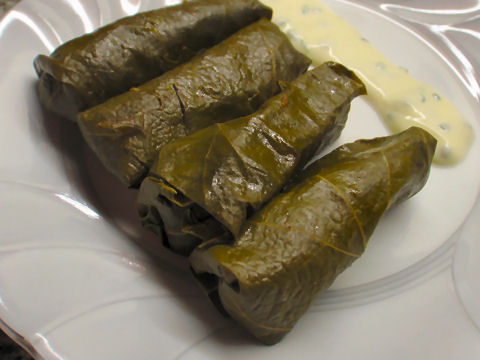 The one course that completely changed was the first one, I decided on stuffed grape leaves, a recipe common from Greece to the Middle East, in this case, with minor spicing changes, the same as one we did for our Syrian dinner a year and a half ago, and served up with a soured cream and fresh herb sauce. The wine, from Santa Julia, their Extra Brut sparkling, a crisp, light blend of Chardonnay and Pinot Noir made in champagne style.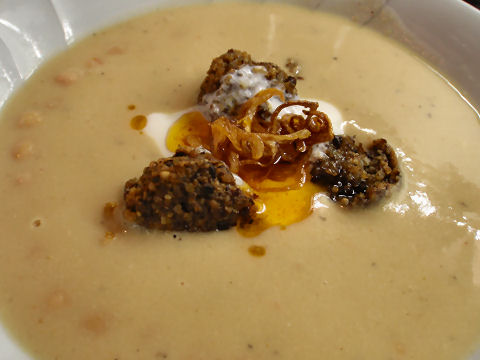 In that earlier Greek dinner I made a tahini soup that was good, though a bit on the thin side, it needed something more. I remembered the fennel soup with falafel from earlier this year, and started musing on the idea. In the end, I decided on a "Three Way Chickpea Soup" – the same tahini-chickpea broth, though with more chickpeas and more potato to thicken it up, then freshly cooiked chickpeas added, and finely, hot, right out of the fryer falafel. A little dollop of yogurt, and some crispy shallot rings in smoked paprika oil to crown it, and this version is a winner. The wine, from Trivento, the Golden Reserve Chardonnay 2006, a classic, smooth, rich Chardonnay that really was about as good a match as it could be.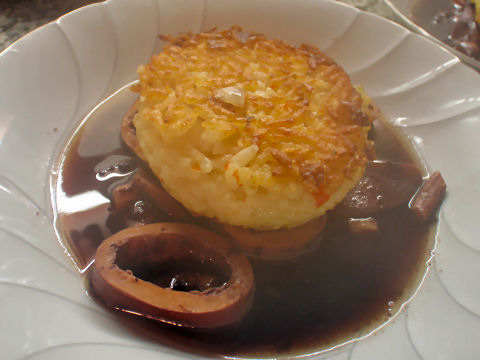 The only real change here was in the presentation – a couple of people noted that the whole band of tentacles sticking out from under the risotto cake was slightly off-putting, and also a bit hard to eat. So, this time, I chopped the tentacles up into short lengths, and added in the squid bodies, cut into rings. Other than that, the same dish. The wine, the Finca Flichman Rosé 2008 blend of Malbec and Syrah that we liked so much last week, seemed a perfect choice for this dish, and, indeed, it turned out to be.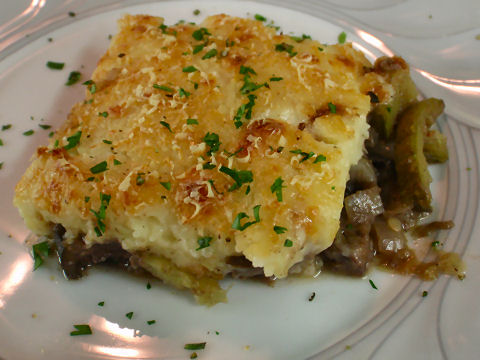 Much as it was kind of cute to play around with a deconstruction and reconstruction of lamb moussaka last time, this go-round I decided to make a more classic presentation, though still my version of the dish. The filling, diced lamb loin sauteed with onion, garlic, zucchini, eggplant, tomato, cinnamon, nutmeg, cumin, black pepper and salt. After browning it all I added a good amount of red wine, cooked it down until that was absorbed, adjusted the seasoning and poured it all into a big baking pan. Meanwhile, I made a classic thick bechamel sauce into which I whisked some goats' milk feta cheese and a good amount of chives. Spread that over the top of the lamb mixture, grated more feta over the top, and straight into the oven to bake until it was golden brown. We can live with that… it can move in in fact. The wine, a Pinot Noir Reserve 2006 from NQN's Malma line with rich, ripe berry flavors, plenty of spice, and a nice dose of sweet oak – all balanced really well with the dish.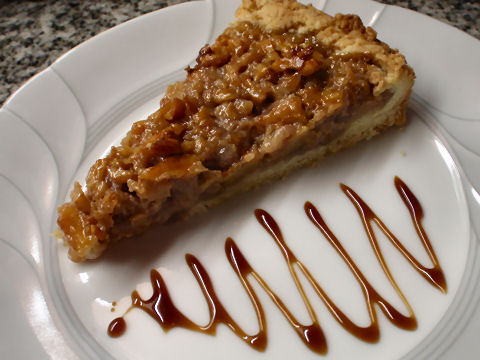 And finally, the same yogurt, walnut and orange blossom water tart, only without a top crust, I just think it's prettier this way. The syrup at the side a reduction of moscato wine. To drink, from Putruele, their Tardío de Abril late harvest Chardonnay 2008 with lovely baked apple and orange peel flavors that paired up beautifully with this tart.
Go Greeks!