"Pork fat rules."

– Emeril Lagasse, chef, t.v. personality
Buenos Aires – It was happenstance. I was walking down Venezuela, enroute Diablada (reviewed a couple of posts ago), and passed by a wood-fronted restaurant with signs in the window proclaiming themselves Buenos Aires' specialists in cochinillo, suckling pig. Now, I know my friend Mickey has what might conservatively be called an "obsession" with cochinillo asado, or the roasted version of a baby porker, so I fired off a text message, and a couple of days later Henry and I joined him and his wife for a feast at Primer Corte, Venezuela 1290 in Monserrat, 4381-9158.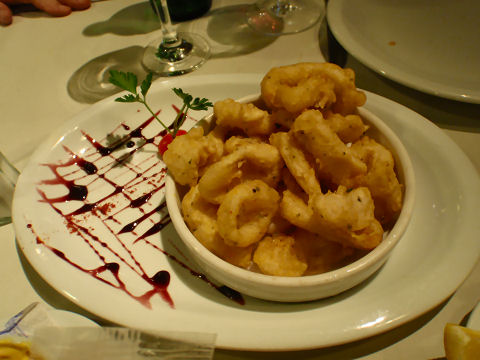 We started off with a single order of rabas, or fried squid rings, knowing that we had a whole piglet in store for us (it takes about 25-30 minutes from the time you order it to be ready to serve, so something to nibble on isn't a bad idea). These were simply some of the best I think I've ever had, with a light, tempura-like crust that was beautifully puffed, crisp, and not at all oily. The mosaic of squiggles on the plate was some sort of wine and fruit reduction, which for the most part we ignored, as the bread basket was served up with a large ramekin of a smoky pepper dressing of some sort that worked even better with the squid rings than the bread.
I couldn't resist simply filming our waiter dismembering our dinner – we'd kind of hoped he'd go the traditional Segovia route (since it was billed on the menu as "Segovia style"), and show off how tender the pig was by cutting it apart with the edge of a dinner plate. And, while he avowed that he knew how, he asserted that this was best cut with a carving knife – after watching him do the deed, I'd agree.
The verdict? Tender, melt in your mouth, just fatty enough to be delicious and not so much as to be overwhelming meat, and lots of it. We didn't quite make it to the end of every piece on the platter, though close, and other than sampling the pig cheeks, and one taste of the brains (too overdone after the roasting, very chalky and dry), we ignored the head. Was it perfection on a plate? No. The skin could have been a bit crispier, we love that crackly goodness when you crunch into it, and this was still faintly chewy. But it was really, really good. The mix of potato and sweet potato fries, excellent. A simple green salad on the side, dressed at tableside, a nice accompaniment. Are there other things on the menu besides the cochinillo asado, yes, but not one table in the restaurant was eating anything else – some places just have their own reason to exist. The restaurant offers up a nice wine list, and had no problem with us bringing in a couple of bottles of our own for a modest corkage fee. I think, however, even with four people, I'd only go for half a pig the next time, and order more variety on the appetizers and/or side dishes – or, maybe just make sure we fasted for a day before showing up!