H. H. Hughson: "The pastries are light as air."
John Robie: "Germaine has very sensitive hands and an exceedingly light touch. She strangled a German general – without a sound."

– from To Catch a Thief
Buenos Aires – In preparation for this last weekend's French south coast dinner I fired up my DVD of To Catch a Thief, one of my favorite Archibald Alexander Leach films. You probably think of him as Cary Grant, I know my grandmother did when she went on a dinner date with him. The film shows you everything you'll ever need to know about the French Riviera, I'm quite sure of it.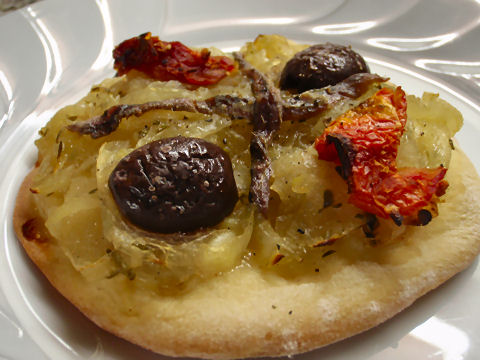 We started off the evening with a little cocktail of sweet yellow tomato juice, basil, vodka and limoncello – just a combination that struck me as somehow fitting the theme in its flavors. After seating, we launched into our first course and one of my favorite things – pizza, of course – but the provençale version, the pissaladiere, a yeast, flour and egg crust topped with slow-cooked, falling apart onions flavored with basil, rosemary and thyme, and then decorated with thin strips of anchovy, black olives, and, optionally (though I always like to use them), sun-dried tomatoes. Even the anchovy despisers at the table ate this one up with gusto. Flutes of Chandon's Brut Rosé washed it down, the only thing missing was a view of the ocean.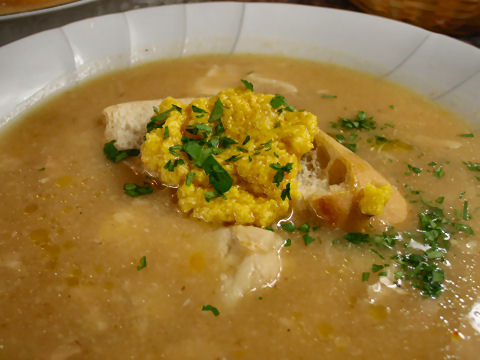 There are as many different bouillabaisse recipes as there are people living in the south of France and they range from thin, watery soups flavored with some chopped herbs and a desultory few pieces of fish or shellfish mucking about, to thick, hearty, stew-like versions. Mine falls somewhere in between, but leans towards the latter. A base of simple fish stock simmered with small new potatoes, crabmeat, shrimp, leeks, tomatoes, saffron, fennel seed and orange peel until the potatoes are soft, then the whole thing pureed. About ten minutes before it's time to serve, bring it up to a simmer and add a good splash of white wine and a whole bunch of 1″ pieces of two or more kinds of fish – I used hake, sole, and dogfish – cook until the fish is just done and serve, topped with toasted slices of baguette which are in turn topped by rouille, the version I made a blend of egg yolk, lemon juice, olive oil, bread, garlic, saffron, cayenne and salt – it's a coarser texture than a rouille that's made as a simple saffron and garlic flavored mayo, but I like it better. The first night, I paired this with Xumek Chardonnay, a mildly oaked version of the grape from Mendoza that I think matched quite nicely. On the second night, it occured to me that I had a bottle of Eric Texier Cassis, which turned out to be the 2000 vintage, in my wine cellar, and thought, hey, since it's a small group, why not? What a beautiful wine, a 100% Marsanne, and a pleasure to share with our guests.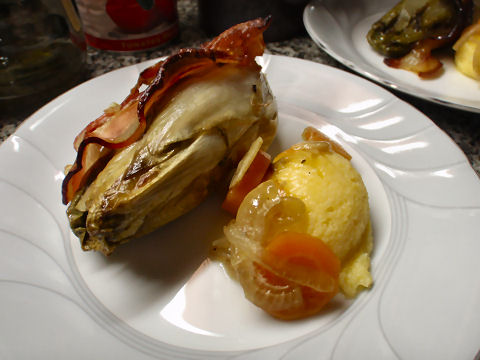 This one started off with a Daniel Boulud recipe, roasted endive wrapped in bacon, because I just loved the look of the endives in the market, and it's a vegetable that we don't see much on dinner menus. In his version the bacon is pounded very thin and then used to wrap the endive in a spiral while it roasts, and then is caramelized under a broiler at the end. The bacon here just doesn't pound out like that, it's a different texture, at least what I had. In the bottom of the roasting pan I put carrots, onions, garlic, pieces of orange and juniper berries, slices of bacon and some water. The endives, I pried open the end and packed the inside with a mix of sugar, salt and black pepper, then closed them back up. I topped the pan with buttered parchment paper and roasted them for about an hour and a half, turning them once about halfway through. To serve, I moved the bacon slices up to top each endive and stuck them under the broiler to crisp it up a bit. Alongside, slow-cooked polenta finished off with tangy goat cheese and a little of the braising vegetables and liquid spooned all over it. This was a love it or hate kind of dish, no question, I know there were 4 people who simply wouldn't eat the endive during the two dinners, finding it too bitter for them – though everyone ate the polenta! The wine, from Finca Flichman, their rosé blend of Malbec and Shiraz, a really delightful, bright, fruity and spicy pink.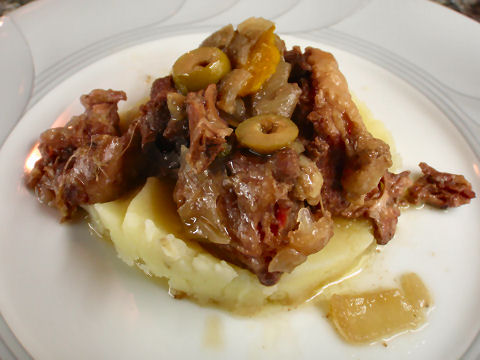 Having figured that winter would still be with us when I planned the menu, though this winter has been extraordinarily mild, I wanted a hearty stew from the southwest, and the classic usually referred to simply as La Gardiane really fit the bill. Sometimes made with cuts of stewing beef, the real, historical classic, is made with rich, meaty oxtail, which I was able to get my hands on. The oxtails, in segments, are browned with a bunch of sliced onions, then into the pot goes garlic, bay leaf, tomato paste, black and green olives (pitted), beef stock, red wine, cloves, orange peel, salt and pepper. Usually potatoes go in too, but I left those out of the stew and made them into a separate crushed potato (with olive oil, salt and pepper) base to serve the stew on. You bring the stew up to a simmer, cover the pot and let it go for 4-5 hours until the oxtail is borderline falling apart – I stir it up about once an hour, though it probably isn't necesary. Then you simply scoop it out with a slotted spoon, right onto the plate, and, as some of our guests did, moan in extasy while eating it. I thought a spicy, smoky Tempranillo would work perfectly with this dish, and it did – the first night we tried out the 2007 Otra Vida, and the second night the 2005 Mapema – both worked really well, though I think the former actually had a bit more spice and acidity to help cut through the richness of the meat.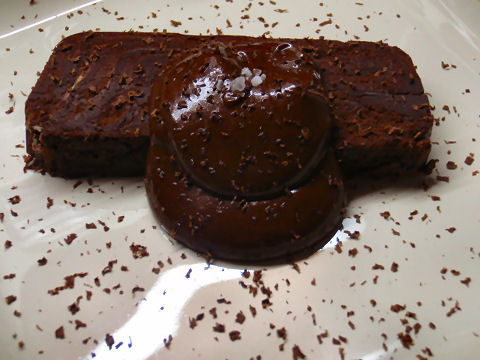 Let's just call this the French version of Death By Chocolate. A chocolate marquisse, which is sort of terrine of chocolate made by blending together a sweetened egg yolk sabayon, in this case flavored with orange juice (I had all those oranges left over each day from putting the peel into the two dishes above), whipped cream and a melted chocolate and butter mixture. Then chilled until it firms up, sliced and served. Topped that with the chocolate olive oil mousse that I've made for a few recent evenings, a bit of grated dark chocolate over all of it, a few crystals of coarse sea salt, and, well, let's just say that the dessert might have been a touch of overkill. First night served with the port style Uxmal Bravio 2000, lightly chilled, though I found that to just add to the overkill even though the flavors were a great match, so the second night I lightened it up with La Celia Late Harvest blend 2006, possibly too far the other direction, this really could use something the equivalent of a Banyuls from the southwest of France, but there's simply nothing made here that's like that.