"Fireworks continued to erupt between Bolivia and Peru over a costume worn at this year's Miss Universe pageant. Last week, during the national costume part of the competition, Miss Peru, Karen Schwarz, wore an Andean-inspired outfit featuring a headpiece with large horns based on the costume used in the traditional Diablada, or deviled, folk dance. In wearing the outfit, Schwarz unwittingly set off a firestorm in Bolivia, whose culture minister Pablo Groux threatened to go to the International Court of Justice in The Hague to claim that the Diablada belongs to Bolivia's culture and no one else."

– CNN
Buenos Aires – It is likely that if you don't happen to have a Peruvian boyfriend who is deeply involved in the world of folklore dance of the Andes that the fight over the Diablada costume that erupted during the recent Miss Universe pageant hasn't really impinged upon your consciousness. It's quite the topic, however, among the Peruvian and Bolivian communities, especially amongst those in The Arts. From an outsider's point of view it was interesting for a couple of minutes, amusing for a couple of days, and has now, a couple of weeks on, become, a bit of a yawn. On the other hand, a lunch at Diablada, Venezuela 1402, in Monserrat, 4381-4766, remains freshly interesting in my mind. I'd headed there, assured by our local online restaurant guide, Guia Oleo, that a pizza a la parrilla, my current pizza quest, was on the menu. It wasn't. At least not physically listed. Which surprised my waiter, who was quite sure that it was there, and spent a solid 30 seconds examining the menu from all possible angles, even attempting to peel apart the corners of it, presumeably to see if it might be listed on the interior of the paper. Perhaps this is a trend? Off to the kitchen he went, returning to assure me that indeed, at this bustling parrilla, with quite excellent looking steaks zipping out of the kitchen (have to return one day to try their t-bone, which looked fantastic), a pizza a la parrilla was available. A pizza. One. Tomato sauce and mozzarella. No other options.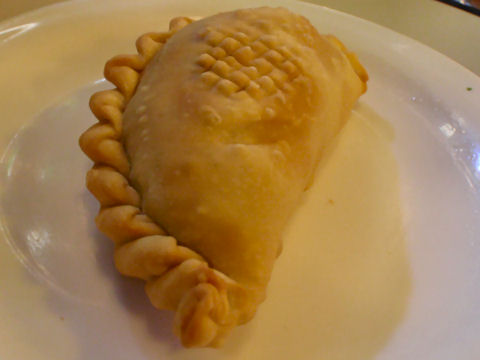 First, however, I was mildly exhorted to try one of their empanadas. I yielded, and it was well worth it. Lovely cubes of steak, a bit of chopped egg, and a nice amount of juiciness. No spice to speak of, but it was served up with both chimmichurri and salsa criolla on the side, and excellent ones at that.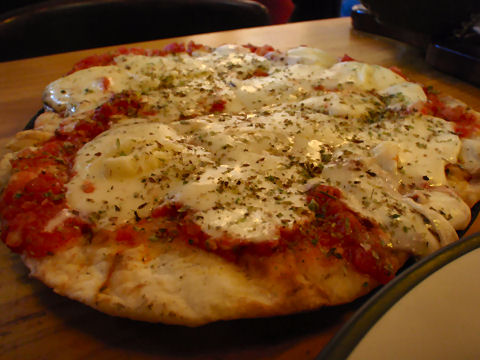 On to the pizza and just as good. Really one of the best crusts I've found on a pizza a la parrilla here, smoky, crispy, and well flavored. The sauce, fresh tomato sauce, perhaps it could have used a touch more spice or garlic, but good. The cheese, very good quality mozzarella with a nice tang to it. Really, if this place offered more options for types of pizza, and a size other than the small plate individual (which is fine for one person), it could top the list. Now, back to that t-bone….