Buenos Aires – Rather than a quote, just a brief note on the common Argentine expression che. At its simplest, it means "friend", but in the sense that back in the '60s and '70s in the US we might have used "man" or "dude", especially if we happened to be a little stoned or thinking about getting so. And sometimes it's simply used that way – Che, como estas? – "How are you my friend?" Sometimes it's used because you don't remember the person's name – we know we know them, we know we should know their name, so we don't want to appear too aloof, so it's Che… with a sort of wistful trailing off. Often it's used simply to get someone's attention, more or less "Hey!". And, it forms the first part of the very common che boludo!, a strangely affectionate way of saying "Yo, jackass!" to someone you actually like.
So what does this have to do with sushi? Well, continuing on the other day's posting, I decided I'd give "the list" one more shot, and went to the website for Che Sushi, another online sushi delivery option. I'm going to assume that they intend the che in a sort of friendly, "hey, look here, sushi" sort of manor, but I'm going to sum up the experience by going with "yo, jackass".
Let's start with the website – I initially like the design – it's simple, easy to navigate, and if you hover your cursor over an item, it gives you a little popup description of it. However, the ordering part of the website sucks. If you don't fill out the information exactly (for example, your telephone number has to be only digits, no dash or anything – they don't tell you that, you just have to figure it out), it resets parts of the form, seemingly at random, and you have to look it all over to see what is and isn't now filled in, and what part of your order has been lost. Also, in terms of the 25 peso and under premise that went into the list, the only way to do that is to take one of their "combos", which aren't really combos – just 15 or 20 pieces of all the same nigiri or sashimi or maki, or, to only order one 12 piece roll of some sort – with one roll and one order of salmon nigiri, plus the extra charge for wasabi and ginger (neither included in a basic order), and a 5 peso delivery charge in Recoleta, my order topped out at 51 pesos – for 1 peso more, Sushi Pop gave two rolls and the nigiri, so Che loses out on quantity. Oh, and no spicy options – not a single spicy tuna or salmon or anything else roll.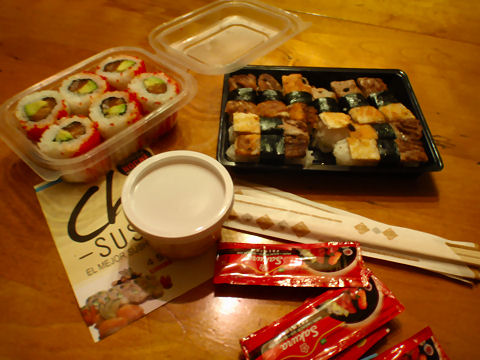 Like the other spot, you get a call back within a few minutes – about five this time. Like the other spot, they do a line by line walk through of what you filled out. Not only that, but they called me back twice more over the next half hour to reconfirm that I really was at this address and really wanted sushi. They told me it would be about an hour for delivery, and it was, pretty much to the minute. Packaging, pretty basic, flimsy plastic with lids that didn't quite stay on, so things were a little jumbled. Soy sauce in tear open packets. Ginger strangely thick and fizzy in its little cup. No wasabi included in the order, though I was charged for it – the delivery guy had left, and I wouldn't have made him go back to Retiro and return just for that anyway. A phone call to them just to let them know was responded to with "we checked it off on our list, so you must have lost it." Umm, yeah, I lost the wasabi somewhere between my apartment door and the dining table.
Quality – hmmm, slightly better than Sushi Pop. The rice was good, and not refrigerator cold. The salmon and avocado in the roll were good, not great, but good. The salmon skin on the nigiri was a little soft, but tasty, and slightly soft is far better than the dried out cardboard that the other spot delivered.
So overall – more expensive but better quality than the first spot, but still a far cry from the quality of Maki, my usual delivery spot, which is also here in the 'hood and deliver in 20 minutes most of the time = plus, had I ordered two rolls and one nigiri selection, it would have been less than 10 pesos cheaper. The remaining two spots on the list are a fair distance from here and I doubt they'd deliver this far, so likely I'll just leave them alone. Back to Maki for deliveries and occasional special treat evenings out at Yuki.