"There are many ways to look at la cocina Española; it can be defined by its ingredients, its techniques, its history, or its regionalism. To really understand this rich and diverse cusiine, one should look at all of these elements, because they overlap. Their roles are equally important in understanding traditional Spanish cooking as they are in comprehending the food being created by today's new wave chefs. We can better understand the ingredients – los productos – that are at the heart of all Spanish cuisine if we understand Spain's history and its regionalism, and we will understand the nature of Spain's signature dishes if we look at Spanish cooking techniques."

– from the Introduction to Spain and the world table by Martha Rose Shulman
Buenos Aires – I recently had the pleasure of receiving the book quoted above, a publication of The Culinary Institute of America for purposes of reviewing it. In the midst of engrossing myself in it I became fasinated by much of both the tradition and the modern twists presented in its pages. It's a fascinating, well illustrated book, and needless to say, I gave it a very positive review. It also inspired a little Casa S culinary adventure to the flavors of the Mediterranean coast of Spain, as good a starting point as any.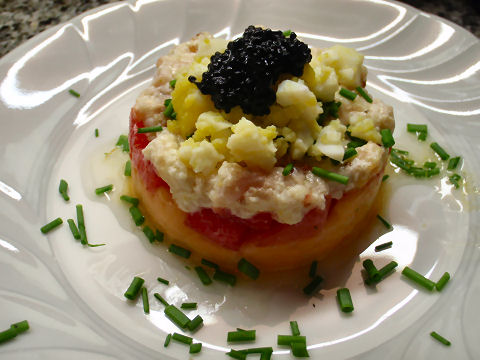 Starting way up the coast in the Catalan region, one dish in particular caught my eye, a Fish Tartare with tomato and crushed potato dish from chef Nando Jubany. In many ways his presentation mirrors that of the Peruvian causa that we love so much around here. And, indeed, that's the direction I took the dish, combining in some of the flavors from the Peruvian dish. A layer of crushed potatoes with olive oil, salt and ají amarillo. Normally I'd put lemon in as well, but that's coming up in a separate layer and I didn't want to over do it. Next, a layer of peeled, seeded and diced tomatoes, and then a fish tartare, more or less – the fish coarsely chopped and then just before service mixed with lemon juice, a little olive oil, stone ground mustard, chives and salt. Finally, a scoop of chopped hard boiled eggs and a spoonful of caviar… well, kind of. I've been using this small bead caviar on and off for the last year or two and hadn't looked closely at it – turns out, when someone asked about what sort of fish it was from, it's not… it's an algae based product with spices and flavorings – completely vegetarian. Now, I have a hard time paying the 40 peso price for a small jar of the stuff… psychological I know. Then again, fish markets here and stores sell the stuff as "caviar" (brand is Kristalag, from Denmark), even though the jar itself doesn't say so…. The wine, a sparkling Extra Brut 2006 from Lariviere-Yturbe called Cuvée Limantour, a blend of Chardonnay and Pinot Noir done in a quite passable champagne style.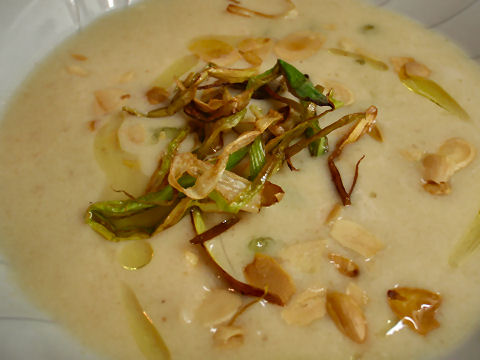 Ajoblanco, or as many people call it, White Gazpacho, is a favorite – I mean, what's not to like? It's garlic and almond soup. Normally served chilled, I wanted to offer up a warm version. Toasted off some bread cubes in butter, then added lots of sliced garlic and a good amount of almond meal, cooking those until lightly golden. Then added a mix of half water and half milk, off the heat, and let it soak for about an hour. Ran it through the blender along with some sherry vinegar, olive oil, salt and white pepper. Served it warm with a couple of scoops of tiny honeydew melon balls, slivers of toasted almonds, crispy leeks, and a drizzle of arbequina olive oil. Happy campers all around. The wine, also from Lariviere-Yturbe, their Cuatro Estaciones Blanco 2007, a blend of Chardonnay and Semillon with rich peach and melon flavors and a touch of honey in the background.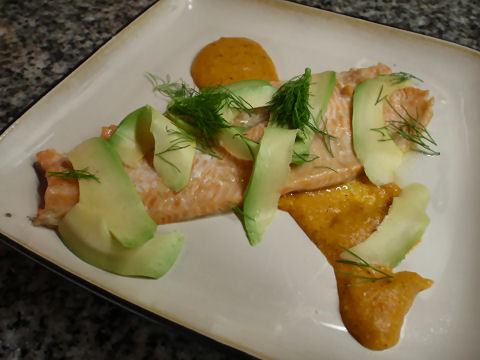 Some of you may recall this dish from an earlier dinner – I'll leave the recipe there at the link. Just moderately refined on the romesco sauce and garnished with fennel fronds rather than chives. The wine, from Callia, their Shiraz Rosé 2008, with nice, bright fruit flavors and a bit of peppery zip.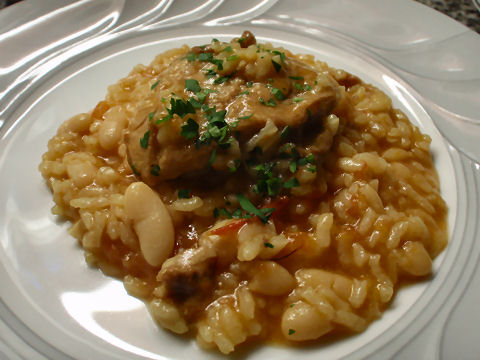 Most of us think of paella in those big wide pans, all golden yellow from saffron and laden with peas, peppers, shellfish, chicken, sausage, and perhaps a bit of rabbit. But that's just one particular type of paella, and the varieties are legion. This one came up in a couple of discussions about the cuisine of the Valencia area though it took an old article from Saveur magazine to turn up a recipe that made sense. Now, I don't have the giant paella dish to make it in, so this was made in a big stockpot, and rather than whole ducks cut up I used all duck thighs. Other than that I stuck with the recipe pretty much to the letter. And, yum. The wine a Cabernet Sauvignon Reserva 2005 from NQN in Patagonia that is one of my favorites of the grape in the country.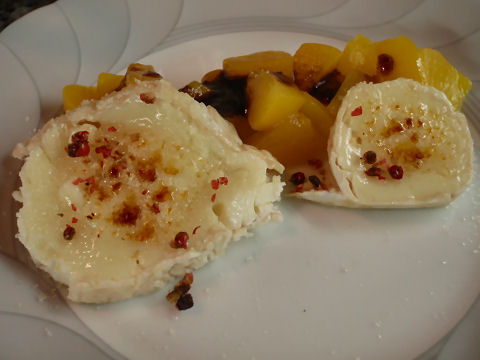 Finally, back to the book, and the region of Murcia and a recipe from chef Juan Antonio Pellicer. Minor changes, and forgot to put the pretty little bouquet of mint and arugula on each plate. But oh what a combination – two kinds of goat cheese – the big one a Crottin, the smaller a St. Maure, sliced, coated in sugar and caramelized with a torch, then sprinkled with crushed pink peppercorns. Served alongside diced canned peaches drained of their syrup, drizzled with a reduced grape juice concentrate (his recipe used a local sweet wine not available here). Delicious! And the peach flavors paired beautifully with the Viognier Dulce 2008 from Finca Las Moras.