"The first sushi for everyone."

– Sushi-Pop slogan
Buenos Aires – Whether it's sushi and pop culture or sushi and pop rocks, or just something about the combination of the words, there seem to be an inordinate number of Sushi Pop, Pop Sushi, Sushi n Pop, Sushi 'n' Pop, and a variety of other sushi spots out there in the world. The local version, just Sushi Pop, was touted in a recent online local culture site called Planeta Joy, as one of the four best places to eat sushi for less than 25 pesos. Of course, depending on what you order, you can do that at pretty much any sushi bar here. In their case, they actually spent 35 pesos on 24 pieces of sushi by ordering two 12-piece rolls. So they kind of didn't quite fit the criteria of their article, but, it is fairly inexpensive.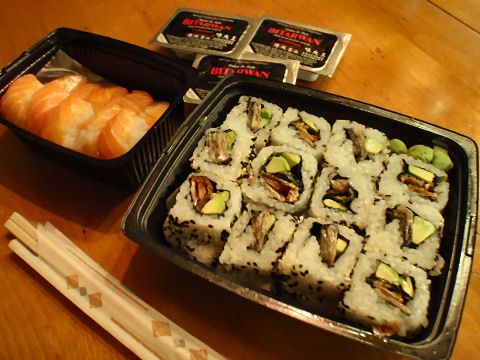 There are pluses and minuses here. First off, love the online ordering system – at least at first. You can select what you want, how much of it, and total it up in your shopping basket, just like any good online ordering service. You fill in your personal info, and get a flashed message that someone will call you shortly to confirm your order. I got the call two minutes later. The person on the phone then proceeded to ask me for all the information I'd filled in, line by line, and then confirmed each item I'd ordered, one by one. It took as long as if I'd just simply called them and placed the order. Really, if you have fill in the blanks, and then you have a page asking your customers to confirm that all the information they entered is correct, what's the point of going over it on the phone? I'd expected just a call to say something like "we're just confirming that the phone number you gave us is correct and that you really ordered."
They told me my sushi would arrive within 45 minutes. It arrived in 27. It's nicely packaged, though kind of wedged into the containers. Since I'd ordered three items, I "qualified" for three free soy sauces – apparently one to an item – more costs extra, as does pickled ginger, as does extra wasabi (there were two tiny little balls of wasabi nestled into the bottom of one of the trays). I like the soy sauce containers, strip off the lid and they function as a very nice dipping container. There is a charge for delivery if you're not right by one of their two locations (in Palermo and in Retiro), so for me, that added 3 pesos to the order. Still, all told, it was 52 pesos plus tip for a salmon skin roll, a spicy tuna roll, each 12 pieces, and a 10 piece order of salmon nigiri. The same order from my usual neighborhood spot, Maki Sushi, would run 85 pesos, and the rolls would only be 9 piece ones (and not bigger pieces, it is a smaller roll) and the nigiri would only be 8 pieces. So, on quantity, Sushi Pop certainly wins out.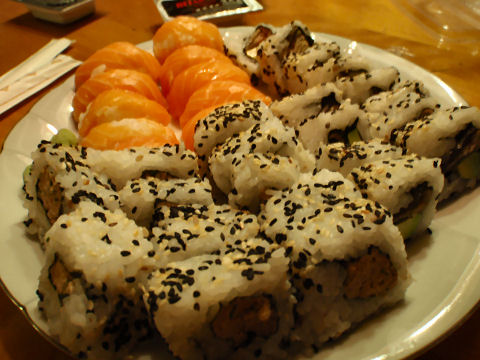 But. And there is a But. The quality is not remotely in the same league with Maki. This is cheap sushi for someone who wants a sushi fix and doesn't really care if it's high quality or not, or simply doesn't have a clue. The salmon slices on the nigiri were paper thin and ragged, the rice ice cold and infused with a heavy handed amount of mirin and vinegar that pretty much overwhelmed the fish. The two rolls, the salmon skin roll was crunchy, almost crusty pieces of grilled skin – or more likely, a whole bunch of it thrown in the oven to dry out – it was chewy and basically a bit unpleasant to eat. The spicy tuna roll, well, canned tuna, though I expected that, but pretty much pureed tuna with some mayo or something to bind it together – it was mush. And no spice, not even salt. A little shichimi powder that I always have around took care of the spice, but nothing could take care of the texture.
"The first sushi for everyone"? Don't include me in that. From my end, I'd rather have sushi less often and pay a bit more to have a good quality, satisfying meal, but for those just looking to shovel it in… you've got an option. Of course, now I have to decide whether it's worth trying out the other four spots recommended….