"The only place in the world run by an angel."

– this restaurant's slogan?
Buenos Aires – Continuing on with my quest for the best pizza a la parrilla, the other day we made our way to Monse's Angels Resto Bar, Pasaje San Lorenzo 365, San Telmo. I'm not sure where the slogan above comes from, I didn't notice on the menu or hovering over the bar (and Angels is plural, so apparently there may be more than one) – but it is on their online yellow pages listing and one or two other similar spots. Pasaje San Lorenzo is that cute little cobblestone street in San Telmo that has the Casa Minima on it, a momentary tourist detour for anyone wandering the zone, and, conveniently, this place is almost across the street. The space itself, an open casa chorizo style, more or less – with the patio area covered over by a dingy plastic ceiling that allows plenty of light in, and clearly keeps the plants growing, they're crawling up the walls and reaching their tendrils out into the dining room. In the more inside part is a bar and a small stage. The walls have been sort of randomly almost painted, and are covered with kitsch – mostly posters, odd signs and magazine covers, though we did note that the cover to a Commodore 64 handbook is prominently displayed on one wall…. not exactly festooned with "art".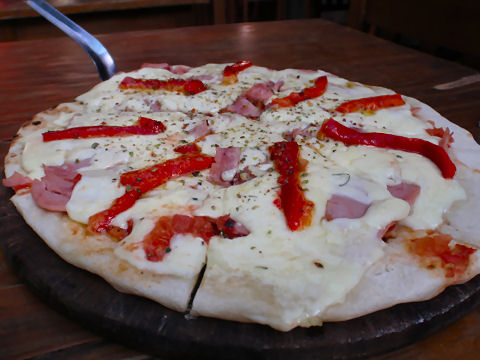 The menu didn't list pizzas. We asked our waitress, who was charming, though didn't appear to be an angel. She first said that pizzas are only available on the weekends, then said she'd go ask someone in the kitchen. She returned shortly to say that yes, indeed, we could order any of the pizzas on the menu. I pointed out that the menu doesn't list pizzas, she avowed that it did. I handed it to her, and she turned it over and over, and after examining each side more than thoroughly, admitted that it did not, after all, a complete surprise to her. The choices, however – plain mozzarella, onion and mozzarella, ham and mozzarella, or ham, peppers and mozzarella. Hmm, could we get "everythiing", i.e.,, the ham, peppers and mozzarella and add in the onions? Nope. Not an option. The pizzas are predetermined and their composition cannot be altered. She was sweet about it, but I do still find that (and it's quite common here in pizzerias – set options, no personal choices, much like the way much of this country is run) annoying. We went with the ham, peppers and mozzarella, as you can see.
The crust, nicely flavored, though slightly underdone, as a guess, they "marked" it on the grill, then topped it and through it in the oven just long enough to melt the cheese. It could have used another 2-3 minutes of cooking. The toppings, generous, especially the mozzarella. The sauce, nicely flavored with herbs and garlic, and the whole pizza sprinkled over with a mix of oregano and chili flakes (I like that, but very unusual in this spice averse city). All in all, a comendable, tasty effort, though no more than that.