"The trouble with eating Italian food is 3 days later, you're hungry again."

– anonymous
Buenos Aires – We do have a bit of fun with our various "historical or hysterical" themes at our Casa SaltShaker evenings, but sometimes, I just have the whim to pick some place or cuisine and cook around that, rather than worrying about whether or not it was the day on which Charles Dickens stubbed his third toe. This last weekend was one of those, I'd planned it during one of those colder weeks we had a few ago, when the idea of hearty, rustic comfort food from the northwest of Italy – Piemonte and Val d'Aosta – simply struck me as a good idea. Although some minor twists popped in (and the dessert comes from a variety of impulses), these are pretty classic recipes, at least the way I learned to make them.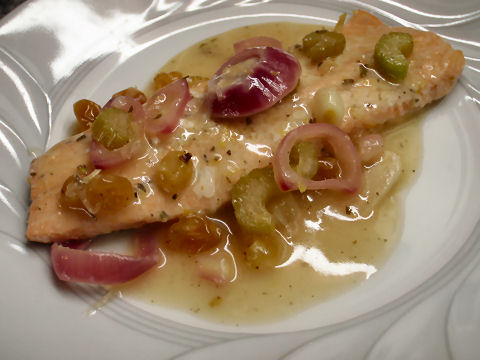 Trota alla Piemontese – soak yellow raisins in warm wine for an hour or so. Saute sliced onions, garlic and celery in oil with some finely chopped rosemary and sage until the former are soft but not browned. Add fish stock (which I made using the heads and spines of the trout when I filleted them), red wine vinegar, lemon zest and raisins, bring to a simmer and slip the trout fillets into the slightly bubbling broth and let them just poach until done, about 6 minutes. Remove the trout and keep warm, bring the broth up to a boil and stir in a little paste of flour dissolved in a little cold water and cook until the sauce thickens. Ladle over the trout and serve. Hmm… perhaps scattering some fresh rosemary and sage leaves around the plate to dress it up slightly. The wine, Antonietti Extra Brut 2005 – a rich, aromatic blend of Chardonnay, Pinot Noir, and Chenin Blanc, from Mendoza. Not as sparkling as I think I'd have liked – the flavor was there, but it's a bit short on bubbles, or at least this bottle was.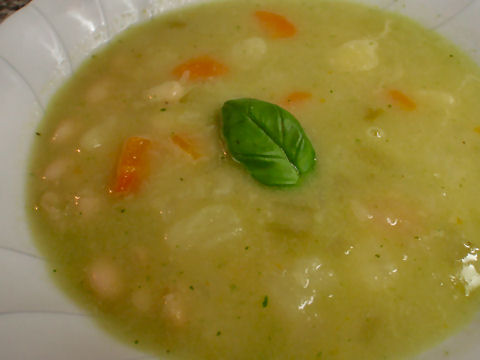 Minestrone d'Asti – soak white beans overnight in cold water. Boil them up in some fresh water for approximately an hour. Add shredded white cabbage and diced potato, carrot and celery, along with a little salt, and cook another 40 minutes. At this point, normally you'd add some little tiny noodles like ditalini, but because we had a pasta course coming up I left them out. Into the blender with: a good amount of smoked, salted bacon, pecorino cheese (traditional is probably fontina, or perhaps parmigiano, but I was using the former in the next dish and I like the pecorino here more than the parmigiano), a handful of parsley leaves and stems, and a handful of basil leaves, and just enough water to turn it into… well, a sort of bacon, cheese and herb milkshake. When ready, pour this into the pot, bring it back up to a boil, cut the heat, adjust the seasoning with salt and white pepper, and serve. The Alfredo Roca Tocai 2008, a grape from northeastern Italy that's played around with a bit here, was a nice, crisp counterpoint to the soup.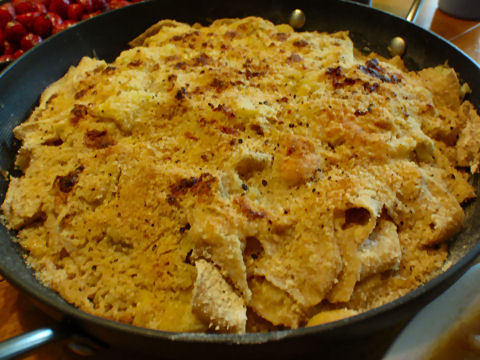 Pizzoccheri di Teglio – this is a layered buckwheat pasta with cabbage, potato, and a whole lot of butter and garlic. There's an official, codified recipe from an academy in Lombardia (okay, I strayed out of of Piemonte) – it comes down to 4:1 buckwheat flour to high gluten white flour, just mixed with butter, rolled out to about a 2-3mm thickness, then cut in 5mm strips. Boil up some thinly sliced cabbage and potatoes until about half done, add the pasta, cook until al dente. Put the whole mess into a frying pan that's heated (and lightly butter the bottom), layering it 2-3 times with some grated fontina cheese, salt and black pepper, ending with a layer of cheese atop, sprinkle with breadcrumbs, melt a whole mess of butter with finely chopped garlic in it, pour over the top, pop it in the oven and cook. It comes out beautiful in the pan, and serves up like a mess when you cut into it – the photo of the individual plate is, shall we say, less than appealing. I suppose the way around it, this being a sort of a baked cake of pasta, would be to make little individual ones in a cazuela dish… This needed a fairly hearty rose, or a light red, and the Malbec Rose 2007 from the La Consulta line of La Celia fit the bill.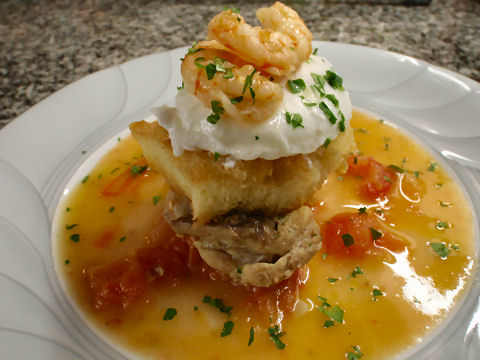 I'm not going to jump into the debate over the origins of Pollo alla Marengo. The story of Napoleon's chef tromping about in the woods after the Battle of Marengo and scrounging things to make an amazing plate of food is a great story. The fact that the chef, Dunand, who "invented" the dish didn't work for Napoleon until a year or two after the battle shouldn't deter anyone from using it. That the dish already existed as pollo alla provencale for, likely, a century or so, with just a different garnish (the only real difference, when it comes down to it, was black olives in the latter and crayfish in the new version) should likewise not get in the way of a good story. And if you've never had Chicken Marengo and only heard it bandied about as a joke, you should try it. Here's the basics – it's chicken that's been browned off in oil, the oil drained off into another pan and the chicken is then finished by slow cooking it with sliced tomatoes, some garlic, and white wine (some prefer brandy). While the chicken is cooking, you take the oil and chicken fat mixture you drained off and fry up some bread in it, then saute some crayfish in it (none here, shrimp is a common substitute), and, finally, fry some eggs in it. Normally, then, the chicken with its sauce is served on the plate and the fried bread topped with fried egg and crayfish/shrimp, next to it. I stacked 'em up – sauce on the bottom, I used boned chicken thighs, then the bread, egg (poached instead of fried – it's slightly easier for doing multiple plates at once), and then the shrimp. Garnish it all with lots of chopped parsley and squeeze a lemon wedge over it all. I wanted something as unusual as the dish to drink with it, and the Familia Cecchin Graciano 2006, which is more of a Spanish and French grape than Italian, fit the bill – spicy, rustic and packed with flavor.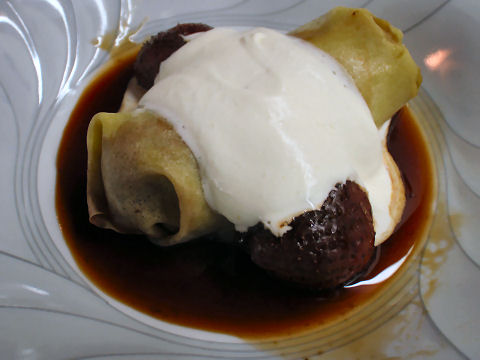 If you didn't read about the "to die for" roasted strawberry crepes in my last post, let's just say they were still on my mind. A fairly modern dish that's made in the Val d'Aosta region – not something classic, but, well, let's just say I know one restaurant where they serve it, is fresh strawberries that have been macerated in grappa, molasses, sugar, and crushed pink peppercorns. I combined the two ideas – put the strawberries with their marinade into the oven and roasted them for about 20 minutes until slightly softened. Let them cool, made crepes (equal parts by volume of flour, egg and water – 1 cup of each makes 12 crepes), put some of the strawberries into each, lined them up in a baking pan – when it was time for dessert popped them in the oven to slightly brown and heat through, heated the remaining strawberries and liquid back up, spooned that over the crepes, beat some cream with sugar until fairly stiff and spooned that over the whole thing, and served. Yeah, that works. And, back to La Celia for their Late Harvest 2006, a blend of Semillon, Sauvignon Blanc, Gewürztraminer, and Pinto Grigio that had all sorts of great fruit and spice aromas going on to blend with this dish.