"After staying in Buenos Aires, visiting San Antonio de Areco can be a definite culture shock. Located on the pampas just 113km away from the city, this tiny town, with its low colonial buildings, narrow cobblestone streets, and quiet parks, moves at a very different pace and is virtually silent on a weekday afternoon—if not on summer weekends, when there's an influx of tourism from the city."

– Let's Go Buenos Aires
San Antonio de Areco – Can I just say that the above is an understatement? Look, I'll bet that if you show up in this place during a summer festival, or spend a day at an estancia packing in steaks and innards and playing at whatever activities they might be offering, you'd probably have a fun time. But you remember the old John Denver song about Toledo, Ohio rolling up the sidewalks…
…this place makes the Toledo of that song look like a rollicking good time, and the sidewalks seem to be on permanent roll back. Especially if you show up on a weekday afternoon, thinking it might be a nice overnight getaway. Perhaps – if you wanted to re-enact Lost Weekend. Let's just say there's very little, if anything, to do in town. They have a municipal website that touts all the historic buildings you can visit… it just fails to mention that by "visit" they mean you can look at them from the street, note that they each have an identical metal plaque from 1971 declaring them a site of historic interest, and then move on – many of these are abandoned buildings, others are now private homes or offices. On to the photos….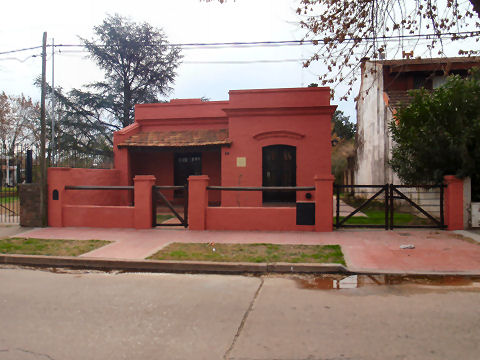 The Casa de Welhan or Welham or Whelan or Whelam (depending on which site you look at), is a 1955 recreation of the colonial style of the area by one Juan Carlos Whelan (or any of the other monikers), an Irishman who moved to town, married a local girl and settled in. To his neighbors, he was simply known as El Inglés, The Englishman (what you want to bet his first names were John Charles?).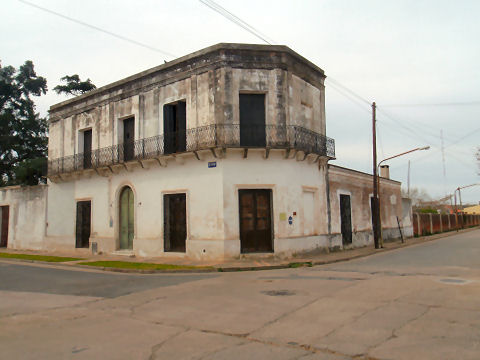 Built by don Manuel José de Guerrico, a 19th century artist whose works can be seen in BA at the fine arts museum, this is the main building of his quinta, or estate, surrounded by orchards…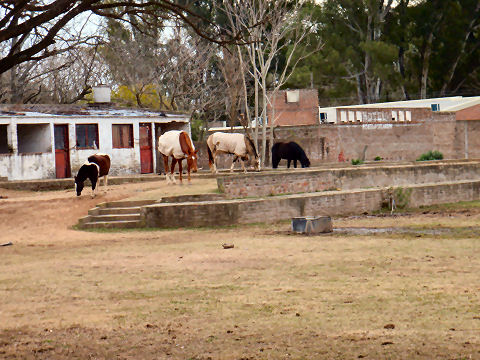 …stables and horses that looked as bored as I already was…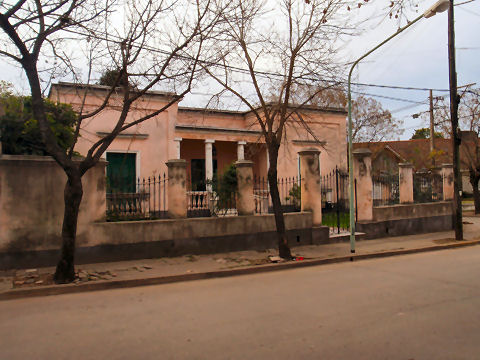 …and what I assume was the living quarters.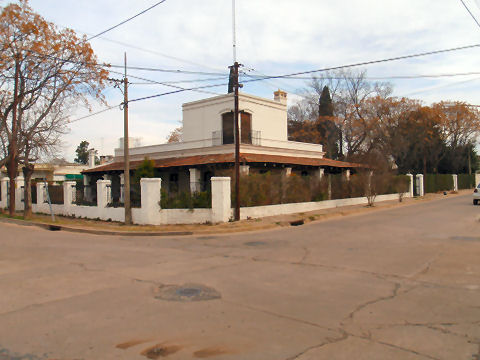 The home of doña Dolores Goñi de Güiraldes, mother of Ricardo Güiraldes, one of Argentina's most celebrated novelists of the early 1900s, particularly known for his gaucho epic, Don Segundo Sombra, which was made into a film in 1969.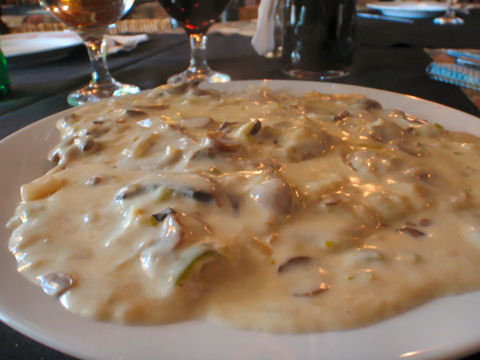 At some point, of course, I had to stop to eat – and wandered into a little neighborhood spot advertising a "fiesta de pasta" – turned out that although there was a family and another couple finishing up lunch, they'd just closed up. However, the woman cleaning up the kitchen went running off to find the manager, who popped out of his office, asked what I wanted – when I told him I was hoping to try some of their pastas, he brightened, switched to English, and re-opened the kitchen for me. Turned out that although he's a native of the town, he lived for a dozen years in Miami, speaks fluent English, and clearly wanted someone to chat with – which we did – politics, art, museums, food… the place, Café de las Artes, Bolivar 70. The pasta – "triangulitos" filled with mushrooms and topped with a mushroom and leek cream sauce – a bit too much sauce, but it was all tasty.
He insisted, over my objections (not too strenous) that I try their "to die for" strawberry crepes – and indeed, they might just have been about the best roasted strawberry and cream crepes I've ever had. Those plates, a bottle of water and a half-liter flask of La Candela Cabernet Sauvignon, the house wine, set me back a whole 50 pesos – not bad at all.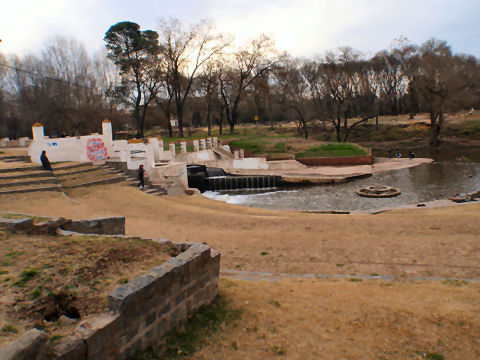 I think every town in southern South America has either a plaza or park named for General San Martín, "the great liberator", and San Antonio de Areco is no exception. It could be a very pretty park, and probably in spring and summer more so – right now it's a bit barren, with any flat surface available covered in graffiti, and most of the benches taken up by rugged looking folk swigging back liters of beer or teens looking like they'd kill to be anywhere else.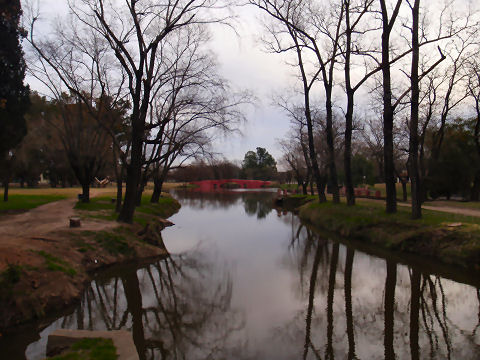 The Puente Viejo, or Old Bridge, crosses the river in the middle of the park, along a wide dirt road leading off to the gaucho museum that many come here for. I decided to opt out of a museum visit – perhaps some time in the future, we shall see. Most important because it was the first municipal construction to join the city side of the río Areco with the countryside, built in 1857, yet, not much more than a slightly arched concrete structure that today is used as a pedestrian crossing.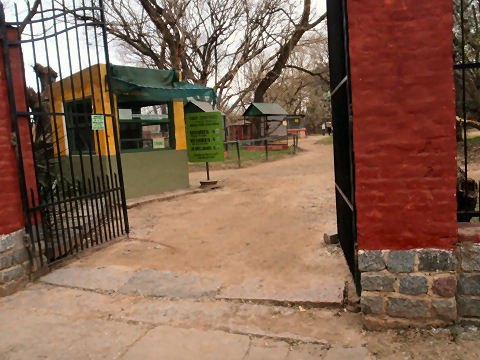 Though it was open, by this point the idea of checking out a dilapidated municipal zoo and botanic garden was really low on the list of things to do. The primary thing at this point was wending my way back across the main plaza and getting on a bus back to BA.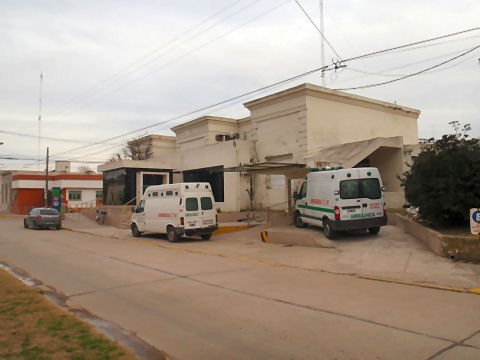 Enroute, passing the municipal hospital.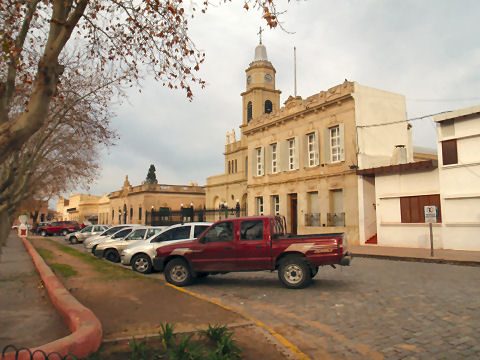 On one side of the main plaza, a fairly pretty affair, is the current town hall, a not overly attractive building. On the other, however, the at least interesting church/school of San Antonio de Padua, which was erected in 1730 by the original owner of the land in these parts, José Ruiz de Arellano, and to its left, the original town hall (which, you would think, might be open as a museum or something, but apparently no).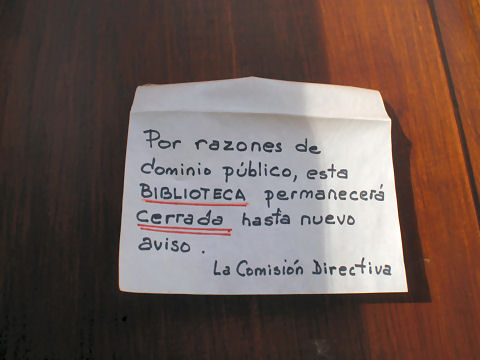 The Manuel Belgrano public library located to one side of the square, built in 1906, and, I gather, the only public library in these parts, is closed until further notice.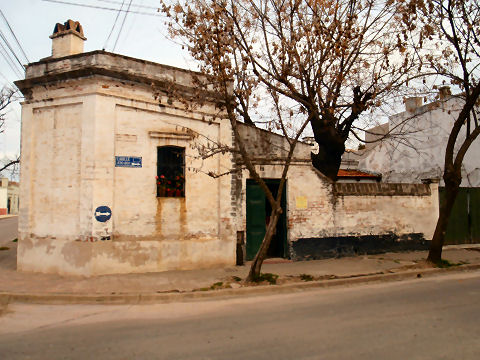 Back in the 1930s and 1940s, this casual restaurant, the Fogón de Güiraldes, operated as one of the better known spots for a good meal, and was run by Don Pepe Antonio Güiraldes, the brother of the novelist Ricardo, mentioned above.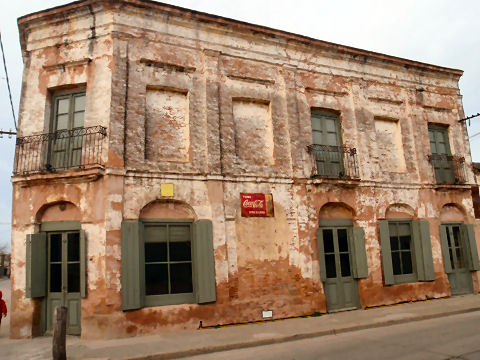 The old Boliche de Bessonart, one of the earliest taverns/inns in town, is over 200 years old, and for many years was home to Don Segundo Ramírez, the gaucho whose life inspired the story Don Segundo Sombra that I mentioned above.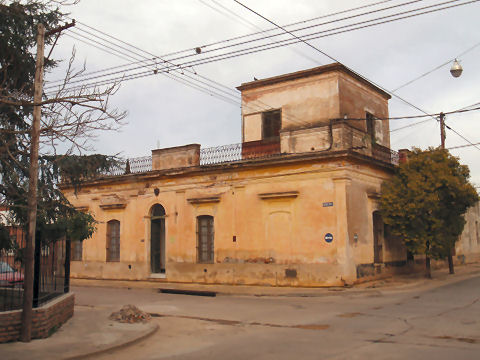 And, finally, before hopping back on a bus to BA (about an hour and a half, by the way, and around 30 pesos each direction), the Casa del Cura Inglés, an 1806 construction that was home for local English and Irish pastors, now a museum – I almost went in, but only had 20 minutes until my bus came, so decided to skip it for this trip.